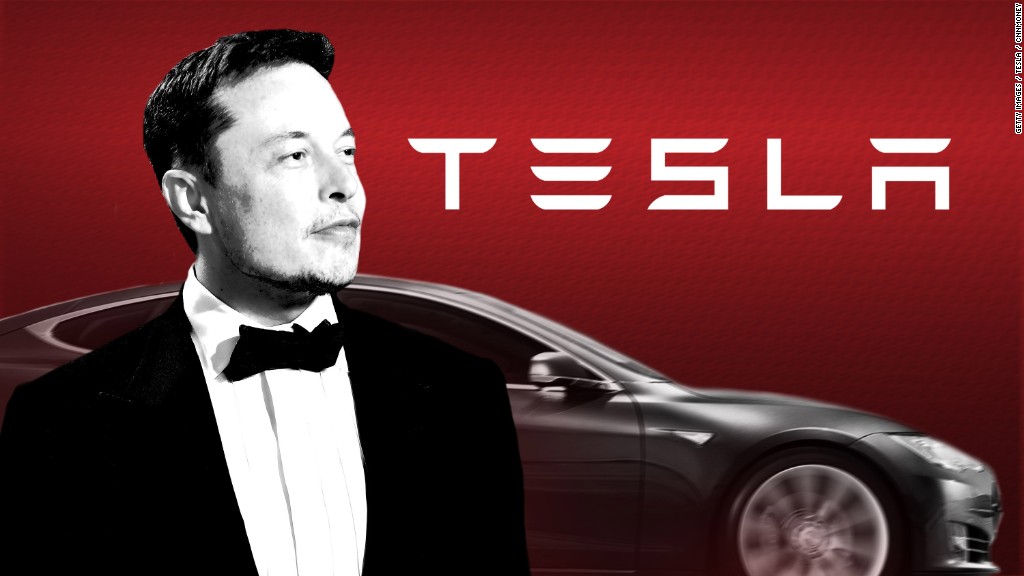 What's Next: Elon Musk's True Colors. The Tesla founder is ramping up his efforts to undermine the media in the wake of critical coverage of his company. In doing so, he is showing himself to be a thin-skinned bully who isn't as smart as we had thought or hoped.
Sign up for PACIFIC: The new CNNMoney newsletter about the center of change and innovation
Musk tweets:
• "The holier-than-thou hypocrisy of big media companies who lay claim to the truth, but publish only enough to sugarcoat the lie, is why the public no longer respects them."
Musk says the media is overstating Tesla's problems, failing to contextualize them against the rest of the auto industry and buying into an anti-Tesla narrative because, as he put it, "fossil fuel companies & gas/diesel car companies are among world's biggest advertisers."
Musk now he says he wants to create a site called Pravda "where the public can rate the core truth of any article & track the credibility score over time of each journalist, editor & publication." He registered Pravda Corp. as a foreign corporation last year.
Two things are true ...
1. The media is flawed:
• The media sometimes gets things wrong, it has a penchant for drama and controversy, and it is incentivized to establish narratives that don't always account for the complexities and nuance of business, politics or culture.
2. Musk is humiliating himself:
• He is using his vast power and influence to undermine journalists simply because he's miffed by negative coverage. The attacks have invited comparisons to Donald Trump.
• He is ignoring the fact that the media has lionized him for more than a decade, and given him a level of hero status not seen since Steve Jobs.
• He is overlooking the fact that years of showmanship and lofty promises about the future fueled the media's interest in him and his companies.
• He is sending a signal to Wall Street that he doesn't take Tesla's problems seriously, despite the fact that Tesla has very real problems.
• He is either woefully ill-informed about how media and advertising works, wrongly implying that journalists write to favor the companies who advertise on their site, or pretending to be.
• He is guilty of doing exactly what he faults the media for: Stirring up controversy, promoting an oversimplified narrative and getting things wrong.
The Big Picture: The media is far from perfect, but you don't get to be a modern-day P.T. Barnum and then cry and whine when the journalists who helped fuel your rise to stardom finally start peeking behind the curtain.
Bonus: Recode's Kara Swisher is trying to get Musk to next week's Code Conference in Palos Verdes ... So far he's noncommittal, so we'll see.
---
Today's PACIFIC
Greetings from Seattle, which is now officially the fastest-growing US city in this decade, according to US Census data released this morning. The city has added 114,412 people since 2010, a population increase of 18.7%.
For the Amazon crowd, the NaanSeense truck is at Apollo today, but not Whole Foods. Specials are Saag Chicken, Pepper Paneer, Okra Green Bean Masala and Lamb Meatball Curry.
---
Artificial Future: The Forever Companies
The Big Picture: The biggest tech companies in the world today are likely to be the biggest tech companies in the world tomorrow, and for the foreseeable future, in large part because they have moved quickly to incorporate and pioneer artificial intelligence.
A new report from McKinsey Global Institute suggests that companies currently leading in AI may have "an insurmountable advantage" over competitors who have been slower to adopt those technologies:
• "The pattern of significant growth and revenue gains going to firms at the forefront of adoption looks set to continue. Their ability to reinvest these gains and pull even further ahead of competitors may create an insurmountable advantage."
• "The most advanced adopters of AI and automation will also have an advantage when it comes to hiring, as they will tend to attract talent and can offer higher wages, if they successfully reap the productivity and performance gains from the technology adoption."
Today's AI leaders, and tomorrow's:
• US: Alphabet, Amazon, Microsoft ...
• China: Tencent, Alibaba, Baidu ....
It's their century. We're just living in it.
Sign up for PACIFIC: The new CNNMoney newsletter about the center of change and innovation
----
The Trust Crisis: Facebook pushes privacy
"Facebook will push privacy alert to users outside EU ahead of GDPR," by CNNMoney's Heather Kelly:
• "Over the next few weeks, Facebook users outside of Europe will see a notice that walks them through privacy settings and explains how the company collects data. It's a slightly altered version of what Facebook had to do for all users in the European Union."
• Facebook is required to do this in Europe in compliance with GDPR, but is "voluntarily rolling out similar changes in the US and other countries."
• "Facebook's latest alert will be sent to users over email and SMS text messages, and appear as a pop-up on Facebook News Feeds.
The Big Picture: "It has become a necessary public relations move for the company, which is still struggling to regain user trust. ... It is also an attempt to show Facebook can self-regulate, so other countries won't feel compelled to pass additional privacy laws."
Facebook has also started labeling political ads. My colleague Donie O'Sullivan has the full details.
Bonus: Remember Facebook's idea to have users submit naked photos as a means for preventing "revenge porn"? My colleague Sara Ashley O'Brien reports they're bringing that to the US and UK, albeit in a slightly revised form.
---
Valinsky's Links
DOJ probes Bitcoin manipulation (Bloomberg)
Apple signs driverless car deal with VW (NYT)
Amazon enables real-time package tracking (The Verge)
Uber plans flying taxis in France (CNNMoney)
Airbnb launches its own Stories (TechCrunch)
---
Talk of Tinseltown: Netflix passes Disney
"Netflix is now worth more than Disney and Comcast," by CNNMoney's Paul R. La Monica:
• Netflix's market cap: $151.6 billion.
• Disney's market cap: $151 billion.
• Comcast's market cap: $144 billion.
Note of caution, via CNN's Frank Pallotta: "Netflix passing Disney in market value is obviously news, but let's hold off crowning it the king of media until after Disney pulls all of its content from the service."
What's driving Netflix's growth? Original and licensed content:
• The company has invested billions in original programming, including "Stranger Things," "Orange is the New Black, and "The Crown," as well as high-profile showrunners like Ryan Murphy and Shonda Rhimes.
• The company has invested billions in rights to other people's content. As CBS' Scott Koondel notes today in Variety, a study shows "that the content licensed by Netflix actually generates 80% of its U.S. viewing."
The Big Picture, via La Monica: "Netflix is now worth more than every traditional media company. It had already passed Time Warner, Rupert Murdoch's 21st Century Fox, CBS and Viacom."
What's Next: "Next up for Netflix to potentially pass are telecom and media giants AT&T and Verizon. Both companies are worth about $200 billion."
Sign up for PACIFIC: The new CNNMoney newsletter about the center of change and innovation
---
Dub Shot: Warriors-Rockets gets real
What the Silicon Valley C-Suite is reading: "The Western Conference War of Attrition," by the Ringer's Jonathan Tjarks: "The Warriors-Rockets series has hit a pivotal point that every great postseason matchup reaches, when both teams are forced to play only their best players to survive. What happens next?"
Game 5 of the 2-2 series is tonight at 6pm Pacific, on TNT.
---
What Next: Shalini Ramachandran's deep dive into "How a Weakened ESPN Became Consumed by Politics," at WSJ.
See you tomorrow.
Sign up for PACIFIC: The new CNNMoney newsletter about the center of change and innovation