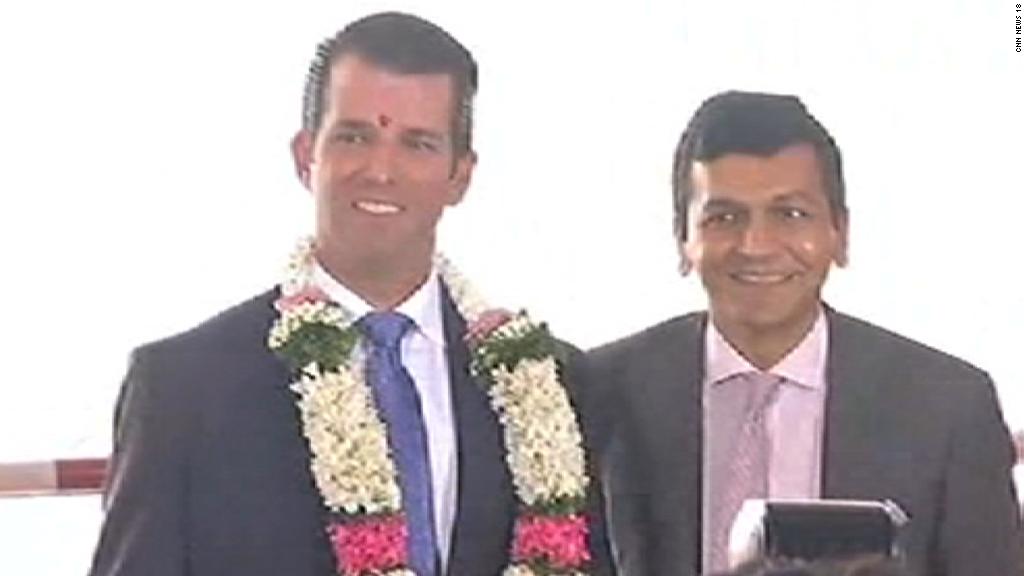 Ivanka Trump has scored a batch of new trademarks in China as her father continues trade talks with Beijing.
Seven trademarks were officially registered to Ivanka Trump this month with China's State Administration for Industry and Commerce, according to the government's trademark database. They are for items such as kitchenware, furniture, paper products and cosmetics.
The approvals come as President Donald Trump remains engaged in trade negotiations with China on a wide range of issues.
Ethics experts say this raises conflict-of-interest concerns, since Ivanka Trump and her husband, Jared Kushner, both serve as senior advisers in the White House.
"They come at a time when her father and his administration, in which she and her husband work, are making enormously consequential decisions with and about China," said Norm Eisen, the former ethics chief for President Barack Obama and a CNN contributor.
"The conflict comes because we do not know if the Trump administration is making these official decisions [on China] to benefit the US, or to get more trademarks and other benefits for the Trump family," he added.
Eisen is an attorney in lawsuits against Trump that allege that the president's acceptance of payments and other benefits from foreign governments is in violation of the Constitution.
Abigail Klem, president of the Ivanka Trump brand, said in a statement that the fashion line regularly files for trademarks, especially in areas where trademark infringement is common.
"The brand has filed, updated, and rigorously protected its international trademarks over the past several years in the normal course of business, especially in regions where trademark infringement is rampant," she said. "We have recently seen a surge in trademark filings by unrelated third parties trying to capitalize on the name and it is our responsibility to diligently protect our trademark."
Related: Trump talks trade with China as project linked to his company gets Chinese business
The company's recent actions were protective in nature, intended to guard against people unrelated to Ivanka Trump who want to capitalize on her name, and not necessarily because the brand intends to sell those products, a company spokesperson said.
Since her father's election, Ivanka Trump has stepped away from the management of her business, though she still retains an ownership stake. She isn't legally required to sell all her assets in order to work in the White House, though she is subject to rules for federal employees that prohibit her from participating in matters in which she has a financial interest.
The trademarks received preliminary approval in February 2018, and economic tensions between the US and China did not begin in earnest until March. Trademarks typically take about three months in China to move from preliminary approval to final approval.
The green-light comes at a time when the stakes between the two nations are incredibly high.
China and the United States recently committed to put on hold threats of tariffs that would have amounted to tens of billions of dollars. The countries said China would "significantly increase" purchases of US goods and services to reduce their trade imbalance, a top Trump administration demand.
But the situation remains in flux. China has not put a dollar amount on its commitment to boost purchases, and hasn't made any material concessions on intellectual property theft. Commerce Secretary Wilbur Ross is scheduled to go to China on June 2 through June 4 to continue discussions, according to the Chinese Foreign Ministry.
Trump is also still working out what to do about ZTE, the Chinese phone and telecom equipment maker that was crippled by a US export ban issued last month, in punishment for what the US said were violations of its sanctions against North Korea and Iran.
Easing penalties on ZTE is a priority for Chinese President Xi Jinping, and the Commerce Department briefed members of Congress on Friday about a tentative deal. But blowback from senators from both parties has been severe, eliciting questions about whether Trump will move forward with his reprieve.
Trump is also counting on China to keep pressure on North Korea as he tries to salvage a June 12 summit with Kim Jong Un.
Related: Companies become bargaining chips in US-China trade turmoil
Ivanka Trump's Chinese trademarks aren't the only Trump family business project to raise eyebrows amid negotiations with Beijing.
Earlier this month, a state-owned Chinese construction company formalized plans to develop a theme park in Lido, Indonesia — part of a broader project for which the Trump Organization has existing licensing agreements.
The move led ethics experts to voice concerns about the potential for quid pro quo dealings between Trump and China. The president isn't in charge of the Trump Organization anymore, but he has not sold his ownership stake in the company.
The Trump Organization said at the time that its licensing deals are separate from the China-backed development of the theme park.
--CNN's Serentie Wang and Cristina Alesci contributed to this report.