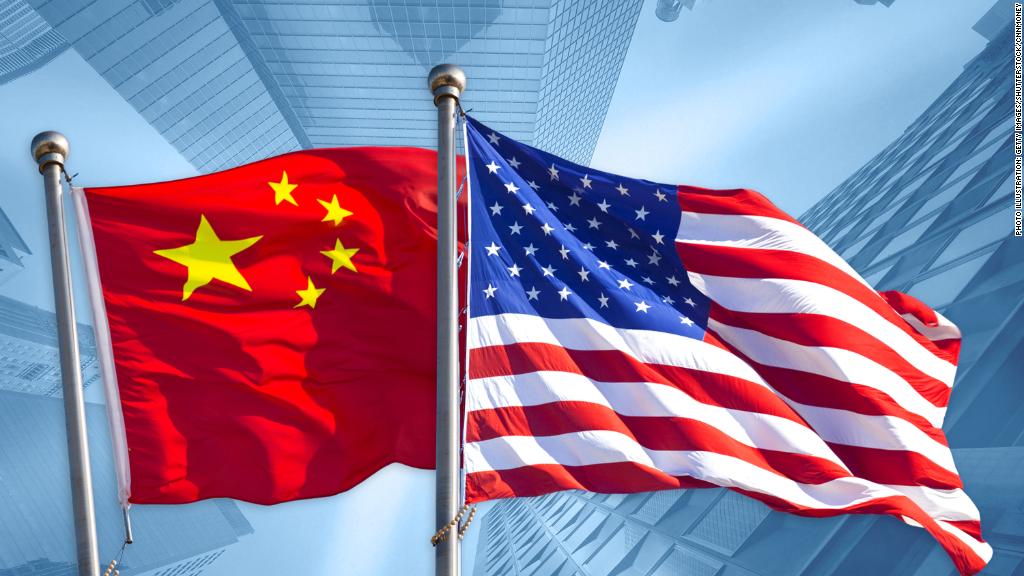 The Trump administration is all over the place on trade with China.
Just 10 days ago, the two parties called a temporary truce. Both sides said they had agreed not to impose new tariffs on one another as talks continued, and that China would increase purchases of American goods and services to reduce the $375 billion trade imbalance.
Then, on Tuesday, the White House abruptly changed its tune.
The United States announced that it would move forward with tariffs on Chinese goods worth $50 billion, as well as restrictions on investment in critical technologies.
The Chinese government said the announcement "is obviously in violation of the consensus reached in Washington recently by both China and the United States."
Related: Companies become bargaining chips in US-China trade turmoil
One of President Donald Trump's chief tactics in negotiations has been unpredictability. He's also made a habit of threatening unilateral action to try to gain leverage in trade disputes. But his strategy on China is baffling trade experts, who think the whiplash could ultimately hamper the United States' ability to get what it wants from Beijing.
"If we're trying to change Chinese behavior, these noisy signals aren't going to get us there," said Phil Levy, senior fellow on the global economy at the Chicago Council on Global Affairs and a former senior economist in the George W. Bush administration.
Some of the irresolution comes from lasting divisions within Trump's team, which have complicated trade talks from the start.
When Trump first directed US Trade Representative Robert Lighthizer to levy tariffs on $50 billion worth of Chinese exports in March, following a months-long investigation into intellectual property theft, the move was hailed as a victory for trade hawks in the Trump administration.
But in subsequent weeks, negotiations with China focused on narrower concerns, such as the bilateral trade deficit.
Related: Analysis: China is playing the long game against Trump
Earlier this month, both countries said they had reached an initial agreement, and that China would "significantly increase" purchases from the United States, in part by buying more agriculture and energy exports. Treasury Secretary Steven Mnuchin went on Fox News to say the trade war was "on hold."
Almost immediately, Lighthizer put out a statement warning that major issues between the two sides remain unresolved, and that tariffs, investment restrictions and export regulations remained on the table.
China has no reason to address issues brought up by the United States if the government's priorities appear to be constantly in flux, said Eric Altbach, senior vice president at Albright Stonebridge Group and former deputy assistant US trade representative for China under President Barack Obama.
"When the leadership of the trade agenda is oscillating between Mnuchin and Lighthizer, it doesn't motivate anyone — particularly the Chinese — to start making major concessions," Altbach said.
The mixed messages also weaken the US position by reducing opportunities for cooperation, Levy said. If the fight is truly about intellectual property theft, the United States could likely recruit some of its allies to help apply pressure. But they won't join in if they think the United States is going to suddenly shift gears and just focus on reducing the trade deficit, he said.
Related: 'Chinese trade secret theft nearly killed my company'
There are a few tactical reasons the Trump administration may have decided on Tuesday to go ahead with tariffs and investment restrictions.
Commerce Secretary Wilbur Ross is scheduled to travel to China this weekend for further discussions. This could be an attempt to gain influence ahead of those talks, said William Reinsch, a senior adviser at the Center for Strategic and International Studies who also served in the Clinton administration.
An advance team representing the US delegation arrived in Beijing on Wednesday to lay the groundwork for Ross' visit.
Additionally, Trump has faced significant political pressure to be tough on China from Capitol Hill in recent days.
The Commerce Department informed Congress on Friday of a plan to ease penalties on ZTE (ZTCOF), the Chinese phone and telecom equipment maker that was crippled by an export ban issued in April as punishment for what the United States said were violations of its sanctions against North Korea and Iran.
That plan was met with fierce bipartisan resistance over the weekend.
Related: ZTE will suffer lasting damage even if Trump lifts ban
The message behind the tariffs on Tuesday could be "directed as much to a domestic political audience as it is to the Chinese government," Altbach said.
Either way, repeated changes to the US strategy on China may only bog down talks with Beijing moving forward, Reinsch said.
"Our priorities depend on what day it is, which is not a good way to conduct a negotiation," he said.