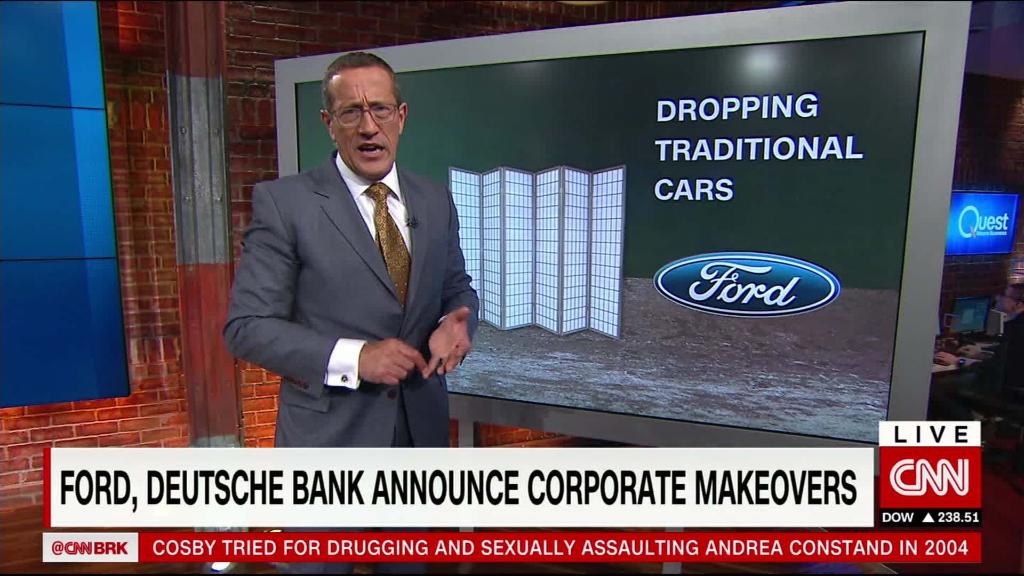 Deutsche Bank's credit rating was downgraded on Friday, delivering another blow to Germany's biggest bank.
The downgrade by S&P followed reports that the Federal Reserve had labeled the bank's US business "troubled," news that sent its shares tumbling Thursday to a record low.
"Let's be straightforward: the news flow is not good," Deutsche Bank (DB) CEO Christian Sewing wrote in a letter to staff on Friday. "My dear colleagues, the last few years were tough. Many of you are sick and tired of bad news. That's exactly how I feel."
S&P said the lender's restructuring would be deeper and riskier than anticipated.
The downgrade is the latest in a series of setbacks for Deutsche, which has been losing money for years, lagging its global peers and struggling to find direction following the global financial crisis.
"We see significant execution risks in the delivery of the updated strategy amid a continued unhelpful market backdrop," S&P said in a statement. "The bank appears set for a period of sustained underperformance."
Deutsche has been in turmoil for years, but heavy losses have forced the lender to accelerate a restructuring that critics say is long overdue.
Related: Deutsche Bank is cutting more than 7,000 jobs
The lender recently announced that it would slash more than 7,000 jobs, focus its investment banking on European clients, and do more to control costs. Sewing, a retail banking veteran, was appointed in April to succeed John Cryan as part of the overhaul.
S&P said in its assessment that it believed management "is taking decisive actions" to control costs. But it said the overhaul would not bear fruit in 2019, with the full benefits not being realized until 2021.
Shares in Deutsche Bank gained about 2% early on Friday, after a losing 7% on Thursday.
The secret designation from the Fed took place about a year ago and forced Deutsche to dial back its risk taking, The Wall Street Journal reported on Thursday.
The label has forced Deutsche to get the Fed's approval for decisions including hiring and firing senior managers, reassigning job duties and making severance payments, the Journal reported.
Deutsche said in a statement that it is "very well capitalized," adding that its main US subsidiary has a "very robust balance sheet."
The bank is also facing a new legal headache in Australia, where it expects to be charged over its role in the sale of shares in one the country's top banks. It has denied wrongdoing and intends to vigorously defend itself.
Related: Citigroup and Deutsche Bank face 'criminal cartel' charges
In his letter to employees on Friday, Sewing said risks have been reduced, capital has been strengthened and the bank reorganized.
"Yes, our share price is at a historic low. But we'll prove that we have earned a better valuation on the financial markets. We've achieved a lot we can be proud of," he said.