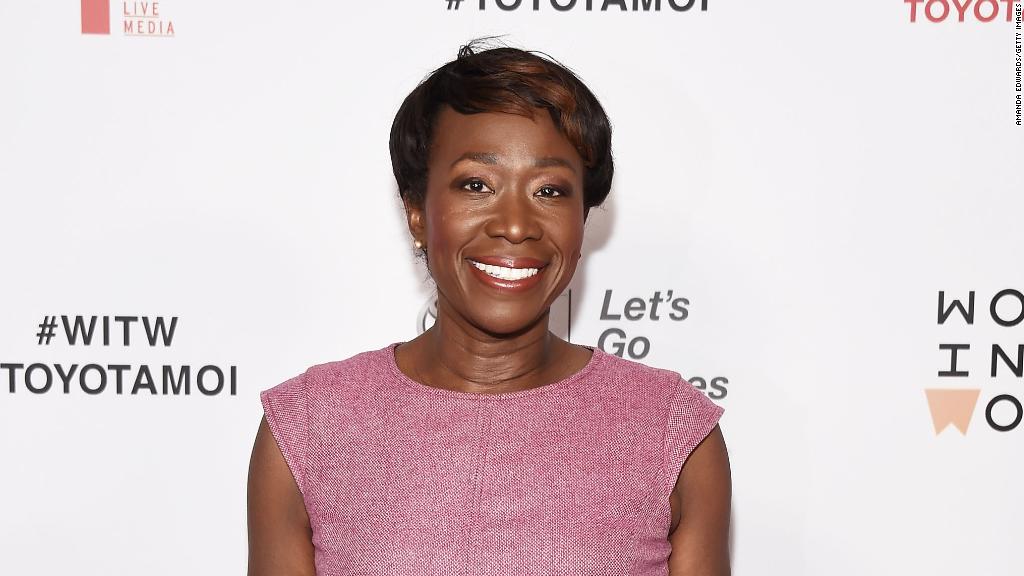 After months of scrutiny and questions surrounding her now-shuttered blog, MSNBC Joy Reid offered an unconditional apology on Friday, saying she is a better person today than when she wrote a number of incendiary blog posts more than a decade ago.
"While I published my blog, starting in 2005, I wrote thousands of posts in real time on the issues of the day," Reid said in a statement. "There are things I deeply regret and am embarrassed by, things I would have said differently and issues where my position has changed. Today I'm sincerely apologizing again."
"I'm sorry for the collateral damage and pain this is causing individuals and communities caught in the crossfire," she added.
It was notable what the statement did not include: any mention of the claim Reid made in April that a number of the posts on her blog were written by hackers.
Reid offered up that explanation after a Twitter user found a number of anti-gay posts on the blog. It is unclear if Reid is now accepting responsibility for all the material on the blog. In April, MSNBC deployed Reid's attorney and her hired cybersecurity expert to talk to reporters about the hacking claim. Reid's attorney said the FBI had opened an investigation, and the expert offered flimsy evidence to support the claim.
MSNBC declined to comment Friday on follow up inquiries about the status of Reid's hacking claim or the FBI investigation.
But MSNBC did issue its own statement, indicating that the network is standing by the host.
"Some of the things written by Joy on her old blog are obviously hateful and hurtful," the network said on Friday. "They are not reflective of the colleague and friend we have known at MSNBC for the past seven years. Joy has apologized publicly and privately and said she has grown and evolved in the many years since, and we know this to be true."
The hacking claim was met with considerable skepticism, and was picked apart by several media outlets, including CNNMoney. Reid eventually apologized for some of what she said -- but she maintained the hacking defense, despite acknowledging that she could not prove it.
That explanation invited more scrutiny to the blog, known as "The Reid Report," as reporters wondered whether newly unearthed posts were written by Reid or the alleged hacker.
Related: Why Joy Reid's hacking claims don't add up
On Thursday, BuzzFeed reported on another inflammatory entry on the now-shuttered blog, known as "The Reid Report": a post that included a photoshopped image of Sen. John McCain's head on the body of the shooter in the 2007 Virginia Tech massacre.
Earlier in the week, BuzzFeed broke news about a 2006 post in which Reid, who hosts a weekend show on MSNBC and has become a popular commentator among liberals, promoted the 9/11 conspiracy film, "Loose Change." Other outlets have dug in, as well, dredging up several old posts that contain overheated rhetoric.
On Friday, the conservative National Review found a 2006 post in which Reid, who is the daughter of immigrants and has spoken out against Trump's policies, appears to take a hawkish position on border security and undocumented immigration.
In another post reported on by the conservative website The Federalist, Reid alleged that CNN anchor Wolf Blitzer gave preferential coverage to Israel.
In her statement on Friday, Reid addressed the post about McCain, saying she reached out to the senator's daughter, Meghan McCain, who called the blog post "disgusting and disgraceful."
"To be clear, I have the highest respect for Sen. McCain as a public servant and patriot and wish him and his family the best. I have reached out to Meghan McCain and will continue to do so," Reid said. "She is a former on-air colleague and I feel deeply for her and her family."
Reid also addressed the other posts that surfaced this week, saying she does not believe the 2001 terrorist attacks were an inside job and expressing support for immigrants.
"I've also spoken openly about my evolution on many issues and know that I'm a better person today than I was over a decade ago," she said. "I am the daughter of immigrants and have worked to be a strong ally of these communities. There is no question in my mind that Al Qaeda perpetrated the 9/11 attacks or about Israel's right to its sovereignty."
"I believe the totality of my work attests to my ideals and I continue to grow every day," Reid added.
Related: MSNBC host Joy Reid takes heat for newly unearthed 9/11 conspiracy posts
Reid's blog first attracted attention six months ago after a Twitter user found a number of anti-gay posts.
She apologized in December for some of those posts, but when the same Twitter user unearthed more homophobic sentiments on the blog in April, Reid offered up an excuse that the posts were created by hackers.