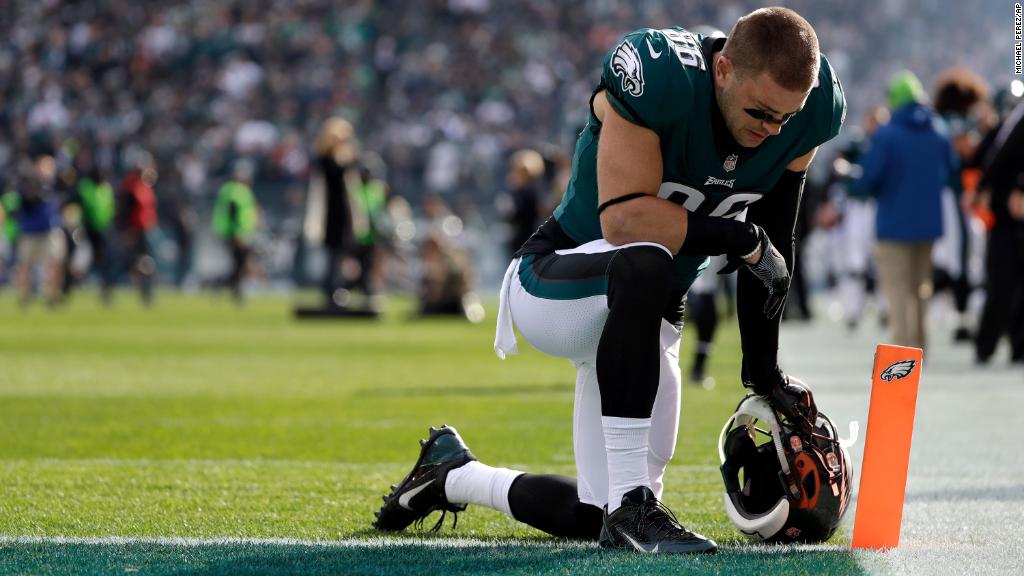 Fox News apologized Tuesday after receiving a torrent of criticism over the network's use of photos of various players for the Philadelphia Eagles kneeling in prayer, creating the misleading impression that they were demonstrating during the national anthem.
The photos ran during a segment on Monday night, after President Trump announced that he had uninvited the reigning Super Bowl champions from a traditional visit to the White House.
As Fox News anchor Shannon Bream explained Trump's decision, which he attributed to the anthem protests that have roiled the league, photos of Eagles players kneeling in prayer were shown on screen.
One of the players pictured, Eagles tight end Zach Ertz, forcefully denounced the network in a tweet on Tuesday morning.
"This can't be serious.... Praying before games with my teammates, well before the anthem, is being used for your propaganda?! Just sad, I feel like you guys should have to be better than this...," Ertz said.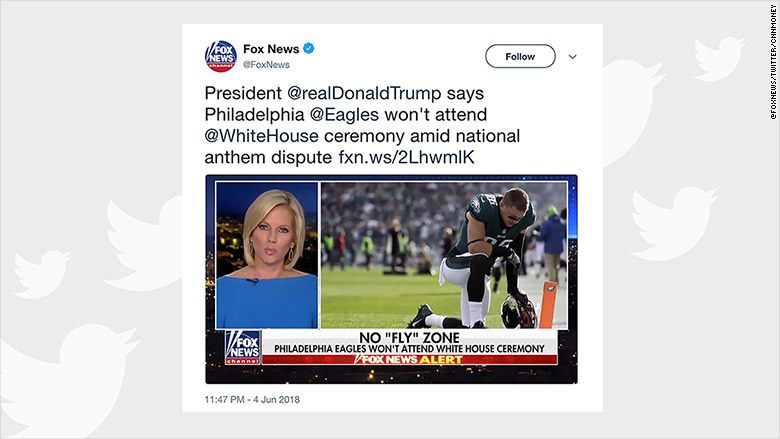 Christopher Wallace, the executive producer of Bream's program, issued an apology for the error on Tuesday.
"During our report about President Trump canceling the Philadelphia Eagles trip to the White House to celebrate their Super Bowl win, we showed unrelated footage of players kneeling in prayer," Wallace said. "To clarify, no members of the team knelt in protest during the national anthem throughout regular or post-season last year. We apologize for the error."
The network's Twitter account also posted video of the segment, which was deleted after Fox issued its apology.
The network did air other segments showing players for other teams actually kneeling during the anthem. No one on the Eagles' 2017-18 regular season roster knelt during the anthem.
Other members of the pro-Trump media apparatus came in for criticism from members of the Eagles team that won Super Bowl LII over the New England Patriots in February.
Charlie Kirk, a right-wing activist and Fox News regular, had a back-and-forth with former Eagles wide receiver Torrey Smith, now with the Carolina Panthers, after Kirk tweeted, "If you refuse to stand for the national anthem you have no business being honored at the White House or by our President."
After Smith pointed out that "no one on the Eagles took a knee last season," Kirk tweeted a photo of cornerback Ron Brooks kneeling during a preseason game last August. Brooks was later released by the team, and did not play for the Eagles in the regular season.
The flap marks another chapter in Trump's ongoing feud with the country's most popular sports league over the anthem demonstrations that began in 2016 with former San Francisco 49ers quarterback Colin Kaepernick.
NFL owners approved a new policy governing the pregame ritual last month, requiring players to stand during the anthem if they are on the field. Trump offered tepid approval of the change, but insisted that all players should be on the sideline during the playing of the national anthem.