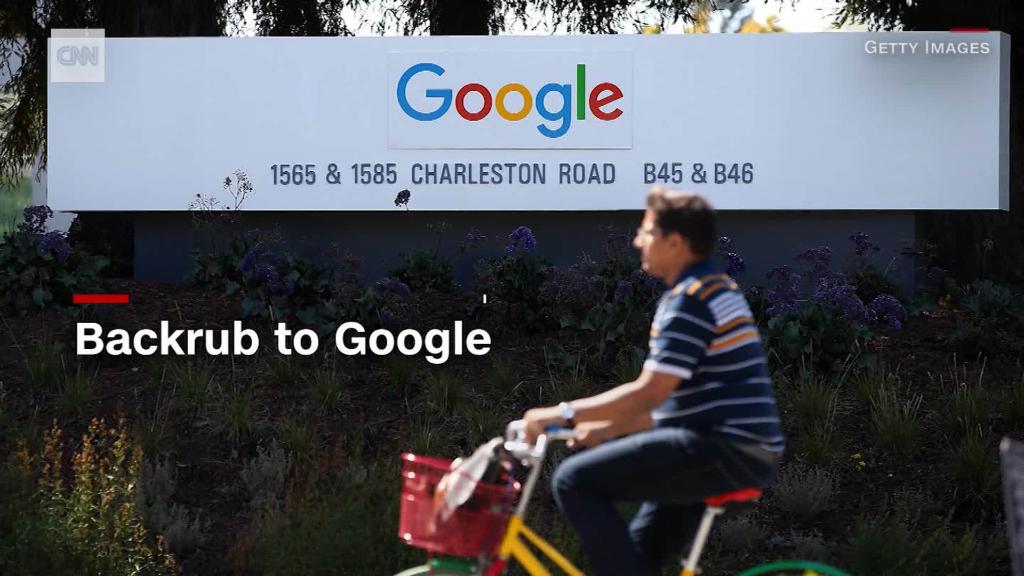 IHOP stands for International House of Pancakes. The chain has been around for 60 years and has used the IHOP acronym since 1973. So what in the name of a Rooty Tooty Fresh 'N Fruity is IHOP thinking by changing its name to IHOb?
IHOP tweeted and posted to its Facebook page on Tuesday that it plans to "flip" the "P" in its name on June 11.
The announcement clearly got people talking.
People started to wonder if the b stood for breakfast, brunch or bacon, which would make sense.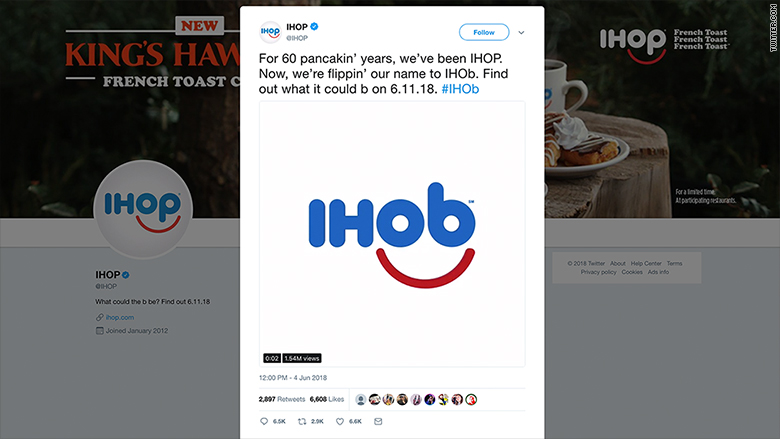 But some had more amusing suggestions, such as broccoli, burritos, bitcoin and even breakdancing.
There were also numerous votes for bears, beets and Battlestar Galactica -- a reference to a popular meme from the American version of "The Office."
The IHOP social media team was clearly having fun with the speculation -- and they came up with some goofy suggestions of their own for people to vote on in a Twitter poll, such as butternut squash (yum!) and barnacles (yuck!)
Is this just a short-term marketing gimmick?
Spokespeople for IHOP and Dine Brands (DIN), the restaurant company that owns IHOP as well as Applebee's, were not immediately available for comment.
And it's not as if Dine Brands needs to reinvent the company. The stock is up nearly 25% this year because sales are growing at both IHOP and Applebee's.
Some people speculated on Twitter and Facebook that this could simply be a fun way to reintroduce pineapple upside down pancakes to the menu.
It's also hard to imagine why the company would want to mess with a name that's so well-known and beloved. It would also likely cost a big stack of pancakes (bancakes?) to change restaurant signs and menus at the nearly 1,800 IHOP restaurants.
But the IHOP social media team was quick to reassure fans, responding to users with b-themed messages like "there are o-b-viously so many possi-b-ilities," "No need to b stressed, this is going to b great!" and "brebare yourself for something awesome."
Related: Inside the last-ditch effort to save sugary cereals
For what it's worth, there are currently no live trademark requests filed for IHOB with the United States Patent and Trademark Office -- just two dead filings for companies looking to trademark IHOB for barbecue restaurants.
A WHOIS search for the www.ihob.com domain name comes up with a registrant cryptically listed as "Data Protected Data Protected."
There was no phone number listed. The registrant had a Toronto mailing address of 123 Data Protected and email address of noreply@data-protected.net. An email to that address by this reporter got an undeliverable bounce back reply.
The IHOP.com domain name on the other hand is registered to IHOP Restaurants LLC.
There also is no Facebook page for IHOB. But there is an IHOb Twitter account -- and it is already verified, despite the fact that it has less than 300 followers...compared to the nearly 320,000 for IHOP. The IHOb account hasn't tweeted yet and the profile picture is the generic head and shoulders logo.
So you have to give credit to the IHOP marketing team for creating some mystery and keeping people guessing. I'm hoping that the b will stand for blueberry bagels. Mmm. Blueberry bagels.