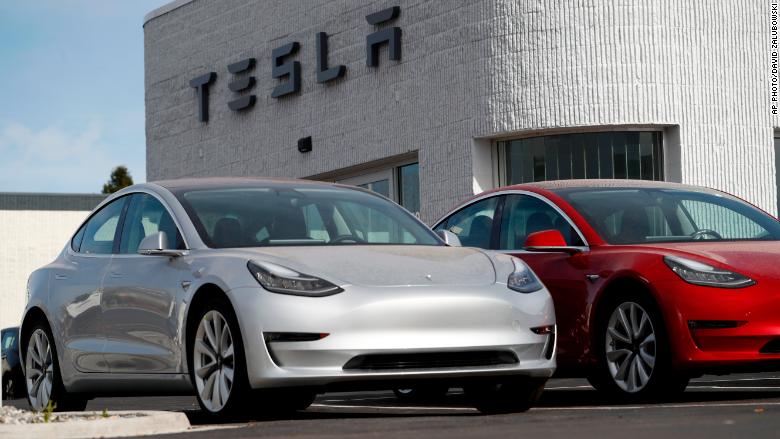 Tesla's stock price soared Wednesday, indicating that investors were encouraged by CEO Elon Musk's pledge that the Model 3 may soon be leaving production hell.
The company's share price climbed nearly 10% during trading hours. It marked the best day of trading for Tesla (TSLA) since November of 2015, though its stock is still down more than 9% from a year ago.
The rally comes after Musk held court with shareholders in Mountain View, California on Tuesday for the company's annual meeting.
At the event, Musk said Tesla (TSLA) would be "cash flow positive" by the end of the year, and he said it's "quite likely" that Tesla will reach its goal of building 5,000 Model 3 cars per week by the end of the month.
Related: Elon Musk tells shareholders Tesla won't run out of cash any time soon
That goal has long been a moving target for the company, highlighting the troubles the electric car startup has faced ramping up production of its first mass market car.
"We've made a lot of mistakes with Model 3 production. But we recognize those mistakes and we're confident we know how to address them," Musk said Tuesday. "And in fact, we are addressing them."
The Model 3 is considered key for Tesla as it tries to evolve from a niche luxury automaker into a prolific brand in the vein of Ford (F) or General Motors (GM).
Related: Here's what you get when you buy Tesla's $35,000 Model 3
Investors have appeared to be shaken by Musk's antics in recent months. The CEO said earlier this year that he was sleeping on the factory floor as the company scrambled to solve manufacturing bottlenecks.
And he sparked questions about whether he has the temperament to lead Tesla when he insulted analysts and refused to answer two questions during an earnings call last month.
But shareholders appeared Tuesday to affirm Musk's leadership by shooting down a proposal that could have stripped him of his role as chairman of the board.
Tesla shares ended the day at $319.50 Wednesday. That's still well below its all-time high of $389.61, which it hit last September.
—CNNMoney's Julia Horowtiz contributed to this report.