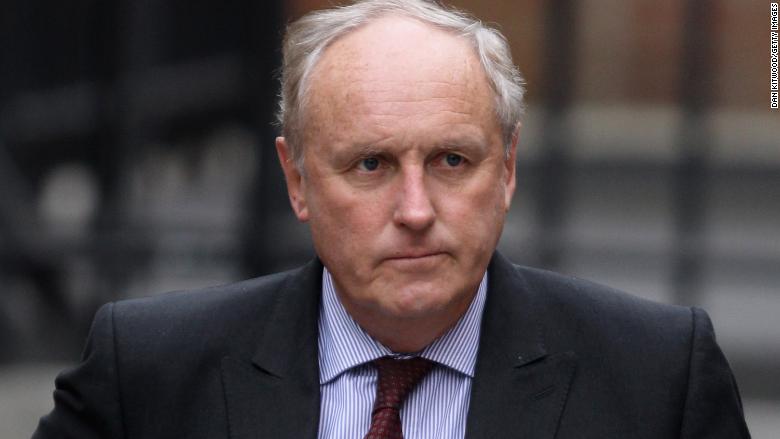 Daily Mail editor Paul Dacre, one of London's most influential newspaper editors, is stepping down as editor of the tabloid after 26 years in the job, he announced Wednesday.
He will become chairman and editor-in-chief of Associated Newspapers, which owns the Mail, he said.
Dacre said in an internal announcement that he wanted to step away from the day-to-day editing by his 70th birthday in November after nearly three decades as an editor at the Mail "in order to take on broader challenges within the company."
A successor was not immediately named.
The Daily Mail and General Trust Chairman Lord Rothermere called Dacre "the greatest Fleet Street editor of his generation" in a statement. He also hailed the power of his paper's "many campaigns, investigations and crusades that have held power to account, given a voice to the voiceless and often set the political agenda through six prime ministerships."
Related: Wall Street Journal editor-in-chief steps down
Dacre held enormous influence over politics in the U.K. In the past two years, the Daily Mail heavily promoted Britain leaving the European Union.
In his statement, Dacre praised Rothermere for giving him "the freedom to edit without interference and the back to assemble" the "greatest team of journalists."
"It's this extraordinary team's tireless efforts that increased the Mail's circulation by nearly a million copies in a declining market and made Saturday's Mail Britain's biggest selling paper," Dacre said, praising the Daily Mail's staffers and their work over the years. "[I]t's this team that's spearheaded the battle for freedom of expression against those who seek to impose statutory regulation of the press. This battle is on-going and I plan to continue playing as great a part in it as ever."
The tabloid has a daily print run of more than 1.3 million, the third-highest in the U.K., according to the Press Gazette -- which covers the industry.
-- CNN's Richard Greene contributed reporting.