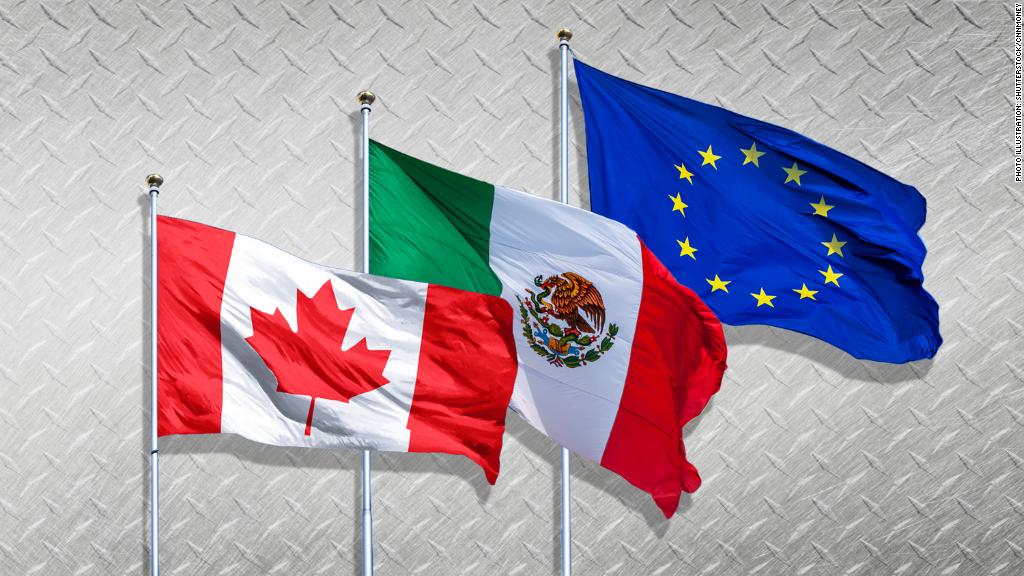 RVs are having a moment in America, but President Trump's tariffs on steel and aluminum threaten to hobble the industry.
Trump announced last week that the administration would follow through with 25% tariffs on imported steel and 10% on imported aluminum. The tariffs went into effect on Friday.
Airstream-maker Thor Industries (THO), the largest US manufacturer by sales, said on Thursday that tariffs had led to more expensive steel and aluminum prices — and dented the company's profit margin.
"We are experiencing inflationary price increases...due in large part to the headwinds created by the announcement and implementation of the steel and aluminum tariffs," chief executive Bob Martin said in a release.
Steel prices are up 28% since the beginning of 2018 and average aluminum prices are 19% higher than last year, according to Moody's analyst Carol Cowan. Uncertainty about trade restrictions have contributed to the price swings.
Related: The global steel industry by the numbers
Steel and aluminum are the nuts and bolts of motorized and towable RVs.
Thor sells several different classes of RVs, but its larger, motorized vehicles depend more on the metals than smaller, lightweight trailers.
Motorized chassis, frames, siding, doors and awnings all contain "sizable amounts" of steel and aluminum, the company says. It also uses the hardware for steps, furniture structures, sinks and appliances.
Mobile RVs and towables are in high demand.
Thor has appealed to younger Americans by marketing its vehicles as versatile — and cheaper — options for outdoor activities such as camping, tailgating at sporting events, and weekend getaways.
New technology on board makes RVs more attractive as well for cross-country outings. And towables are lighter and easier to haul around on the back of a truck than they have been.
Related: RVs are booming right now
RV shipments in the United States grew 17% in 2017 from the year prior, according to the Recreation Vehicle Industry Association, a trade group.
Manufacturers are reaping the benefits: Thor's sales climbed 58% last year from 2016 to $7.2 billion, and Winnebago's grew 59% to $1.5 billion.
Shipments have continued to accelerate in 2018, despite interest rate hikes and rising gas prices. In April, more than 47,000 wholesale RVs were shipped, the best April on record.
Related: Gas prices are up 31% from last Memorial Day. Here's why
Thor said Thursday that high consumer confidence, low unemployment, and wage gains are juicing sales.
The company did not say what steps it would take to respond to tariff pressures on Thursday. It turned down an interview request. Winnebago reports earnings later this month and also declined to comment.
The companies have been dealing with higher steel and aluminum prices for months, so tariffs shouldn't cause too much damage, said Gerrick Johnson, an analyst at BMO Capital Markets.
Thor, headquartered in Indiana, employs 17,800 workers in the United States. Iowa-based Winnebago (WGO), a smaller rival, employs 4,600 workers.
Johnson does not expect the tariffs to force layoffs, but he warned that the manufacturers may try to raise prices to offset the higher input costs.
That means drivers might pay a little more for a new RV.