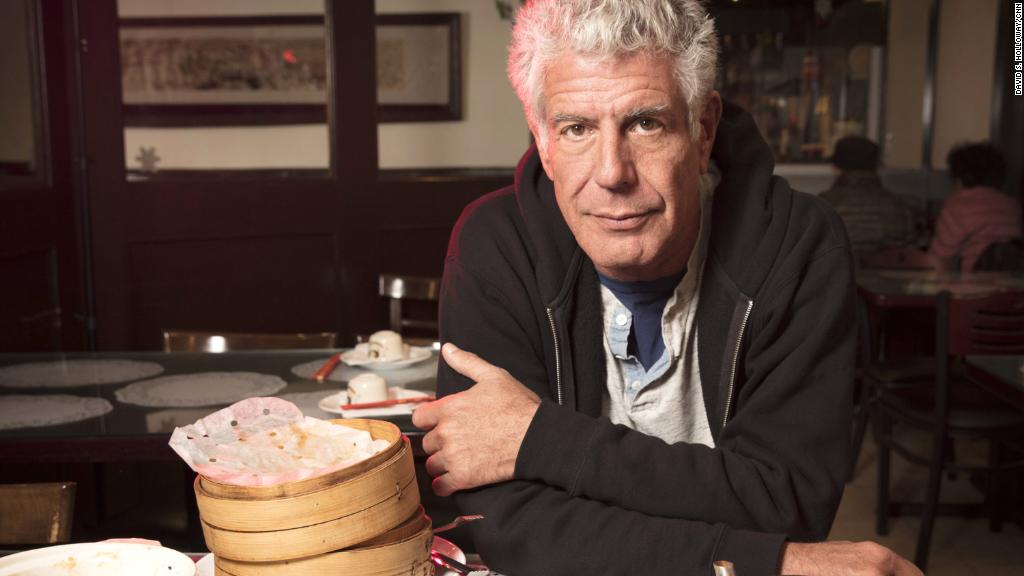 Anthony Bourdain's 18-year-old memoir about the seedy secrets of restaurant kitchens has shot to the top of Amazon's bestseller list following news that the chef and television host took his own life Friday.
A paperback version of "Kitchen Confidential: Adventures in the Culinary Underbelly" remained in the number 1 spot on Saturday after shooting up on Friday, surpassing former president Bill Clinton's new novel, according to data from Amazon.
The book is widely considered the launchpad for Bourdain's career in the public eye, taking him from grueling hours in New York restaurants to acclaimed television host, writer and world traveler. He has hosted "Parts Unknown" on CNN since 2013, and he was in France filming for the series when he died.
Related: CNN's Anthony Bourdain dead at 61
Journalists, friends and admirers of Bourdain shared some of their thoughts about his transformational book on Twitter Friday.
The precursor to "Kitchen Confidential" was a 1999 New Yorker article titled "Don't Eat Before Reading This."
David Remnick, the New Yorker's top editor, said in a tribute podcast posted Friday that a draft of the piece wound up in the hands of his wife, Esther Fein, a journalist who worked at the New York Times where Bourdain's mother was a longtime editor.
Related: Inside Anthony Bourdain's globe-trotting career
Remnick said he was surprised to find the manuscript was "funny, a little gross, and above all, it was an electrifying picture of what's it's like inside a restaurant kitchen."
"It was really like nothing else we'd ever published," he said.
The article caught the eye of book publishers, and "Kitchen Confidential" was released in 2000.
It recounted the more than two decades Bourdain spent in the trenches of cramped restaurant kitchens, working long hours and indulging vices from booze to heroin. He eventually became the executive chef of a posh Manhattan restaurant.
An article in Slate from 2000 said the book stirred controversy in the industry.
"Half of the foodies' fuming arises from envy and half from a conviction that, funny as this book can be, it misrepresents what goes on in the kitchen of a really good restaurant," the Slate article read.
It was a hit among readers, landing on the New York Times non-fiction bestseller list. It was eventually translated into more than two dozen languages.
One review read, "There are also extraordinary passages here, written with a clarity and a clear-eyed wit to put the professional food writing fraternity to shame. His account of a day in the life of a chef is a tour de force."
The book "very quickly transformed my life," Bourdain once told NPR.
Before arriving at CNN in 2013, he hosted "A Cook's Tour" on the Food Network, then moved to the Travel Channel with "Anthony Bourdain: No Reservations," a breakout hit that earned two Emmy Awards and more than a dozen nominations.
His book also inspired a television series of the same name, which ran for 13 episodes beginning in 2005. It starred Bradley Cooper as Jack Bourdain, a fictionalized version of the real-life Bourdain, whom friends called Tony.
Throughout his career, Bourdain also produced a travel journal, three crime novels, a cookbook, a biography of Typhoid Mary, and a graphic novel.
Six of Bourdain's books were in the top 10 of Amazon's bestseller list on Saturday. His 2010 follow-up memoir, "Medium Raw: A Bloody Valentine to the World of Food and the People Who Cook," climbed to the number four spot. And his "Les Halles Cookbook" reached number eight.
— CNN's Brian Stelter and Nathaniel Meyersohn contributed to this report.