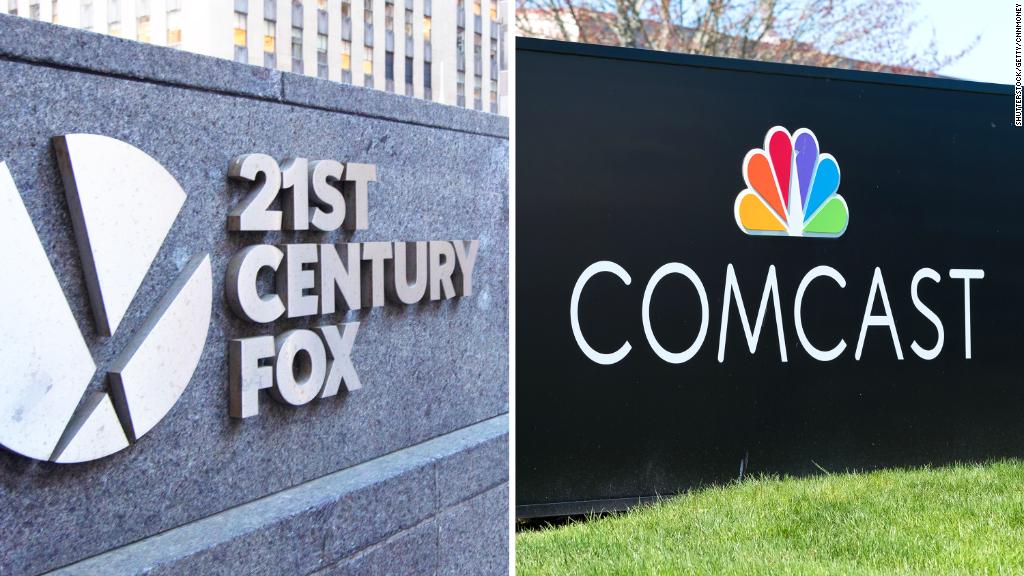 Comcast and Disney are fighting over 21st Century Fox. AT&T has won the right to buy Time Warner.
Who's still up for grabs?
A handful of companies could be in play as Big Media races to consolidate and survive in a rapidly changing industry.
Shares of Discovery (DISCA) have climbed 5% since a federal judge signed off on the AT&T-Time Warner deal on Tuesday, dismissing the government's antitrust concerns. CBS (CBS) has climbed 5%. And the film studio Lionsgate Entertainment (LGFA) has jumped 3.5%.
All three own lucrative film and TV assets that might make them attractive to companies that want to compete with Netflix's (NFLX) expanding empire.
Lionsgate is behind the "Twilight" and "Hunger Games" franchises. Discovery and CBS have vast TV libraries. The flagship AMC Networks channel broadcasts "The Walking Dead."
"I think that there's clearly a merger wave sweeping through media," said Barton Crockett, an analyst at B. Riley FBR.
Entertainment is part of what made Fox (FOXA) and Time Warner such valuable targets. In addition to the FX cable channel, Fox controls the rights to the "X-Men" and "Avatar" film franchises. Time Warner also owns Warner Bros. and HBO. (CNN is a unit of Time Warner.)
At this point, potential partnerships are little more than speculation. But Crockett said it would make the most sense for telecom or technology companies — think Verizon (VZ) or even Apple (AAPL) — to look for something to buy.
Related: Will Verizon join media merger mania?
Diversification and scale helped bring AT&T and Time Warner together. Internet companies already deliver shows and movies directly to customers, which means they don't need to rely on a traditional distributor like AT&T.
Not everyone may walk away with a partner. In a research note published last week, Jefferies equity analyst John Janedis described the field of "transformational" mergers as "rapidly shrinking."
He pointed to CBS as the "most attractive asset" on the market, but he noted that the company is still tied up in prolonged merger talks with sister company Viacom (VIA), the owner of MTV, Nickelodeon and Paramount.
Crockett said media companies have to move quickly. Tech companies in particular are already spending big money to snap up their own TV and film properties. Apple and Netflix are spending billions to acquire and make their own shows.
Related: How will Apple create its media empire?
That could make legacy businesses less valuable in the long run.
"Timing is of the essence," Crockett said. "If the content companies wait too long, those guys might no longer be interested."
If there's an exception to that theory, Crockett said it's probably Disney. Unlike AT&T and Comcast, Disney isn't a traditional distributor, but it has several widely recognizable franchises, including the Marvel Cinematic Universe and "Star Wars."
Disney is trying to survive by making an even bigger bet on the content business by fighting for Fox. Disney is also getting into distribution: It bought a majority stake in BAMTech last year and plans to launch its own streaming service.
It's not clear what Disney will do if it loses the fight for Fox. MoffettNathanson analyst Michael Nathanson recently suggested another purchase, like the private film company MGM, might not be out of the question. MGM controls the James Bond franchise.
Disney is looking for a global, pre-established property "that can live many years in the future," Nathanson told clients during a conference call Wednesday.
— CNNMoney's Matt Egan contributed to this report.