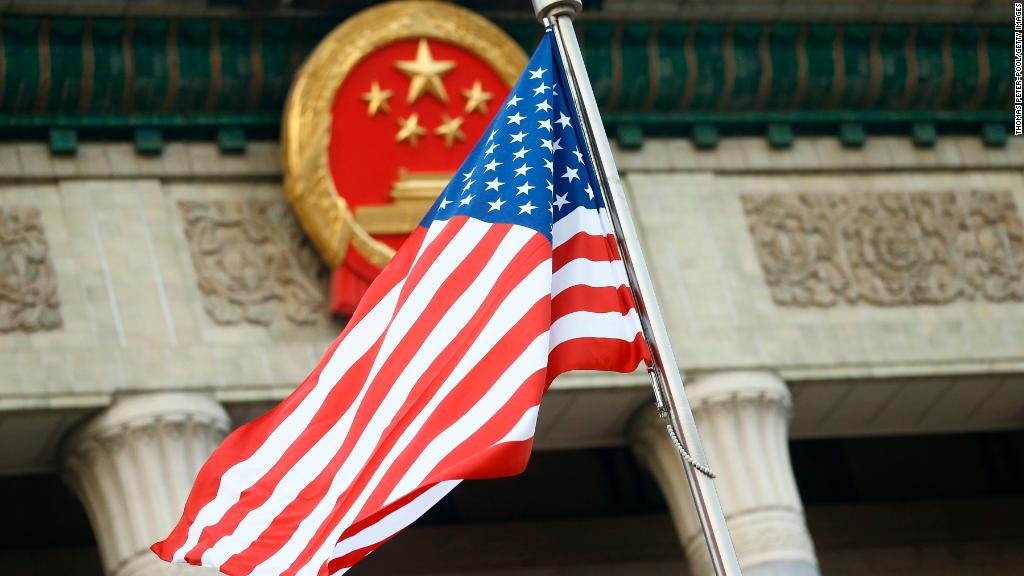 Can anyone win a trade war? Investors have the answer. And it's a resounding no.
Stocks fell again Monday. The Dow dropped 103 points, extending its losing streak to five days.
Investors are increasingly concerned that trade tension between the United States and China will escalate into tit-for-tat retaliation, with the two nations imposing one tariff after another on imports.
Already, the Trump administration has said it will impose a 25% tariff on $50 billion of Chinese exports. China announced similar tariffs almost immediately and accused the United States of launching a trade war.
Major American companies that generate a significant chunk of their sales from China, such as Boeing (BA), Caterpillar (CAT), Intel (INTC) and 3M (MMM), were among the losers on the Dow on Monday.
The Dow has fallen nearly 1.5% in the past week and is close to erasing its gains for the year. If a global trade war breaks out and slows economies around the world, it could bring an end to the bull market that has raged for more than nine years.
The United States isn't just in a trade fight with China. It is also battling Canada, Mexico, Europe and India over a variety of tariffs.
And the trade worries come as oil prices are rising, adding to fears that inflation may pick up and cut into consumer spending.
Related: American businesses brace for pain from trade fight with China
"Tariffs can only harm the U.S. economy, both by pushing up the cost of the stuff we buy and, because of retaliation, reducing the demand for the stuff we sell," David Kelly, chief global strategist with JPMorgan Funds, said in a report Monday.
Big tech stocks in the Nasdaq and smaller US companies in the Russell 2000 index (RUT) are still up about 10% for the year, partly because of hopes that tariffs won't hurt them as much.
Many investors think companies such as Netflix (NFLX) and Amazon (AMZN) can keep growing because of the insatiable global appetite for streaming media. And smaller American companies could even benefit if people buy more domestic goods in response to tariffs.
But investors are clearly on edge. The VIX (VIX), a closely watched measure of market volatility, spiked more than 10% on Monday morning.
Related: China says "the US has launched a trade war"
And one market strategist said investors are overreacting to the headlines — and offered a reminder that the trade fight with China could mostly be bluster.
"Trade tensions appear to escalate. However, it continues to be an escalation of trade tariff proposals as no tariffs have gone into effect yet," Ivan Feinseth, director of research and chief investment officer at Tigress Financial Partners, wrote in a report Monday.
"Any weakness in stocks based on a trade rhetoric continues to be a buying opportunity," he added, saying that "this is a war of trade rhetoric rather than a war of trade tariffs and reflective of President Trump's negotiating style."