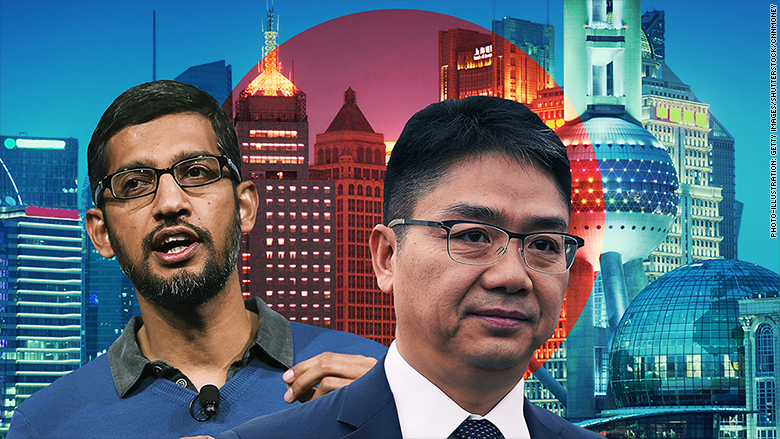 What's Next: How Google's China investment explains the future: Google's $550 million investment in Chinese e-commerce firm JD.com, which will enable both companies to sell goods online across Southeast Asia, the United States and Europe, tells you three things about where we're headed:
Sign up for PACIFIC: The new CNNMoney newsletter about the center of change and innovation
• Future of US-China: The road to China's one billion customers, and much of the broader Asian market, runs through Chinese partnerships. Google's deal is a penny ante for future access to the Chinese market.
• Future of Retail: It's not just Amazon and Alibaba. Google refuses to cede e-commerce and is partnering with sites like JD and traditional retailers like Walmart, also a JD investor, to create a third global front.
• Future of Work: JD is largely run by automation. Axios reports that one fulfillment center in Shanghai "can organize, pack and ship 200,000 orders a day" and employs just four people, "all of whom service the robots."
The Big Picture: This is what the future may look like: A small handful of US and Chinese tech firms using automation and artificial intelligence to run the global marketplace.
---
Welcome to PACIFIC. President Trump's decision to separate migrant families from their children is top of mind for many of our most loyal readers today, as it is for the nation.
Last year, Jeff Bezos, Tim Cook, Sundar Pichai and Mark Zuckerberg joined hundreds of other business leaders to call on President Trump and Congress to protect Dreamers. We're surprised we haven't seen a similar effort out of big tech yet in response to the separation policy.
---
Emergency Response: Apple updates 911
Apple's next software update will include a new feature that sends a person's exact location to emergency responders when they call 911.
How it works, via my colleague Heather Kelly:
• "The update, coming in iOS 12 later this year, calculates a caller's location based on data collected from WiFi access points, nearby cellular towers, and GPS."
• "The tricky part isn't finding out where a caller is ... but relaying that information to a fragmented and aging 911 system built for landlines."
• "Of the 240 million calls made to 911 each year, more than 80% are from mobile devices, according to the National Emergency Number Association."
The Big Picture: This has the potential to save lives. "Not all callers in an emergency know where they are, and some cannot verbally communicate their location," Kelly reports. "Getting medical attention in the first 60-minutes after a traumatic injury is key to preventing death. Emergency professionals call this window the 'golden hour.'"
Bonus, via Reuters: "The Supreme Court has agreed to take up Apple's bid to escape a lawsuit accusing it of breaking federal antitrust laws by monopolizing the market for iPhone software applications and causing consumers to pay more than they should."
Sign up for PACIFIC: The new CNNMoney newsletter about the center of change and innovation
---
What the Bay is Reading
"The Dark Side of the Orgasmic Meditation Company" by Bloomberg Businessweek's Ellen Huet: "OneTaste is pushing its sexuality wellness education toward the mainstream. Some former members say it pushed them into sexual servitude and five-figure debts."
---
The Stream: What Tidal taught us
Tidal, Jay-Z's subscription-only streaming service, was supposed to cut out other streaming services like Spotify and Apple Music by being the sole home of new music from stars like himself, Beyonce and Kanye West. It didn't work. Jay-Z and Beyonce released a joint album exclusively on Tidal over the weekend and by Monday it was available on Spotify and Apple Music.
• "The fact that Jay-Z and Beyonce aren't trying to keep this one locked up on Tidal isn't a good sign for Tidal, which hasn't put out a new subscriber number since 2016, when it said it had 3 million users."
The Big Picture: Music isn't like television. Consumers who subscribe to multiple services like Netflix and Amazon Prime and Hulu for programming still appear to expect all their music to live on one service.
---
Punching Up: Snap vs. Facebook, con't
Snap CEO Evan Spiegel's campaign against Facebook -- which began last month when he hit Mark Zuckerberg for copying Snapchat's best features but failing to emulate its data protection policies -- continued today in an interview with CNBC.
My colleague Jordan Valinsky has the key quotes:
• "One of the things that we've done with our customers is built a lot of trust over time, so that people understand when they use Snapchat that we're respectful of their data and give them choice about how that's used."
• "One of the things that's become really clear over the past couple months is how important values are to consumers and therefore to advertisers. I think now a lot of times when people are buying advertising products ... they also want to feel good about what they're buying."
The Big Picture, via Valinsky: Many tech CEOs criticize Facebook these days, but for Spiegel its personal. Facebook did copy Snapchat's best features -- namely, Stories -- and it totally eclipses Snap in terms of users and ad revenue.
Sign up for PACIFIC: The new CNNMoney newsletter about the center of change and innovation
---
Valinsky's Links
Elon Musk urges 'radical improvements' (CNBC)
Microsoft buys an education startup (CNBC)
Huawei tries to put Australia at ease (CNNMoney)
Amazon hawks conspiracy-theory films (BI)
Cannes Lions kicks off in France (FastCo)
---
Talk of Tinseltown: Apple's Hollywood play
Bloomberg's Shira Ovide argues that Apple's video strategy -- which now includes at least 16 deals with various Hollywood producers and talent -- is a "mess" because Apple has failed to articulate a strategy, explain how and where the new content will be seen or announce a launch date.
We respectfully disagree. Here's what we're hearing from Hollywood insiders:
• The strategy for all media companies is actually pretty simple. You need content and you need distribution.
• Apple already has at least 16 content deals with the likes of Oprah Winfrey, Reese Witherspoon and Steven Spielberg, and the money to do much more.
• Apple has more than 1.3 billion active devices worldwide, one of the most enviable distribution platforms in the world. They also have the potential to launch a stand-alone streaming service, a la Netflix.
• As for a launch date ... What's the rush?
Ovide says Apple "can't afford the strategic distraction to flail around in entertainment without a highly focused mission and a clear sense of where it's going and why."
Of course it can. It's Apple. It has an almost-trillion market cap. And like Amazon, it can hire experienced Hollywood hands to figure out the day to day.
Sign up for PACIFIC: The new CNNMoney newsletter about the center of change and innovation
---
The Fox Wars: Disney's next move
What's Next: Disney's Bob Iger may have less than two weeks to counter Comcast's $65 billion bid for 21st Century Fox:
• Fox's board will meet Wednesday to discuss Comcast's bid. If it engages with Comcast, Disney will have five days to match.
• Sources close to the matter say Disney is unlikely to offer significantly more than $65 billion because, all things being equal, Fox would rather go with Disney.
• Disney is expected to add cash to its offer to sweeten the deal, per CNBC.
Bonus: The Debt Problem: AT&T's Time Warner acquisition and a Comcast-Fox deal would make AT&T and Comcast "the two most indebted companies in the world," per WSJ's Matt Wirz.
---
What Next: That Jay-Z and Beyonce album probably deserves a listen, on whatever platform you use.
See you tomorrow, from New York.
Want this in your inbox every morning? Sign up for PACIFIC: The new CNNMoney newsletter about the center of change and innovation