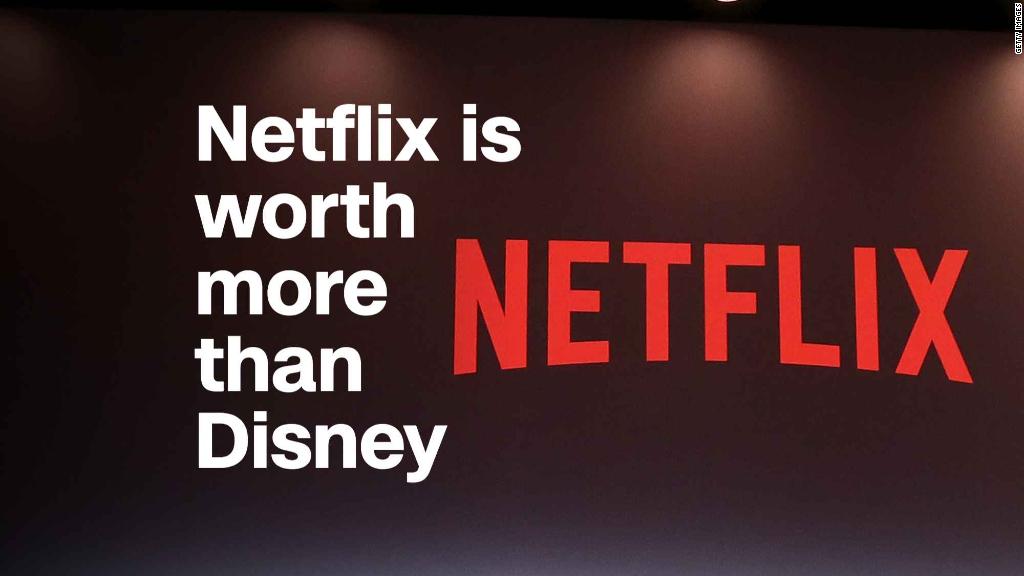 Netflix investors are shrugging off the drama in the broader market as well as the consolidation in the media world.
Stocks around the world are falling because of trade war fears. And the media landscape is in the midst of a massive shift after CNN's new parent company AT&T bought Time Warner and a bidding war for Fox could soon erupt between Disney and Comcast.
Yet shares of Netflix (NFLX) rose nearly 4% Tuesday to just above $400 a share, closing at an all-time high in the process.
Netflix is now worth $175 billion, more than Disney (DIS) and Comcast (CMCSA). The company is inching closer to Verizon's (VZ) market value of $200 billion as well.
Why are investors still infatuated with Netflix?
Under CEO Reed Hastings, the company has already launched one hit show after another -- "Stranger Things," "The Crown," "Unbreakable Kimmy Schmidt," "Orange is the New Black" among many others.
And Netflix is using its financial muscle to strike more programming deals around the world. The company announced a new exclusive deal Tuesday with the creators of "Dark" - a hit German language show.
The company is also making it easier for people to watch their favorite shows on the go. Netflix announced a deal this week with Dish Network (DISH) that will allow people to stream Netflix shows in hotel rooms that have TVs using Dish's Evolve service.
Netflix has also continued to post impressive gains in subscribers despite competition from Amazon (AMZN) and big media-backed Hulu -- which is owned by Disney, Fox (FOXA), Comcast's NBCUniversal and now AT&T (T) too by virtue of the Time Warner deal.
Related: Which media companies are still up for grabs?
Netflix will report its second quarter results on July 16. Analysts are predicting that sales will increase more than 40% from a year ago and that profits will more than double.
They also are forecasting a 5 million jump in global subscribers, which would bring Netflix's total subscriber count to more than 130 million.
That's led analysts to keep pushing their price targets for Netflix higher and higher. Three of them did so on Tuesday.
GBH Insights slapped a $500 target on Netflix shares. That's more than 25% above the current price and the highest on Wall Street. Piper Jaffray boosted its target to a more modest $420 a share while Monness, Crespi, Hardt raised its outlook to $460.
So it's no wonder Netflix continues to be a favorite of investors, despite worries facing the broader market and the media sector.
Maybe President Claire Underwood will launch a trade war on the sixth and final season of "House of Cards." Or the Department of Justice could sue to block a flurry of big media mergers. Ripped from the headlines indeed.