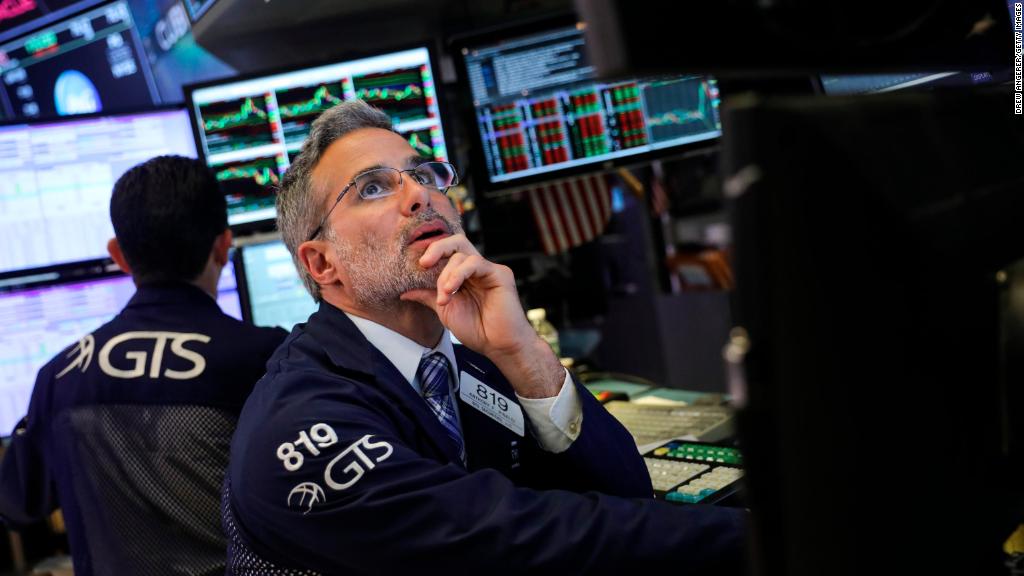 Chinese investment in the United States nosedived in the first five months of 2018 amid mounting tensions between the world's two largest economies.
For years, Chinese companies pumped growing amounts of money into the United States, deepening ties between the countries.
But Chinese investment totaled only $1.8 billion between January and May. That's a 92% drop compared to the same period in 2017, and the lowest level in seven years, according to a report released Wednesday by Rhodium Group, a research firm that tracks Chinese foreign investment.
The dramatic decline comes as the fight between Washington and Beijing over trade escalates, and US regulators increase their scrutiny of Chinese acquisitions.
"The more confrontational approach of the Trump administration toward economic relations with China has cast some doubt, in these companies' minds, about their position here," said Thilo Hanemann, a director at Rhodium Group and one of the report's authors.
President Donald Trump has made cracking down on what he calls China's "unfair" trade practices a top priority this year. He's vowed to put tariffs on Chinese products worth at least $50 billion, and indicated he could impose tariffs on goods worth hundreds of billions of dollars more if China does not bow to US demands. China claims the United States has launched a trade war and said it plans to strike back.
China has already retaliated against US tariffs on steel and aluminum, which went into effect earlier this year.
In the meantime, the regulatory environment for Chinese investment in the United States has become much tougher.
Related: Under Trump, the US government gives many foreign deals a closer look
The Committee on Foreign Investment in the United States, or CFIUS, is an inter-agency panel chaired by the Treasury Department. It vets certain deals that could give a foreign investor control of a US business for national security risks.
That panel has been more aggressive under Trump. Experts say CFIUS has examined a greater number of deals, while heavily scrutinizing tie-ups that could give foreign companies access to sensitive technologies or personal data on Americans.
A number of major deals involving Chinese investors were called off in the first half of 2018 by companies who cited problems with CFIUS. This includes Alibaba (BABA) affiliate Ant Financial's $1.2 billion attempt to takeover Moneygram (MGI), and conglomerate HNA Group's bid for Skybridge Capital, a hedge fund.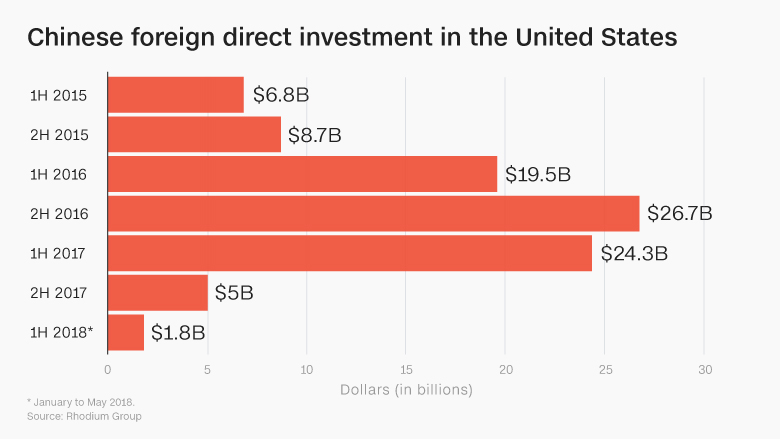 Altogether, CFIUS is believed to have scuttled acquisitions worth more than $2 billion in the first five months of 2018, according to the Rhodium Group analysis.
"CFIUS and other US regulators are also now a major hurdle for Chinese investors," the report said.
China's restrictions on outbound investment also remain a factor, Hanemann said.
About a year and a half ago, the country started imposing capital controls to stop its biggest conglomerates from overextending themselves. In 2017, Beijing said it would limit overseas investments by Chinese companies in industries like real estate, hotels and entertainment.
Related: China's big conglomerates are no longer buying up the world
Many Chinese companies "remain constrained" by these rules, the Rhodium study said. In fact, some of China's largest conglomerates, including HNA, are beginning to rapidly offload US assets in order to pay down debts.
"Not only have Chinese companies invested less, they have also divested assets at an unprecedented pace so far in 2018," the report said.
Chinese firms sold about $9.6 billion in US assets in the first five months of 2018, according to Rhodium Group. Another $4 billion in sales are still pending.
Earlier this year, Rhodium Group pointed to China's ongoing restrictions as a key reason investment in the US fell 36% between 2016 and 2017.
Further crackdowns by the United States will make it difficult for Chinese investment to rebound in coming months.
CFIUS is poised to become even more powerful. Legislation that would expand CFIUS' authority has bipartisan support in Congress and the backing of top Trump administration officials.
And the Trump administration has said it will announce new restrictions on Chinese investment in the United States by June 30. So far, details have been scant — but the looming threat is enough to chill deal-making.
"The pipeline has dried up, very quickly," Hanemann said.