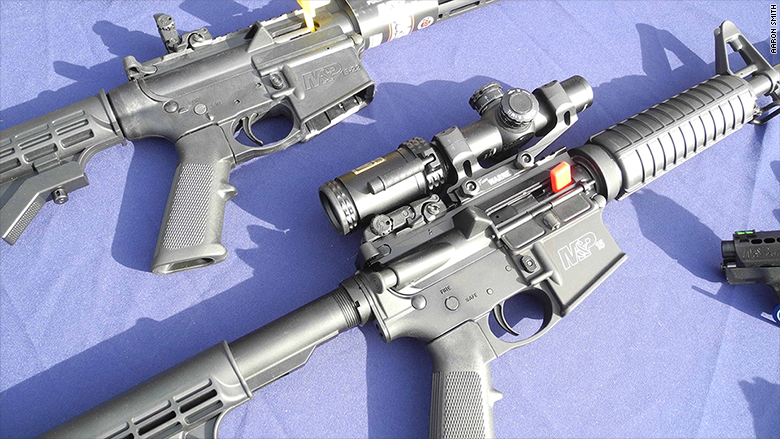 American Outdoor Brands, the gun maker that owns the iconic Smith & Wesson line of firearms, reported plunging sales and blamed "social activists" for the decline.
The company said Wednesday after the close that quarterly sales dropped 25% compared to the fourth quarter of last year, and profit plummeted more than 70%. Sales for the full year were down 33% from the year before, and profit plunged 84%.
In an annual report filed Wednesday with the Securities and Exchange Commission, it blamed "social activists" for their ability to "cause us to incur substantial costs," including driving down the stock price and "result in consumer boycotts of our products."
The stock price for American Outdoor Brands (AOBC) dropped 6% on Thursday.
The share prices of other gun companies dropped, too. The stock price for gunmaker Sturm Ruger (RGR) fell 5%. The share price for Vista Outdoor (VSTO), a maker of guns and ammunition, fell 2%.
This is an ongoing problem for gun companies, which have seen sales and profit drop since the 2016 election of President Trump, a Republican endorsed by the National Rifle Association.
The annual report also said the activists could "pressure our financial institutions" to take actions "that are not in the best interests of our company."
Some Wall Street firms have sought to distance themselves from the gun industry.
BlackRock (BLK), an investing powerhouse, is the largest shareholder in American Outdoor Brands and Sturm Ruger, and the second-largest shareholder in Vista Outdoor. BlackRock said after a mass shooting on February 14 at a high school in Parkland, Florida, that it wanted to reexamine its holdings in gun makers and retailers, and said that it would offer gun-free retirement funds.
Related: How President Trump is bad for the gun industry
American Outdoor Brands told BlackRock in March that it would not take "a politically motivated action that has an adverse impact" on the company, shareholder, industry or customers.
But in its latest earnings, the company still managed to beat expectations, reporting earnings per share of 14 cents. Rommel Dionisio, gun industry analyst for Aegis Capital, said the company guidance and consensus forecast was for 3 cents. He said the company had better-than-expected sales for a new line of semiautomatic handguns.
Most of the sales for American Outdoor Brands are from guns. They have two dozen brands, and most of them are for guns or gun-related products, like Crimson Trace laser sights and Gemtech silencers.
The rough times aren't over, according to Chief Executive Officer James Debney.
"We do believe it will return to slow growth over time," he said on a call with analysts. But there are "still some market contractions we see on the horizon."
Related: Dick's soaring sales prove it can succeed without assault rifles
Gun sales prior to the election were driven to record levels by concerns that a Democratic president would impose more restrictive gun control measures amid a series of mass shootings.
Trump's election diminished such concerns, though the call for more gun control has grown since Nikolas Cruz used an AR-15-style rifle to kill 17 students and teachers, and to wound 17 others at the Parkland high school. The Broward County Sheriff's Office confirmed to CNNMoney that the rifle he used was a Smith & Wesson.
Since the Parkland shooting, other companies have tried to distance themselves from guns. Edward Stack, the CEO of Dick's Sporting Goods (DKS), said his company would no longer sell "assault-type rifles" and high capacity magazines, and raised the minimum age for all gun sales to 21.
Stack said that he expected "backlash." But the retailer reported in May that online sales surged 24% that quarter, even though same-store sales were down slightly. The company raised its full year guidance.