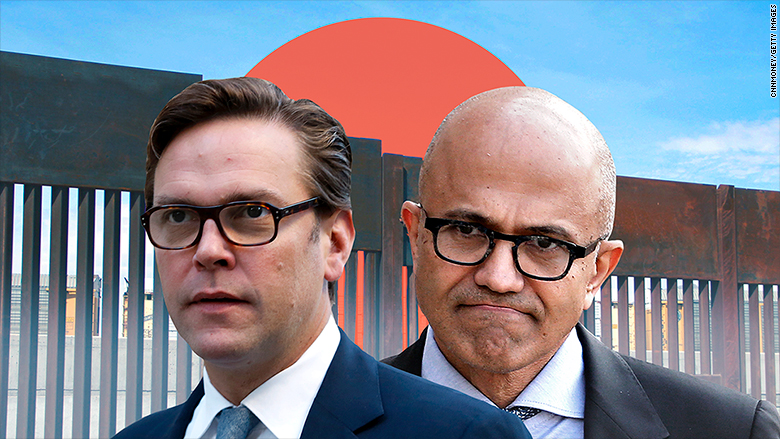 Just In: President Trump has signed an executive order to stop separations of undocumented immigrant families at the border and keep parents and kids together -- but not before creating headaches at both Microsoft and 21st Century Fox ...
---
What's Next: The Border Crisis Divides Microsoft, Fox: The Trump administration's "zero tolerance" immigration policy has forced CEOs in tech and media to reckon with internal revolts over their companies' alleged complicity in the separation of families.
Sign up for PACIFIC: The new CNNMoney newsletter about the center of change and innovation
At Microsoft, more than 100 employees sent a letter to CEO Satya Nadella asking him to terminate the company's $19.4M contract with Immigration and Customs Enforcement:
• The employees noted that Microsoft had once boasted that its software supports "the core [ICE] agency functions" and its facial recognition and identification tools.
• "We request that Microsoft cancel its contracts with ICE, and with other clients who directly enable ICE," they wrote. "As the people who build the technologies that Microsoft profits from, we refuse to be complicit."
• Nadella sent a letter to employees saying he was "appalled at the abhorrent policy" but stressed that "Microsoft is not working with the U.S. government on any projects related to separating children from their families at the border."
At 21st Century Fox, film and television creators have expressed disgust at Fox News for supporting and defending Trump's policy:
• "Modern Family" creator Steve Levitan tweeted that he was "disgusted to work at a company that has anything whatsoever to do with @FoxNews."
• Director Paul Feig, who has made two films at 20th Century Fox, wrote that he "cannot condone the support [Fox News] promotes toward the immoral and abusive policies and actions taken by this current administration toward immigrant children."
• 21st Century Fox CEO James Murdoch has not commented on the tweets, and network spokespeople declined to comment.
The Big Picture: President Trump's controversial policies are testing companies that profit from their contracts with government, or, in the case of Fox, their support of the president himself.
---
Welcome to PACIFIC.
Two more tech CEOs have spoken out on Trump's immigration policy since yesterday's newsletter.
Google CEO Sundar Pichai: "The stories and images of families being separated at the border are gut-wrenching. Urging our government to work together to find a better, more humane way that is reflective of our values as a nation. #keepfamiliestogether"
Uber CEO Dara Khosrowshahi: "As a father, a citizen and an immigrant myself, the stories coming from our border break my heart. Families are the backbone of society. A policy that pulls them apart rather than building them up is immoral and just plain wrong. #KeepFamiliesTogether"
What's Next: The president says he plans to sign an executive order to stop separating families at the border and instead detain them together.
---
Future of Health: Bezos, Buffet pick Gawande
The leaders of Amazon, Berkshire Hathaway and JPMorgan Chase have tapped surgeon and writer Atul Gawande to serve as CEO of their new health care venture aimed at improving care and lowering costs for employees.
The Details:
• The new firm will be based in Boston, where Gawande practices surgery and is a professor at Harvard.
• It will be independent from the three companies.
• A source familiar with the firm's plans says it will focus on cutting out pharmacy benefit managers who were meant to reduce costs but are now driving them up due to remuneration.
The Big Picture: This is about as marquee a hire as you can make in healthcare. Gawande is as prominent in health policy as he is in health journalism, thanks in part to a 2009 New Yorker article on soaring healthcare costs. But he has no experience running a company.
The Bigger Picture: Amazon has ambitions in healthcare that go far beyond what it can do for its own employees. CNBC's Christina Farr has the brief.
---
The Trust Crisis: White House eyes privacy
"The White House is in the early stages of determining what a federal approach to online data privacy should look like," Axios' Shannon Vavra, Kim Hart and David McCabe scoop:
• "Gail Slater, special assistant to President Trump for tech, telecom and cyber policy ... has met with industry groups to discuss possible ways to put in place guardrails for the use of personal data."
• "The preliminary conversations show that the White House wants a voice in the contentious domestic and global debate about how to protect consumer privacy online."
• "So far, Europe's strict General Data Protection Regulation has set the terms of the debate, alarming companies and some regulators in the US."
The Big Picture: The US is a long ways out from GDPR-like regulation, but if and when it moves forward it could give US government the ability to impose large fines on tech companies who don't comply with the new policies.
Sign up for PACIFIC: The new CNNMoney newsletter about the center of change and innovation
---
Beijing Rising: China invests less in US
"Chinese investment in the United States nosedived in the first five months of 2018 amid mounting tensions between the world's two largest economies," my colleague Julia Horowitz reports:
• "For years, Chinese companies pumped growing amounts of money into the United States, deepening ties between the countries. But Chinese investment totaled only $1.8 billion between January and May."
• "That's a 92% drop compared to the same period in 2017, and the lowest level in seven years, according to a report released Wednesday by Rhodium Group, a research firm that tracks Chinese foreign investment."
The Big Picture: "The dramatic decline comes as the fight between Washington and Beijing over trade escalates, and US regulators increase their scrutiny of Chinese acquisitions."
---
Valinsky's Links
Microsoft acquires Bonsai (GeekWire)
Amazon launches a shopping service (TC)
Facebook stock hits all-time high (CNNMoney)
Silicon Valley rent drives out families (Guardian)
AMC takes on MoviePass (THR)
---
Talk of Tinseltown: Disney: $71.3b for Fox
Disney has agreed to pay $71.3 billion for the 21st Century Fox entertainment assets, besting the $65-billion offer from Comcast:
• Fox has accepted Disney's offer pending shareholder approval and says it is "superior" to Comcast's offer.
What We're Hearing (from sources close to the matter):
• Comcast is now mulling a counter-counter-counter offer that could push the price of the 21st Century Fox assets even higher.
• The Murdochs are very pleased with Disney's offer, which is a roughly 36% increase on the initial $52.4 billion offer, but would be even happier if it went higher.
The Big Picture: The bidding war between Disney and Comcast highlights the premium both companies have put on scale amid increased pressure from big tech.
Sign up for PACIFIC: The new CNNMoney newsletter about the center of change and innovation
---
Dotted Line
Apple has signed a deal with Sesame Workshop, the educational nonprofit behind Sesame Street and other children's shows, to produce live-action, puppet and animated series for kids. It's the latest in Apple's growing portfolio of original content.
---
The Stream: Instagram's next: 'TV'
Instagram has launched IGTV, a hub for long-form video from professional content creators, pitting the company squarely against YouTube.
The Big Picture, via TechCrunch's Josh Constine: "Instagram is focusing its efforts around web celebrities that made their name on mobile rather than more traditional, old-school publishers and TV studios that might come off too polished and processed."
What Else:
• Instagram will allow users to post videos up to an hour in length.
• Instagram now claims to have 1 billion monthly users.
---
What Next: My favorite Instagram account.
See you tomorrow.
Sign up for PACIFIC: The new CNNMoney newsletter about the center of change and innovation