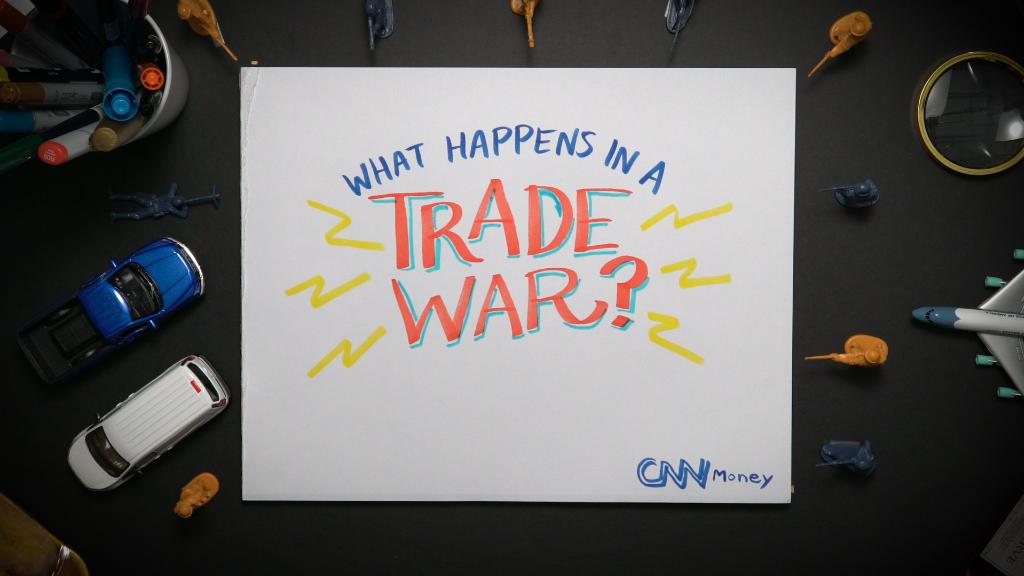 Fears of a trade war have handed the Dow its longest losing streak in 15 months. Goldman Sachs thinks these worries will get even worse.
Here's why: President Trump's use of tariffs as a negotiating tool requires him to show America's trading partners that he's deadly serious about his crackdown on trade. Yet that effort is also likely to spook Wall Street.
"We do not expect the Trump Administration to be able to convince trading partners these proposals are real without also convincing financial markets," Goldman Sachs economists wrote to clients on Wednesday night.
The investment bank warned that "further escalation seems likely" between the United States and China, although it may occur slowly.
Goldman Sachs noted that no formal trade negotiations have been announced before the July 6 deadline to impose the first round of tariffs that were proposed in March.
And while investors would likely cheer talks, Goldman Sachs said it would be "extremely hard" for the two sides to quickly reach a deal to reform China's policies on intellectual property, technology transfer and state-owned enterprises.
Related: American businesses brace for trade war with China
Worries about Trump's trade agenda have rattled Wall Street this week. The Dow on Thursday fell for the eighth day in a row, something that hasn't happened since March 2017. The 30-stock index is particularly exposed to disruptions to trade because its member include multinational companies like Nike (NKE) and Boeing (BA) that do tons of business in China.
The Nasdaq, powered by the likes of Netflix (NFLX) and Facebook (FB), hasn't really been fazed.
The latest volley of threats between Washington and Beijing is looking more and more like the start of a trade war. The fear is that tit-for-tat tariffs will dent consumer and business confidence, hurt economic growth and lift inflation.
The Trump administration said last week it would impose a 25% tariff on $50 billion of Chinese exports. China quickly vowed to retaliate and claimed that the United States had "launched a trade war"
Investors were further alarmed when Trump threatened this week to impose tariffs on another $200 billion of Chinese goods if Beijing retaliates against the latest US tariffs.
"Right now, we think it's just shots being fired, not a full-blown war," said Ben Phillips, chief investment officer at EventShares, a firm that manages policy-driven ETFs.
But Phillips said if global trade is significantly hurt, "you will see an asset price decline across the board."
Goldman Sachs thinks the escalation of trade tensions will be drawn out because it takes time to implement tariffs and Trump could face a backlash from voters and the business community.
"The political costs will grow as the amount of imports subject to tariff does," the report said.
For instance, Beijing could fight back by targeting US-based companies that operate in China. And China has already threatened to put tariffs on American crops, leaving farmers in states that voted for Trump caught in the middle.
"The agricultural community is politically influential," Goldman Sachs said, noting that its opposition could slow tariffs.
Related: Tech stocks are on fire despite global trade fears
Some companies are already warning that the trade tensions will hurt their bottom lines. Mercedez-Benz owner Daimler (DDAIF) slashed its profit forecast on Thursday, blaming the emerging trade war between the United States and China.
The good news is that for now, Goldman Sachs expects the fundamental economic impact of the trade skirmish to be "relatively modest, even if they escalate."
However, the lingering uncertainty threatens to create a cloud over what is otherwise a strong economy.
Federal Reserve chief Jerome Powell said on Wednesday that concerns in the business world about trade developments are "rising."
"For the first time, we're hearing about decisions to postpone investment, postpone hiring, postpone making decisions. That's a new thing," Powell said.