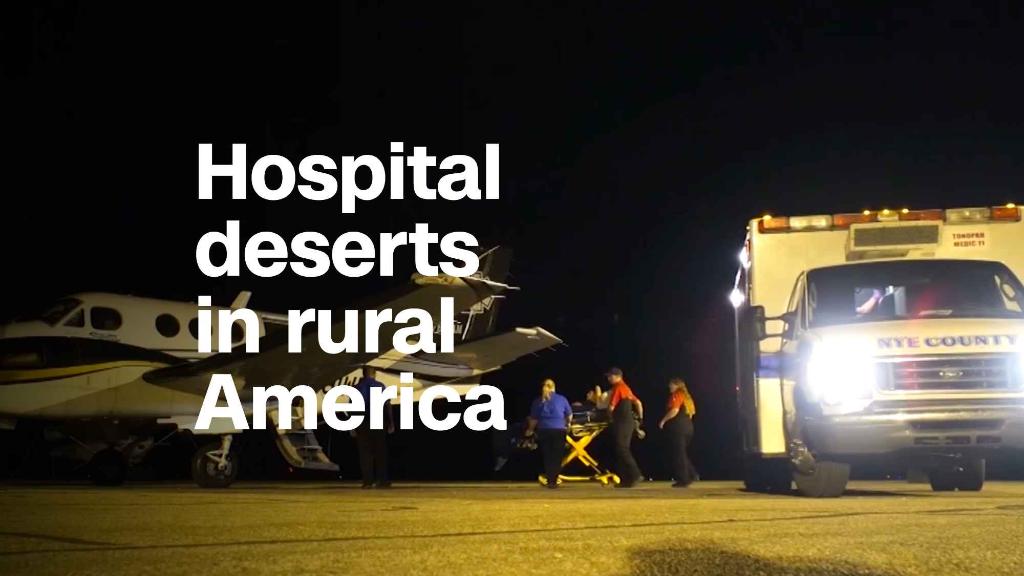 Connie Ellis had been working at railroad operator CSX Corp. for seven years when she accepted a buyout package and left the company.
In the three years since, she's worked as a janitor at a local college, then as a quality manager at an auto supplier. But she wanted a position that offered a lot more job security - and better pay than those jobs.
When she heard about the growing demand for health care workers, she started looking around and found Mercy College of Ohio about 10 minutes away.
The school, which is based in Toledo, specializes in health sciences and offers 16 programs that train students for a variety of medical professions, including certificate programs that can be completed in as little as one semester to master's degrees.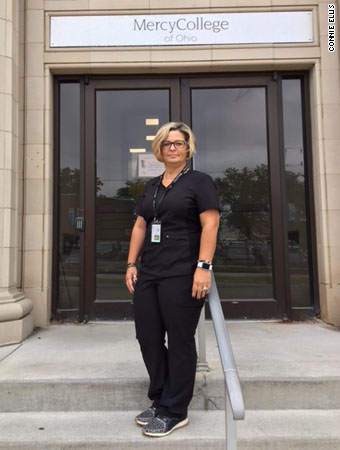 In January, Ellis enrolled to get a certificate in polysomnographic technology, which will qualify her to conduct sleep studies for patients suffering from disorders such as sleep apnea. To her, it was a perfect fit: not only could she complete the program in just 12 months, she was already accustomed to working late shifts.
"I worked nights a lot at CSX. And most sleep studies are also done at night," she said, noting that her classmates include a former mechanic, a musician and someone who worked for a delivery company.
At job fairs and community events, Mercy College's recruiters are seeking out students from a variety of fields, but especially the manufacturing and retail sectors -- which have been hit by layoffs after big companies like General Motors, DHL and Toys R Us left scores of people looking for work.
That could prove to be a real boon for the area's health care system, said Jason Theadore, vice president of ambulatory services and business development with Mercy Health, which partners with the college and operates 23 hospitals and 500 health care centers throughout the state.
Related: Hospitals offer big bonuses, free housing and tuition to recruit nurses
Manufacturing workers, he said, come with the experience of working long shifts and odd hours And former retail workers can help put a different spin on customer care in a health care setting.
"People from diverse career backgrounds are helping us think differently about how we deliver care," said Theadore.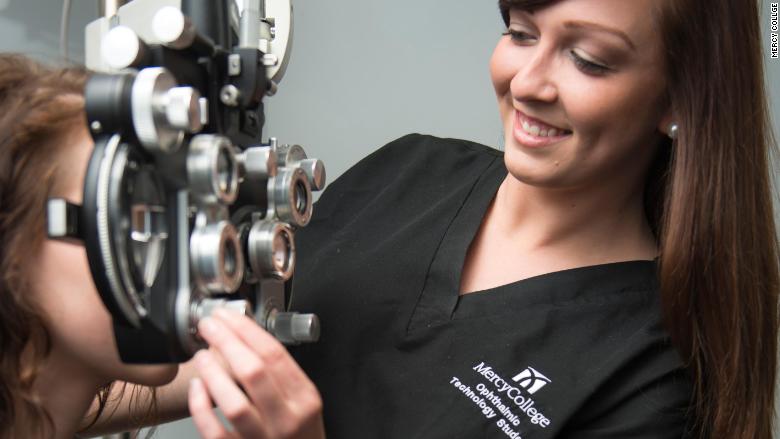 The health care industry also desperately needs the workers. Consulting firm Mercer estimates the United States will need to hire 2.3 million new health care workers by 2025 to adequately take care of the country's aging population.
Related: The US can't keep up with demand for health aides, nurses and doctors
"Right now, the labor supply just isn't there," said Matt Stevenson, a partner at Mercer.
With unemployment near record lows, the workers that are available often aren't armed with the right skills.
That's where programs like Mercy College's comes in.
Each year, the school graduates roughly 400 students. Among its most popular short-term programs are the ophthalmic technology (training to assist ophthalmologists), community health worker, EMT/paramedic and the sleep technology certificates.
Many of the grads end up working for the Mercy Health System, which operates 23 hospitals and 500 health care centers throughout Ohio.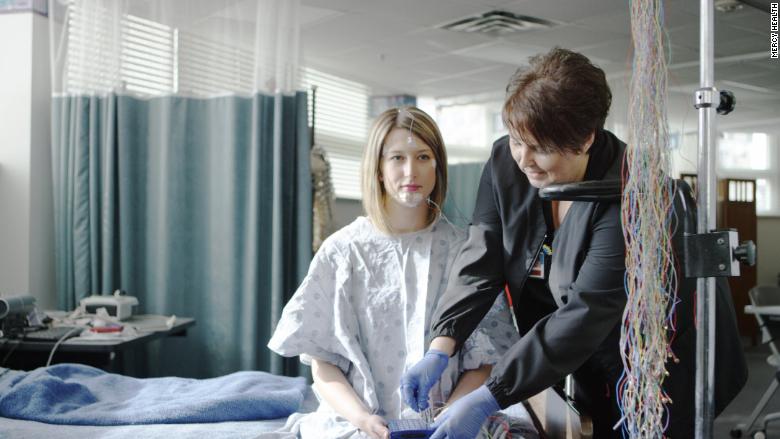 Kathy Damshroder has been teaching polysomnographic technology at Mercy College since last year.
"Everyone with this skill who wants a job has gotten one," said Damshroder, 55, who also works as a sleep technologist at Mercy Health hospital in Toledo.
According to Mercy College, nearly all the school's certificate graduates have been employed in their specialty.
Related: Nursing schools are rejecting thousands of applicants amid a shortage
Damshroder graduated from Mercy in 2010. Before that, she ran her own hair salon for 25 years in the nearby town of Elmore, Ohio.
"I still own it," she said.
Like Ellis, the long-term job security of working in the health care industry appeals to her.
"And there's bang for the buck," she said. "Entry level pay is about $22 an hour and goes up. The other huge draws are benefits and retirement plans, which I didn't have as an entrepreneur."