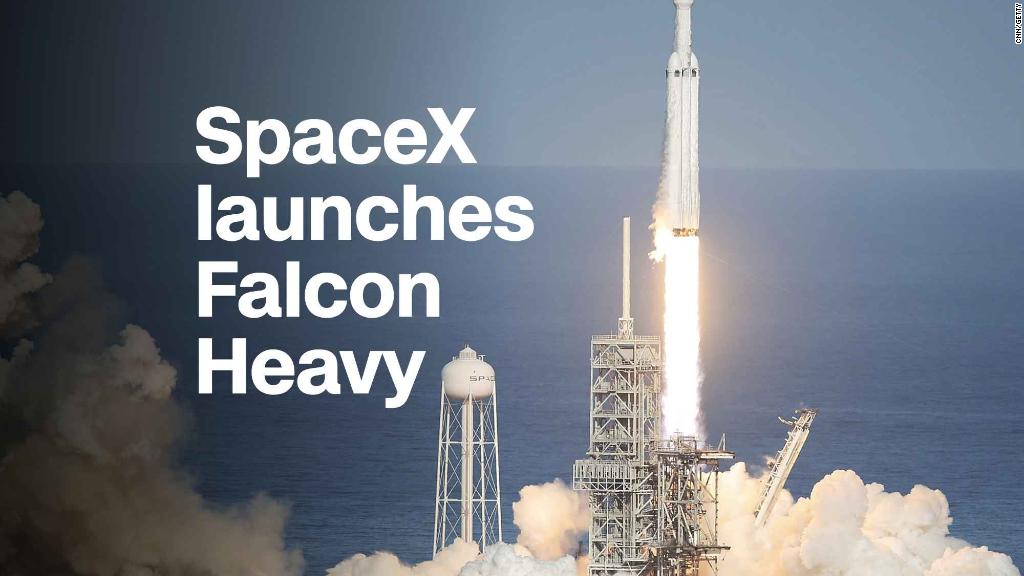 The most powerful rocket in operation just landed another launch contract.
The US Air Force said Thursday that it has picked SpaceX to fly a secretive military satellite atop its Falcon Heavy, the towering machine that took flight for the first time in February.
The satellite, called AFSPC-52, is slated to launch in the summer or fall of 2020, according to an Air Force statement.
The Air Force confirmed two proposals were submitted for this award. ULA — a joint venture between legacy firms Boeing (BA)and Lockheed Martin (LMT) — is the only other company eligible to conduct certain military launches that relate to national security.
Related: SpaceX promised to fly tourists to the Moon. How's that going?
SpaceX has made no secret of its desire to compete with ULA to land lucrative military launch contracts. The company sued the US government a few years ago for the right to bid for contracts.
SpaceX landed its first military contract in 2016, ending ULA's decade-long monopoly on military launch contracts.
This is the first classified national security payload, or NSS payload, award for SpaceX's new Falcon Heavy.
"SpaceX is honored by the Air Force's selection of Falcon Heavy to launch the competitively-awarded AFSPC-52 mission," SpaceX President and Chief Operating Officer Gwynne Shotwell said in a statement. "SpaceX is pleased to continue offering the American taxpayer the most cost-effective, reliable launch services for vital national security space missions."
ULA did not respond to a request for comment.
SpaceX's Falcon Heavy rocket boasts about three times the power of SpaceX's workhorse Falcon 9 rocket.
Falcon Heavy garnered widespread public attention during its maiden launch in February. CEO Elon Musk decided to use his personal cherry red Tesla roadster as the test payload. The company shared images of the vehicle after the launch, which showed it carrying a mannequin in a spacesuit, as it soared above Earth.
According to SpaceX, the rocket delivered on its mission flawlessly.
Musk said at the time that the Falcon Heavy completed maneuvers in space to prove to the US military that the rocket is up to snuff to launch massive, secretive payloads for the US Air Force.
Related: SpaceX launches its newest Falcon 9 rocket
The Falcon Heavy does not have many missions lined up on its launch schedule. The AFSPC-52 will mark the fifth launch added to the rocket's manifest, according to SpaceX's website.