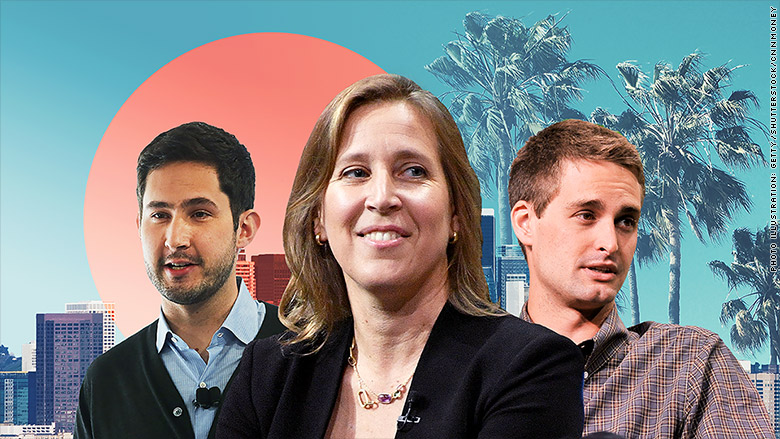 What's Next: The New Broadcast Wars: YouTube, Instagram and Snapchat are exploring new ways of letting content creators monetize their accounts, creating a new economy for every creative mind with a smartphone or computer. The platform that offers the most money and the best experience is likely to attract the best talent and draw the biggest audience:
All three companies rolled out new features or platforms this week:
• Google's YouTube introduced $4.99-a-month channel memberships, which allow YouTube stars to charge viewers for exclusive access to features and content. It also introduced tools that allow YouTube creators to sell merchandise (printing and shipping handled by YouTube) and develop marketing partnerships. And Google already allows creators to take a cut of advertising shown before or during their videos.
• Facebook's Instagram launched IGTV, a long-form video app where creators have their own channels. Instagram hasn't rolled out its monetization strategy yet, but as Recode's Kurt Wagner notes, "the most likely [plan] is that Instagram will put mid-roll or pre-roll video ads inside these long-form videos and split the revenue with creators."
• Snap's Snapchat is letting its most notable content creators use Snapchat Shows, a feature previously limited to premium providers like NBC, ESPN and Turner. Snap traditionally shares about 50% of ad revenue with the providers (the providers get more if they sell the ads themselves), and the same may apply for creators.
The Big Picture: New TV is still a nascent economy, but as creators explore new ways of using the medium the content will almost certainly grow more sophisticated and buzz-worthy, boosting revenue opportunities for platforms and creators alike.
Bonus: Teens at Vidcon tell Digiday's Tim Peterson why the prefer watching videos on YouTube instead of Facebook.
---
Welcome to PACIFIC. It's officially Summer.
We're headed back to Hollywood, and a full weekend of World Cup. Viva Mexico.
---
Talk of Tinseltown: Iger & Murdoch vs. Roberts
Hollywood's Must-Read: WSJ's Shalini Ramachandran and Keach Hagey take a deep dive into the Disney and Comcast war for 21st Century Fox, and the love-hate triangle of Bob Iger, Brian Roberts and Rupert Murdoch.
We've long covered Iger's and Roberts' "intense dislike of one another." What the WSJ piece does so well is get behind Murdoch's own dislike of Roberts, and his preference for Disney.
Best nugget: When Murdoch agreed to Iger's initial offer of $52.4 billion, he was spurning an earlier $64 billion offer from Roberts:
• "To Mr. Roberts, the fact Mr. Murdoch would rather take Disney's stock over his—with such a large gap in their offer amounts—was an insult."
• "A dejected Mr. Roberts told his deal team to take a breather for the holidays. In January, he told them: We're not giving up, according to people who attended."
• "Mr. Roberts's Chief Financial Officer Michael Cavanagh came up with a plan to offer all cash, something Disney might struggle to match."
Thus began the bidding war that has taken the value of 21st Century Fox from $52.4 billion to $65 billion to Disney's latest offer: $71.3 billion.
What's Next: "Fox and Disney can expect Comcast to come running back with a new offer," WSJ's Elizabeth Winkler reports. "The question is how high it will go. Bidding could reach up to $80 billion, according to analysts."
---
The Border Crisis: Amazonians join border protests
Workers at Amazon sent a letter to Jeff Bezos on Thursday demanding that the company stop selling its facial recognition technology to law enforcement and stop assisting partners like Planitir that work with Immigrations and Custom Enforcement.
The move comes amid international outrage over President Trump's controversial "zero tolerance" immigration policy, and days after workers at Microsoft sent a letter to CEO Satya Nadella asking him to terminate the company's $19.4M contract with ICE.
From the letter:
• "Technology like ours is playing an increasingly critical role across many sectors of society. What is clear to us is that our development and sales practices have yet to acknowledge the obligation that comes with this. Focusing solely on shareholder value is a race to the bottom, and one that we will not participate in."
• "We refuse to build the platform that powers ICE, and we refuse to contribute to tools that violate human rights."
• "Our company should not be in the surveillance business; we should not be in the policing business; we should not be in the business of supporting those who monitor and oppress marginalized populations.
The Big Picture: Last month we wrote that "the growing public awareness and concern about big tech's government contracts threatens to boil over and become a public relations crisis for America's biggest companies." Here we are.
---
The Trust Crisis: Facebook still on defense
Facebook COO Sheryl Sandberg met with a group of state attorneys general on Thursday to answer questions about the Cambridge Analytica scandal, Bloomberg's Sarah Frier reports:
• "Sandberg attended the National Association of Attorneys General gathering in Portland, Oregon on Thursday, Facebook confirmed, without providing further detail."
• "The executive will be doing a Q&A ... The company has reached out to attorneys general since the scandal, but the conference provides a rare opportunity to speak to many of them all at once."
• "Attorneys general from New York to Missouri have launched probes [into Facebook]. Thirty-four states asked Facebook in March to answer questions over its data-sharing and privacy practices."
The Big Picture, via PACIFIC's Jordan Valinsky: Facebook's data-sharing practices may be old news to the media, but they are still under the microscope of state, federal and European governments, which means Facebook's headaches won't end anytime soon.
---
Valinsky's Links
Facebook signs a WeWork deal (SVBJ)
Airbnb goes to war with NYC (Recode)
SpaceX lands a $130 million contract (TC)
Tesla closes 12 solar facilities (Reuters)
MoviePass rival angers studios (WSJ)
---
Time Off: Weekend Long Reads
"Why the United States needs more immigrants" by The New Yorker's John Cassidy:
• "With the native white population aging rapidly, the U.S. economy and fiscal system are in dire need of other groups to pick up the slack."
"Inside a Heist of American Chip Designs, as China Bids for Tech Power" by NYT's Paul Mozur:
• "China has ambitious plans to overhaul its economy and compete head-to-head with the United States and other nations in the technology of tomorrow. [A] heist of the designs two years ago and ... raids last year ... represent the dark side of that effort — and explain in part why the United States is starting a trade war with China."
"Elon Musk Has Always Been At War With The Media" by BuzzFeed's Caroline O'Donovan, Charlie Warzel and Ryan Mac:
• "Some say Elon Musk's paranoia and late-night Twitter rants reveal a billionaire cracking under pressure. But those who know him best say this is nothing new."
"The Legend of Nintendo" by Bloomberg Businessweek's Felix Gilette:
• "With the Switch, the 130-year-old gaming giant has once again turned reports of its demise into Nintendo Mania."
"Why World Cup Videos Are the Best YouTube Videos" by The Ringer's Kevin Clark:
• "A ranking of the 10 best sports-related YouTube rabbit holes to fall down."
---
What Next: A drink. Martini guru Naren Young says Koreatown's Normandie Club has the best martini in Los Angeles.
See you Monday.