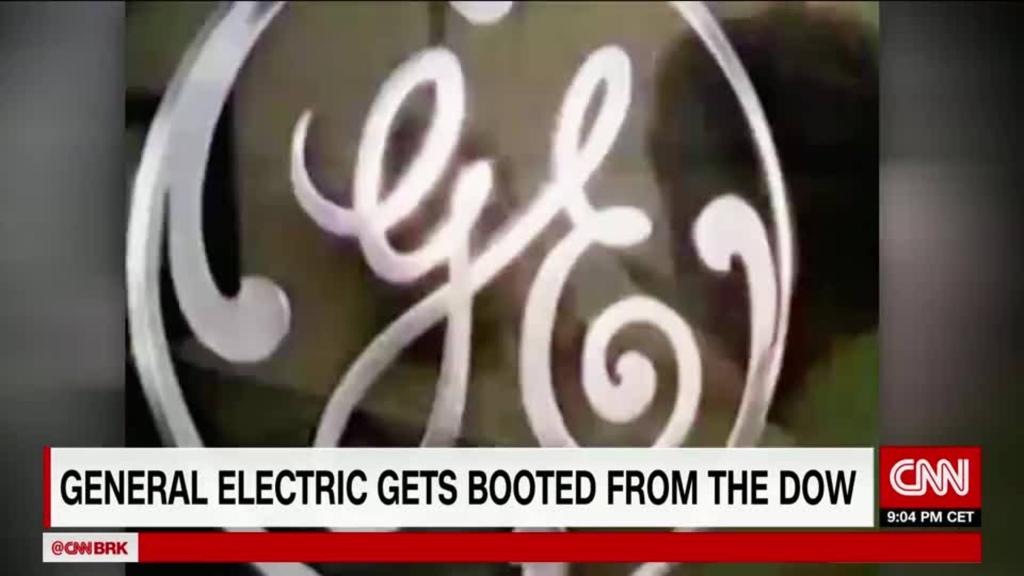 1. Amazon is too expensive for the Dow: Amazon and Jeff Bezos might be conquering the world, but there's at least one exclusive club they haven't gained entry to: The Dow Jones Industrial Average.
Amazon (AMZN) is one of the most consequential companies on the planet, so it stands to reason that it'd be in the world's most famous stock market index.
Yet Bezos shouldn't be waiting by the phone for an invite to the iconic yet quirky Dow. That's because the 122-year-old index is price-weighted, meaning the influence of each stock is based on its price tag. Cheaper stocks have little sway, and vice versa.
Unless Amazon executed a rare stock split, its share price of $1,700 would give the e-commerce giant too much power in the index. That's 46 times the price of Pfizer (PFE), the cheapest stock in the 30-stock index after General Electric gets the boot on Tuesday. GE's puny stock price of $13 made the storied company nearly irrelevant in an index of which it was a founding member.
The rules that govern the Dow have also made it impossible for other extremely important companies to join the index. That includes Google owner Alphabet (GOOGL) and its stock price of nearly $1,200. And then there's Warren Buffett's Berkshire Hathaway (BRKA), whose Class A shares weigh in at $287,000 apiece.
"If you put in Berkshire Hathaway, everything in the Dow could go to zero and we'd still be up that day," said Howard Silverblatt, senior index analyst at S&P Dow Jones Indices, which owns the Dow.
Silverblatt conceded that it's possible an adjustment will be made in the future to open the Dow up to Amazon. However, he cautioned against radically changing an index that's been around since 1896.
"This thing has worked for over 120 years. You don't mess with it," Silverblatt said.
Related: Why GE may need to stop paying its dividend after 119 years
The problem is that it used to be commonplace for companies to split their stocks when they got above $100, to make them cheaper for individual investors. That practice mostly stopped a decade ago due to the rise of ETFs, which allow investors to pool their money together to buy stocks. Individual stock prices don't matter as much anymore.
"The pressure on companies to split their stock has gone down dramatically," said Nicholas Colas, co-founder of DataTrek Research.
Still, the fact that Amazon, an $800 billion behemoth that has disrupted bookselling, department stores, cloud computing and groceries, can't be in the Dow speaks to the limitations of the index.
That's why sophisticated investors like hedge fund and mutual fund managers pay way more attention to the broader S&P 500. The 500-stock index is weighted by market capitalization, not stock price.
But don't expect the quirks of the Dow to change its relevance with the average investor.
"The Dow is still the primary measure that Main Street uses to measure Wall Street. I don't see that changing for a long time," said Colas.
2. Goodbye, GE: Walgreens (WBA) will officially replace General Electric (GE) on the Dow on Tuesday before the market opens, ending its 110 year membership.
Last year, GE was the worst-performing stock in the Dow, losing almost half of its value. GE is down by another 26% this year.
S&P DJI said that Walgreens will help the index represent the consumer and health care sectors.
Being ousted from the Dow is the latest indignity for GE, which is dealing with a cash crisis caused by years of bad deals. GE has replaced its CEO, slashed thousands of jobs and cut its coveted stock dividend in half.
Related: General Electric gets booted from the Dow
3. It's halftime for Corporate America: The second quarter of the year wraps up on Friday.
Overall, companies had a strong first half, boosted by changes to the tax law. But it was a rocky time for the markets, including two 1,000-point plunges in the Dow and increased volatility because of tariff jitters.
Much of the shockwave was set off by Washington, including the Federal Reserve's rate hikes and President Trump's trade crackdown.
Related: Tax cut fuels record $200 billion stock buyback bonanza
4. Chinese investment restriction details: The White House plans to announce proposed restrictions on Chinese investments in the United States by Friday. They will take effect at a later date.
Corporate America could suffer if the restrictions significantly cut off foreign capital. And American companies operating in China are preparing for business conditions to get worse.
Chinese investment in the United States has already fallen significantly. It totaled just $1.8 billion between January and May, a 92% drop compared to the same period last year, according to a report from Rhodium Group, a research firm that tracks Chinese foreign investment.
Related: American businesses brace for pain from trade fight with China
5. The battle for Fox: The ball is in Comcast's (CCZ) court this week. The NBCUniversal owner tried to usurp Disney's deal for most of 21st Century Fox's (FOXA) TV and movie assets earlier this month, but was bested last week when Disney (DIS) raised its offer to $71 billion.
Comcast hasn't yet said anything publicly, but Wall Street thinks it will still try to counter — CEO Brian Roberts badly wants Fox, which he thinks will better position the company to take on digital competitors like Netflix (NFLX).
Even so, many observers think Disney has the upper hand, in part because it offered a mix of cash and stock to Fox investors. Comcast has only bid cash so far.
Related: Disney raises its bid for Fox to $71 billion
6. Coming this week:
Monday — Carnival (CCL) earnings
Tuesday — Consumer Confidence Index for June; Walgreens replaces GE on the Dow
Wednesday — Bed Bath & Beyond (BBBY), General Mills (GIS), Rite Aid (RAD) earnings
Thursday — Nike (NKE), Walgreens Boots Alliance earnings; Foxconn (TPE) breaks ground in Wisconsin; Stress test results
Friday — China investment restrictions deadline; Consumer sentiment
-— CNN's Julia Horowitz and Donna Borak contributed to this report.