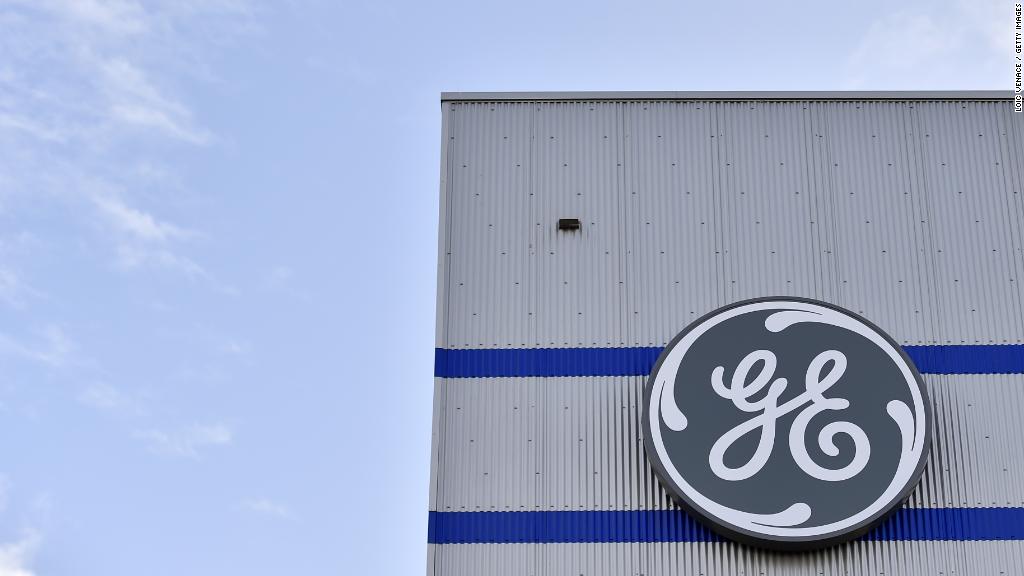 The quickly shrinking General Electric is on the verge of getting much smaller.
Cash-strapped GE (GE) revealed plans on Tuesday to spin off its health care business and sell its stake in oil and gas company Baker Hughes (BHGE). GE plans to use the proceeds to pay down a mountain of debt accumulated from years of poorly timed deals.
The announcement comes on the first day in 110 years that GE will not be in the Dow Jones Industrial Average. GE was replaced by Walgreens Boots Alliance (WBA) in the elite 30-stock index Tuesday.
The moves will leave GE, once one of America's great conglomerates, focused on just aviation, power and renewable energy.
"We are making fundamental changes to position our businesses for the future and redefine GE for another century of success," CEO John Flannery said during a call with analysts.
GE has already agreed to sell its century-old rail division and is searching for a buyer of the iconic light bulb unit that Thomas Edison founded. On Monday, GE said goodbye to its distributed power business, which sells equipment used to generate electricity in remote areas. GE has already unloaded NBC Universal, its appliance business and much of GE Capital, the banking division that nearly killed the company during the financial crisis.
Related: Inside the dismantling of GE
Flannery said the remaining businesses are "highly complementary" and "poised for future growth." He pledged to continue to make GE "simpler and stronger" while cleaning up its bloated balance sheet.
Wall Street applauded the move, sending GE's depressed stock 5% higher on Tuesday. GE lost nearly half its value last year and it's plunged another 25% in 2018. The stock is near its lowest level in about nine years.
The health care spin off marks a major shift by GE, which had previously said health care would remain one of its three big businesses. The division makes MRI machines and sells other medical equipment to hospitals and labs. It raked in $19.1 billion of revenue last year, accounting for 16% of the company's total sales.
GE wants to make the health care division a standalone company. The plan is for GE to raise cash by selling a 20% stake and then distributing the remainder to shareholders. As part of the spin-off, GE plans to transfer about $18 billion of debt and pension obligations to the new entity.
The exact structure and timing will be determined at a later date. GE expects to complete the transactions over the next 12 to 18 months.
Related: Why GE may need to halt its dividend after 119 years
GE's decision to unload its majority stake in Baker Hughes is a dramatic reversal. Less than a year ago, GE completed the merger of its oil and gas business with Baker Hughes, creating an oil services giant. The Baker Hughes deal was a major bet by former CEO Jeff Immelt.
However, now GE plans to sell its 62.5% stake in Baker Hughes over the next two to three years. Certain restrictions prevent GE from exiting the business before mid-2019.
Fixing GE's debt disaster
When he took the helm last year, Flannery inherited a mess from Immelt. Total debt, including pension liabilities, has nearly tripled since 2013, according to Moody's. At the same time, GE's business has deteriorated, leaving the company with less cash to pay back debt.
Under Immelt, GE's pension shortfall swelled to the largest in the S&P 500 due to inattention and extremely low interest rates.
Flannery is trying to fix GE by taking a different approach than Immelt and former legendary CEO Jack Welch. He's moving to simplify GE, which had grown very complex in recent decades.
After selling assets, GE hopes to slash $25 billion of net debt by 2020 and boost the company's cash levels. The goal is to get GE back to healthy borrowing levels and keep its strong credit rating.
Still, S&P Global Ratings warned on Tuesday that it expects to slash GE's credit rating by one notch after the health care deal is completed due to the loss of cash flow and diversity.
Is the dividend safe?
Last year, GE cut its dividend in half and slashed thousands of jobs.
GE signaled on Tuesday that it may need to once again cut its dividend. The company said that once its health care division is spun off, it expects to "adjust" the dividend to fit with industrial peers. Until then, GE said it plans to keep the current dividend.
JPMorgan Chase analyst C. Stephen Tusa, Jr. predicted in a report on Tuesday that eventually GE's dividend will "likely be cut" significantly.
The restructuring is "ultimately a de facto equity raise and dividend cut when all is said and done," he wrote to clients.
Flannery also pledged to continue shrinking GE Capital, which Welch and Immelt built into one of America's biggest banks. Now, GE Capital is a source of financial pain. GE plans to sell $25 billion in energy and industrial finance assets by 2020.
Yet GE Capital is requiring even more resources from the parent company. GE said it plans to pump another $3 billion into GE Capital in 2019. GE said it's "aggressively" looking for ways to cut its insurance exposure.
GE shocked Wall Street -- and regulators -- in January when it announced a $6.2 billion insurance loss and warned it will need to inject $15 billion into the business. The news sent GE's stock spiraling and triggered an investigation from the SEC.
In the future, GE will look much different, essentially becoming a jet engine and power company.
"This is a GE that is equipped to fight for the future," Flannery said.