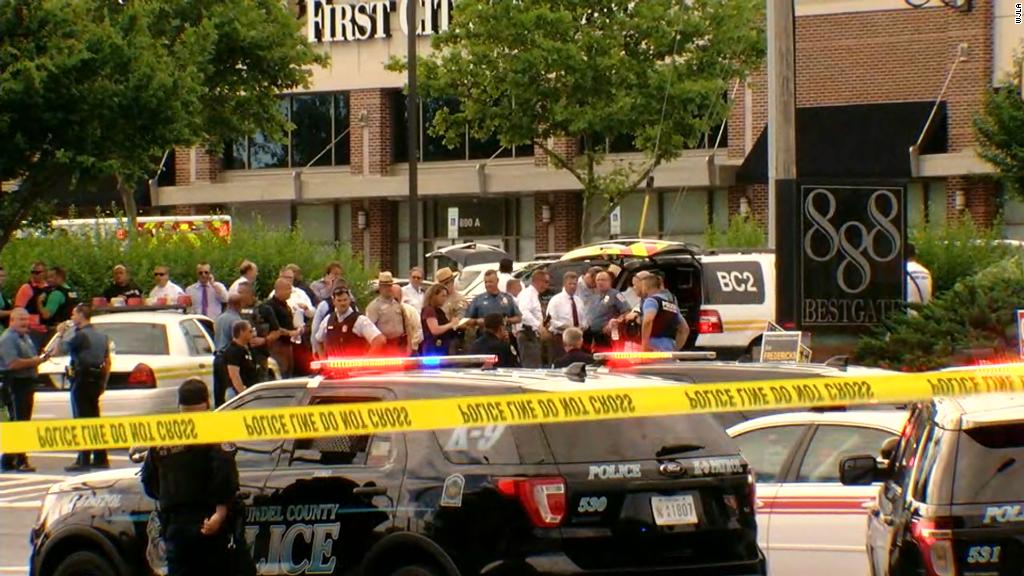 When the news first broke that there was a shooting at the Capital Gazette newspapers in Annapolis, Maryland, many reporters' thoughts immediately turned to their own newsrooms: Are we next?
The suspect had a long history with the small local paper, unsuccessfully suing for defamation after it ran a column about how he had been convicted of criminally harassing a woman. He kept up an intimidation campaign against the paper — especially online.
Disgruntled readers, viewers and listeners come with the territory of being a reporter. Newsrooms are used to hearing regularly from them, and from people who are just angry, not necessarily at their media outlet but at the world. But sometimes, a few stick out.
"Every newsroom I know of, regardless of size or geographical area, has at least a handful of people who regularly harass its journalists. Every one," tweeted San Francisco Chronicle editor-in-chief Audrey Cooper.
Newsroom safety has become an increasingly important topic in the past few years. In 2015, 12 people were killed during an attack at the satirical newspaper Charlie Hebdo in Paris. During the 2016 presidential campaign, the rhetoric around media got even more heated.
Related: Deadliest day for journalism in US since 9/11
Journalists commonly get threats — sometimes to their lives — over email, social media or even via phone. Sometimes it's connected to a specific story, sometimes it's about the outlet. Other times it is just because of the gender, race, or religion of the reporter.
In January a Michigan man was arrested, accused of making multiple calls to CNN's headquarters and threatening employees.
In one call, he allegedly said, "Fake news. I'm coming to gun you all down."
Newsrooms have responded by increasing security.
Before the Republican and Democratic National Conventions, several newsrooms gave their reporters security training that prepare them for everything from an active shooter situation to riots in response to both the heated political environment and threats to journalists.
Politico reported last year that multiple outlets, like the Washington Post and McClatchy, had hired more security guards or begun requiring employees swipe key cards to access their floors.
Anne Arundel County Council member Christopher Trumbauer said on CNN on Thursday he doesn't recall much security at the Capital Gazette offices.
"Why would they think they would need it, right? They report on high school athletes and community yard sales and what happens at the city council," Trumbauer said.
"To our knowledge, such an attack on a newsroom has not occurred in the United States," said Margaux Ewen, the North American Director for Reporters Without Borders. "This type of an attack has happened in other countries."
"While shootings may be common in this country, to have a newsroom be targeted is incredibly worrying to us. As we are searching for more information to learn the motives we can't help but strongly condemn any acts of violence against journalists who are simply doing their job especially in the country with the First Amendment."
Soon after the shooting on Thursday, media outlets were getting beefed up security. The Baltimore Sun said police were at its newsroom as a precaution. Los Angeles police were patrolling major outlets in their area. New York Police Department deployed officers in and around New York City at various media organizations "out of an abundance of caution" in light of the shooting, the department told CNN.