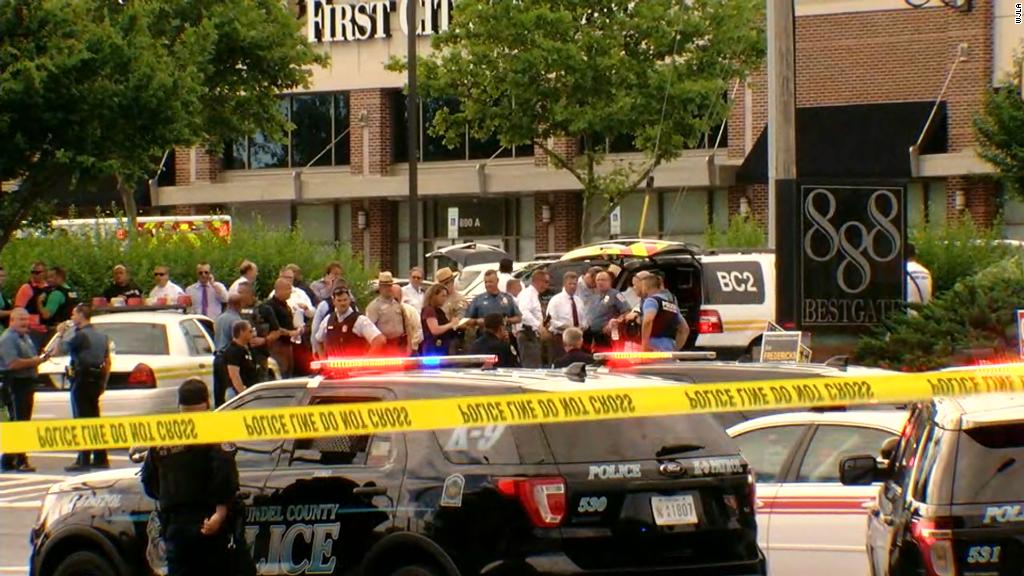 The owner of the Capital Gazette has set up a fundraiser for the victims of Thursday's newsroom shooting, and a GoFundMe charity page for victims has raised more than $150,000.
Tronc, the company which owns the Capital Gazette, announced Friday that the Capital Gazette Families Fund will be managed through the Community Foundation of Anne Arundel County. The Michael and Jacky Ferro Family Foundation will match up to $1 million. Michael Ferro is the majority shareholder of Tronc and the company's former chairman.
A gunman on Thursday stormed the Capital Gazette's office in Annapolis, Maryland, killing five people.
"This tragic incident is unimaginable for our colleagues in Annapolis. Our hearts go out to the families, friends and co-workers of Gerald Fischman, Robert Hiaasen, John McNamara, Rebecca Smith and Wendi Winters, who died Thursday in the shooting at the Capital Gazette," Justin Dearborn, Tronc's Chairman and CEO, said in a statement.
"This painful loss of our esteemed colleagues will be remembered forever. They were outstanding people and journalists who we will continue to honor. We extend our deepest sympathy and wish a successful recovery to Janel Cooley and Rachael Pacella, who were injured on Thursday."
Another fundraiser for the victims set up on the philanthropy-minded GoFundMe.com had already raised more than $150,000 by Friday afternoon, and the donations keep pouring in.
"Please give what you can to help the Capital Gazette newsroom and their journalists," the fundraising page reads. "Our hearts break for our colleagues in Annapolis and we want to do whatever we possibly can to help them pay for medical bills, funeral costs, newsroom repairs, and any other unforeseen expenses that might arise as a result of this terrible shooting."
"Thank you all so much for your love and support," the page continues. "Subscribe to a local newspaper."
The fundraiser was started by Madi Alexander, a Washington, DC-based data journalist for Bloomberg Government. GoFundMe spokesman Bobby Whithorne confirmed the page's authenticity and told CNN in an email, "we guarantee the funds will only be transferred to help those impacted by the shooting in the Gazette newsroom."
Related: For Capital Gazette journalists, the focus is on getting out Saturday's paper
Alexander told CNNMoney, "This story isn't about me — it's about the courageous Capital Gazette family that needs our help." She told The Baltimore Sun that even though she doesn't know anyone on the Capital Gazette staff, she still wanted to help.
"It just seemed like something needed to be done, and no one had done it yet," Alexander told the Sun.
Budgets for local news have decreased dramatically in recent years, and salaries are known to be low.
"[Capital Gazette] reporters & editors give all they have every day. There are no 40 hour weeks, no big paydays - just a passion for telling stories from our community," tweeted Capital Gazette editor Jimmy DeButts. "We keep doing more with less. We find ways to cover high school sports, breaking news, tax hikes, school budgets & local entertainment."
Related: Annapolis shooting: A day newsrooms have feared
Others on social media encouraged donations to Reporters Without Borders and the Committee to Protect Journalists, two organizations that work to promote journalists' safety and work around the world.