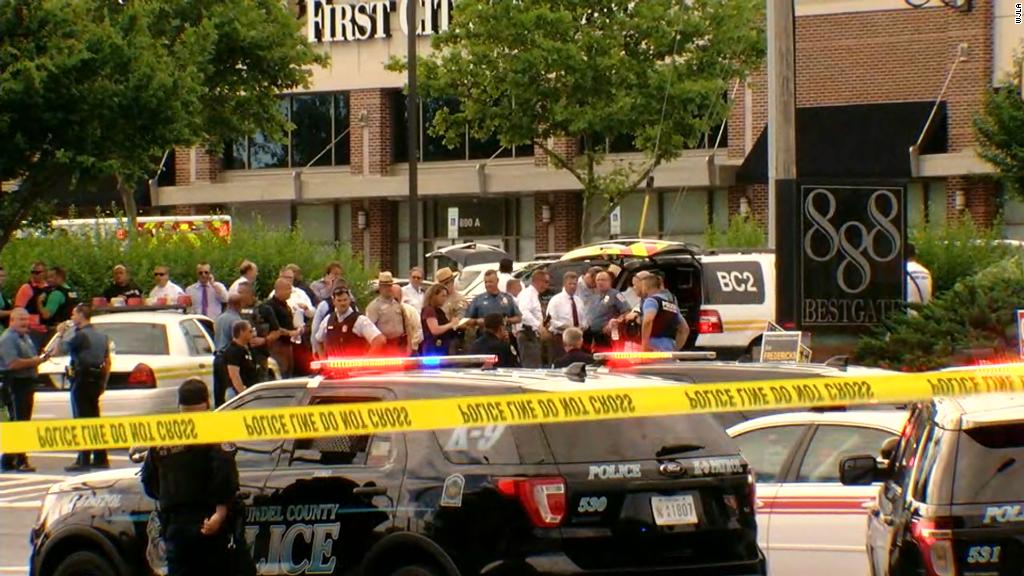 The world of journalism is mourning the deaths of five Capital Gazette employees in Annapolis, Maryland. Here's the latest on what we know... and what we don't know yet... from our "Reliable Sources" media newsletter.
The attack makes Thursday the deadliest day for journalism in America since 9/11.
Four of the dead -- Rob Hiaasen, Gerald Fischman, Wendi Winters, and John McNamara -- were veteran editors and reporters. The fifth victim, Rebecca Smith, was an ad sales assistant for the paper.
Local law enforcement said the newspaper as a whole was "targeted."
Multiple law enforcement officials told CNN the suspect in the shooting is Jarrod Warren Ramos, who apparently had a longstanding grudge against the paper. He had previously filed a defamation lawsuit against the paper. The suit was tossed out. But his twisted battle against the paper continued.
A chill in newsrooms across the country
News of the shooting spree caused a chill in newsrooms across the United States. While this attack appears to be very specific, we all know that threats against members of the media have been on the rise in recent years.
Law enforcement in several cities stepped up security around major news organizations as a precautionary measure...
The latest updates
-- Check our CNN.com live blog for the very latest...
-- Anne Arundel County Police say they'll hold another briefing on Friday morning...
-- The deceased staffers had a combined 75+ years experience in the business...
-- Two other staffers were taken to the hospital "with non life-threatening injuries," and have since been released, according to a memo from a top editor...
-- Capital Gazette is the umbrella name: Capital Gazette Comms publishes multiple papers, including the Capital and the Maryland Gazette...
-- The papers are part of the Baltimore Sun Media Group, a division of Tronc...
-- Tronc execs are on the way to MD to assist the local teams...
-- This is a small, tight-knit newsroom: Report Danielle Ohl said there are "about 20 news staffers, a few more" in advertising...
-- The surviving staffers still published a paper Thursday night. Here's my full story about it...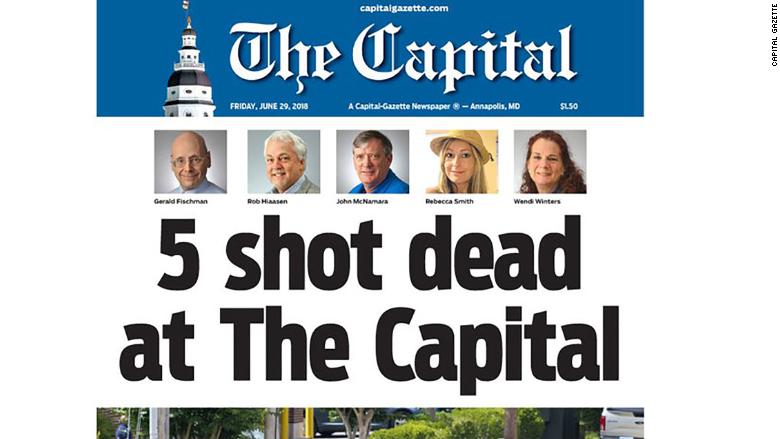 Inside the Newsroom: "Are we all going to die?"
Selene San Felice was in the newsroom when gunfire rang out. She had to hear a couple shots before she realized what was happening. She tried to flee through a door in the back, but it was locked. She saw McNamara get shot.
"What happened here was very calculated," she said on "Anderson Cooper 360," adding, "I think this person was going after editors."
Reporter Phil Davis was also interviewed on the program. He hid under a desk during the attack, and hoped the bright light from his computer monitor wouldn't give away his location. When he heard the gunman reload, he said he wondered to himself, "Are we all going to die?"
"Please help us"
Anthony Messenger, an intern at the paper, was the first to tweet about the attack. "Active shooter 888 Bestgate please help us," he wrote, triggering Dataminr alerts in many newsrooms.
Messenger survived. He tweeted later in the day: "I am deeply appreciative of the well wishes my co-workers and I recieved from you all today. My thoughts and prayers go out to my colleagues and their families."
Historical context for this terrible day
Context for today's tragedy: The last time multiple journalists were killed while on assignment in the U.S. was in 2015, when an ex-employee attacked two members of a WDBJ TV news crew during a live report in Virginia.
In my story, I called it the deadliest day "since 9/11" because a freelance news photographer and six broadcast engineers were killed in the terror attacks. Press freedom advocates say there hasn't been an incident quite like this in decades -- an angry reader attacking the newsroom and killing so many staffers.
--> CNN's Hadas Gold tweeted: "I just realized...the five members of the Capital Gazette will likely be added to the Newseum journalists memorial. So rarely do these names carry the country 'United States.' Now five more will..."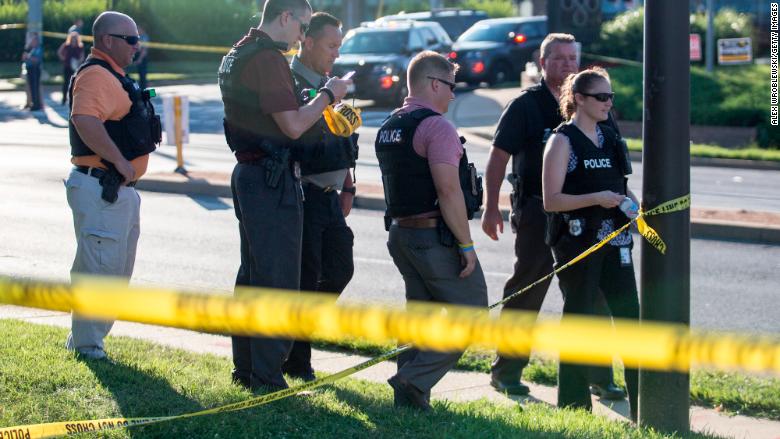 Quote of the Day
Friday's editorial in The Baltimore Sun newspaper:
"As journalists, we have covered more mass shootings than we care to count. Today gun violence hit our family, and we are feeling its pain more acutely than we could have imagined — yet it's a pain we know will be repeated in community after community, in shooting after shooting, unless we act. We can accept no more excuses."
A curious comment on Fox
Oliver Darcy emails: "There were a lot of unanswered Q's in the immediate aftermath of the shooting. What exactly happened? How many innocents were shot? Who was responsible? Over on Fox News, though, journalist Trace Gallagher was curious about something else. Gallagher reported on-air that he had "checked in on the ideological bent" of the Capital Gazette. His conclusion? That it was a 'very local' newspaper with no 'major ideological bent.' Gallagher said Fox News 'looked at the editorial board, who is on it, what topics they cover.' He continued, 'It's very much a local newspaper. They cover the capital... the Naval Academy... and local elections. For the latest primary, they endorsed a moderate Democrat. So the paper itself, very local.'"
>> Erik Wemple's reaction: "It's best to simply not talk about such stuff while information is still in flux..."
White House's response to the carnage
Within two hours of the shooting, with many people wondering if the incident was somehow inspired by his anti-media rhetoric, President Trump tweeted out his "thoughts and prayers" for "the victims and their families."
When he arrived back at the White House, reporters shouted questionns and he did not engage. But press secretary Sarah Sanders met the gravity of the moment with a statement that read in part, "A violent attack on innocent journalists doing their job is an attack on every American."
"We need more than prayers"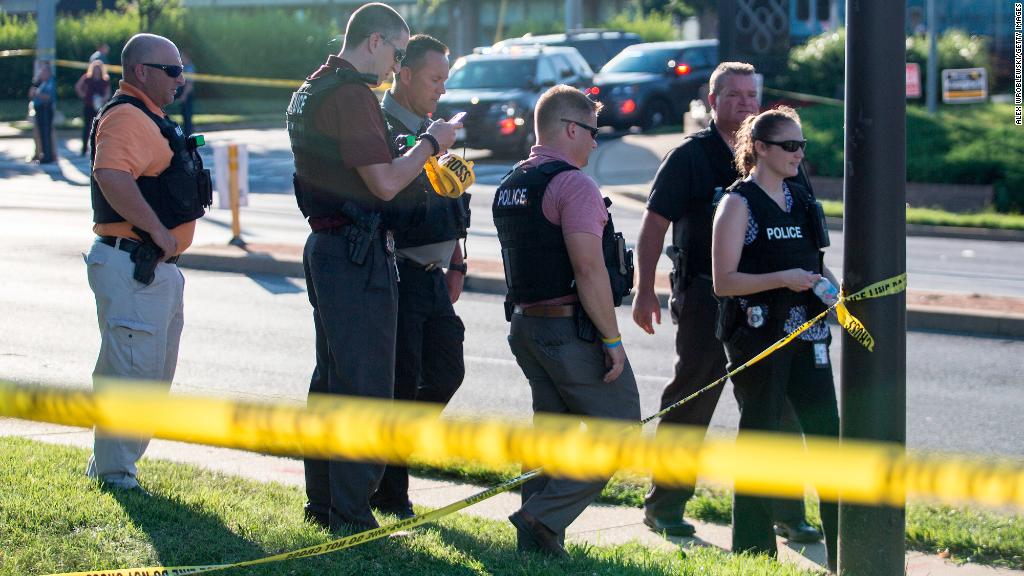 On "AC360," Selene San Felice said she had heard about Trump's "thoughts and prayers" tweet. "I'm not trying to make this political, all right? But we need more than prayers," she said. "I appreciate the prayers. I was praying the entire time I was under that desk. I want your prayers, but I want something else."
San Felice said her life and the lives of her colleagues have been "shattered." "So thanks for your prayers," she said, "but I couldn't give a f--- about them if there's nothing else." Read/watch the rest here...
Local news at its best
As a student journalist in Maryland, I spent many days in and around Annapolis, which means I spent many days reading The Capital. As I said on CNN earlier, The Capital and the Maryland Gazette are special papers... TRULY community publications... The kind of papers that readers cherish.
These staffers do a LOT with a little. And they're showing that again right now, under the worst of circumstances, covering the worst story of their lives...
Honoring the victims
Capital Gazette reporter Chase Cook on Twitter just now: "Gerald, Wendi, Rob, John and Rebecca. God. I can't comprehend this. They all were such wonderful people. My heart is in pieces."
I highly recommend The Baltimore Sun's loving obits of the five victims...
The Sun's internal memo
"Those of us who have been fortunate enough to know and work with these individuals have lost dear friends. No words can adequately express our sadness," Baltimore Sun Media Group publisher Trif Alatzas wrote in a memo to staffers Thursday night...
Lisa's memories of Rob
CNN's Lisa Respers France shared these personal memories of Rob Hiaasen: "I was an editorial assistant when I first met Rob. He was so tall that I joked with him that with my short stature I could barely see that high. But as I said on social media, he needed all that real estate to house his enormous heart and talent. He was one of the people at The Baltimore Sun who encouraged me to become a reporter and I learned more about writing with voice from him than anyone. He encouraged me to write like I talked ('In case you hadn't noticed, you are pretty funny.') I was so proud in 2006 when my first short story was published alongside his in the anthology 'Baltimore Noir' and I told him so. His response was 'Are you kidding me? We get to be in the book you debuted in!' That was so him. He was such a light."
Tronc execs on the way to Annapolis
The community papers are owned by the Baltimore Sun Media Group, which is owned by Tronc. CEO Justin Dearborn said in an internal memo that Tronc execs are on the way to MD. He also reminded employees that counseling and support services are available. The company's papers in Maryland will have counselors on site in the coming days.
"We are focused on providing support to our colleagues and their families," Dearborn wrote...
Notes and quotes
-- Read the latest from The Sun's media critic David Zurawik: "A new outrage from Hannity: trying to score partisan political points off deaths at Capital Gazette. This one is too personal to ignore."
-- Rep. Paul Ryan tweeted: "The senseless attack on a Maryland newspaper today is sickening. God bless these journalists. We pray for them and their families tonight."
-- CNN's Kaitlan Collins: "I don't want to hear the phrase 'fake news' ever again."
-- S.E. Cupp: "I hope this can be a moment where journalists stick up for journalists. Where media personalities forget their tribes and and just remember our common mission: to uphold the first amendment. Let's support each other, and be advocates for a free press. It's not a lot to ask."
This shooter exploited journalism's open doors
The Capital Gazette's address is printed right there in the paper. Readers and members of the public knew they could drop by. That's journalism at its core: Open. Accessible. Transparent. And the gunman exploited that.
Emily Opilo, a city reporter for the Morning Call in Allentown, PA, said it really well on Thursday. She has the final word for the moment. She tweeted: "What happened in Annapolis is the worst nightmare of every journalist. None of our newsrooms are equipped to fend off an attack. We belong to the communities we serve. We can't be fortresses. Praying that as many people as possible make it out alive."
A version of this story first appeared in the "Reliable Sources" newsletter. You can subscribe for free here.