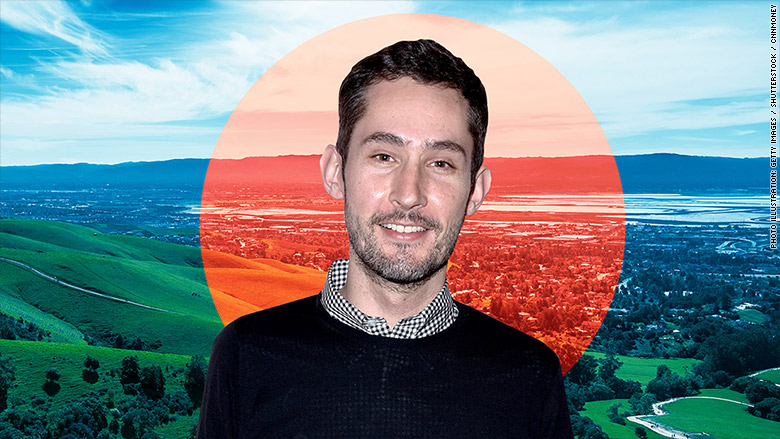 Programming Note: PACIFIC will be off next week for the Fourth. We hope you have a chance to relax and enjoy the holiday. We'll be back on Monday, July 9, just in time for the Allen & Co Conference in Sun Valley.
Sign up for PACIFIC: The new CNNMoney newsletter about the center of change and innovation
---
What's Next: Kevin Systrom saves Facebook: Instagram is one of Facebook's fastest growing assets, helping the company maintain growth and cultural relevance even as the flagship platform hemorrhages younger users and cleaning up after a litany of data privacy and misinformation scandals.
Few acquisitions have yielded a greater ROI: Zuckerberg bought Instagram for $1 billion in 2012. It is now worth $100 billion, according to Bloomberg Intelligence analyst Jitendra Waral. One billion people use Instagram, and it is expected to account for 25% of Facebook's ad revenue by 2020, per eMarketer.
The Upshot: Everyone you know with an Instagram account who says "I don't use Facebook" uses Facebook.
How Instagram Won: The Week's Navneet Alang says Instagram's success can be traced back to its "hipster" aesthetics:
• "The use of filters, first deployed as a mobile throwback to the Polaroid, ended up framing people's pictures as idyllic representations of life: Here's my day spent around the city — only prettier."
• "Instagram thus became intimately tied to aspiration. ... Even accounts with wide-ranging focuses, from wellness to bikini models to design, play off the idea of presenting a curated, polished version of life, gathering thousands or even millions of followers because of it."
• "The app also has a clever release valve for all the accompanying pressure around self-presentation: the Story... [which] lends itself to the flippant, the ephemeral, the messy, and the spontaneous."
Instagram is now beating Snapchat at its own game: More than 400 million people use Instagram Stories, more than double the 191 million active users on Snapchat.
What's Next: InstaCommerce:
• Instagram's visual-first design has made it one of the most effective digital platforms for brands and retailers.
• Now brands and retailers can sell products directly through photos and stories, effectively turning Instagram into an e-commerce platform.
• Through e-commerce, Instagram can make money through the accounts people already follow, rather than relying solely on ads (though it relies on those, too).
Right on Time: Systrom and his colleagues get the NYT Style treatment.
---
Welcome to PACIFIC. Barack Obama was in Beverly Hills last night and told concerned Democrats to "stop moping" and get involved. To those wondering "Where is Barack Obama?," his message was: "Do not wait for the perfect message. Don't wait to feel a tingle in your spine because you're expecting politicians to be so inspiring and poetic and moving."
For Democrats, Obama is basically Luke Skywalker in "The Last Jedi": The disappeared knight-turned-philosopher who knows so much about the way the world works that he refuses to return to the battlefield. The Dems only hope is that, like Skywalker, Obama is quietly wielding his immense power from a distance.
---
The Fox Wars: Brian Roberts on the clock
21st Century Fox holds a special shareholder meeting on July 27 at the New York Hilton to vote on Disney's $71.3 billion acquisition offer.
That gives Comcast's Brian Roberts less than a month to decide whether he wants to up his $65 billion bid still higher. Last we heard from our sources he was still talking to private equity firms and other companies that may be interested in a joint bid.
What You Need to Know:
• The Murdochs can only vote their 17% interest in Fox, which means other shareholders will need to be on board with the Disney acquisition.
• Chris Hohn of TCI Fund Management, which owns 7.4% of Fox, has urged Rupert Murdoch to give Comcast a chance to submit a higher offer.
• All things being equal, the Murdochs would rather sell to Disney because of regulatory concerns with Comcast and better relationships with Bob Iger.
Sign up for PACIFIC: The new CNNMoney newsletter about the center of change and innovation
---
What Hollywood is Really Talking About
LeBron James has declined his option with the Cavs and is now officially a free agent, clearing the way for a possible move to the Lakers. If that happened, it would turn the longstanding Warriors vs. LeBron rivalry into a battle between San Francisco and L.A.
---
Dorsey Watch: Salmon Bears on the Bird
Slate's Felix Salmon pours cold water on all the buzz about Twitter's resurgence, which has been the subject of much media coverage:
• "A lot of the rise in Twitter's share price ... can be attributed to stock-market dynamics, as opposed to corporate fundamentals. ... At some point, the [short] squeeze will end, and the stock will drop back down to a more natural level."
• "Right now, while the share price is rising, it's easy to find people who will cheer Dorsey's strategy. But it's equally easy to imagine a world where a belated pivot to video, along with the shuttering of popular products like Vine, can be read as misguided and desperate. In other words, the share price is driving the narrative."
• "The big question is: What effect will that have on Twitter the company? If the rising share price has done wonders for morale, how will employees feel when the stock starts falling again?"
The Big Picture: The press is far too wedded to market fluctuations. "Everything is covered through the prism of stock prices and market cap," a source at one of the big social media companies tells me. "We just live in this hot take journalism culture where you render a verdict that can be reversed in short order. The same people writing about how 'Twitter is Back' are simultaneously writing that 'Snap is Dying,' with no self-awareness."
---
Valinsky's Links
Verizon shutters Go90 (Engadget)
Google builds gaming hardware (TNW)
Facebook may analyze how you watch ads (Ars)
Relativity reaches a deal with creditors (Variety)
Airbnb eyes a 2020 IPO (TechCrunch)
---
The Trust Crisis: California passes privacy act
California has passed the Consumer Privacy Act of 2018, a GDPR-lite regulation that will give consumers more control over their personal data.
NYT's Daisuke Wakabayashi explains:
• "The new law grants consumers the right to know what information companies are collecting about them, why they are collecting that data and with whom they are sharing it."
• "It gives consumers the right to tell companies to delete their information as well as to not sell or share their data."
• "It also makes it more difficult to share or sell data on children younger than 16."
• "The legislation ... makes it easier for consumers to sue companies after a data breach. And it gives the state's attorney general more authority to fine companies that don't adhere to the new regulations."
Curb Your Enthusiasm: The bill doesn't go into effect until 2020, giving tech firms plenty of time to lobby for changes.
Sign up for PACIFIC: The new CNNMoney newsletter about the center of change and innovation
---
What Next: Champagne. Bloomberg's Megan Krigbaum has eight American sparkling wines for your Fourth of July party.
See you on July 9.