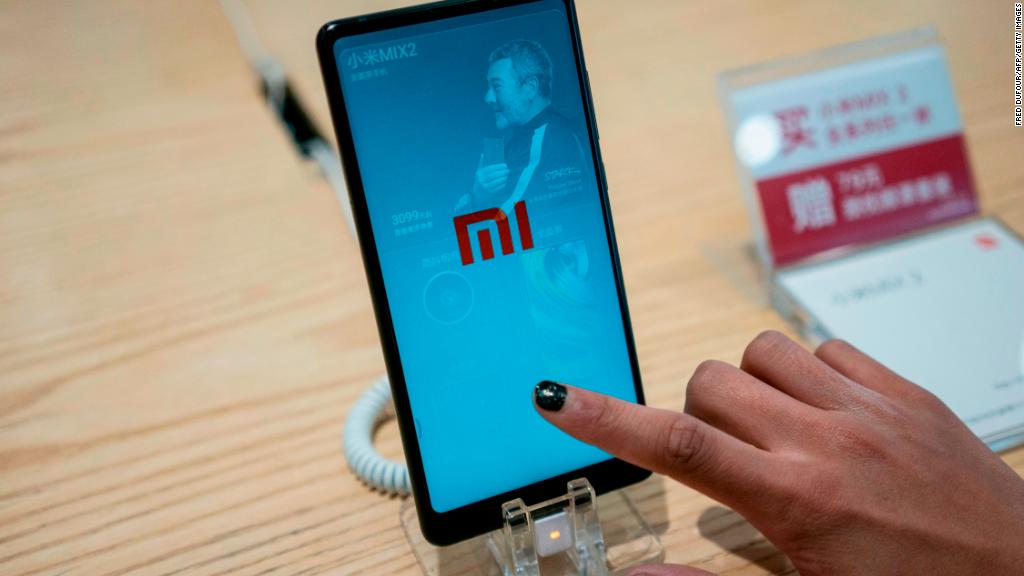 Xiaomi's big Hong Kong IPO is shrinking.
The Chinese smartphone maker is set to raise about 36 billion Hong Kong dollars ($4.7 billion) after pricing its public offering at the bottom of the planned range, a person familiar with the IPO told CNNMoney.
Earlier this year, Xiaomi was reported to have been seeking to raise as much as $10 billion from the listing. When it announced details of the IPO last weekend, it said it could bring in as much as $6.1 billion.
In the end, the company has decided to issue about 2.2 billion shares at 17 Hong Kong dollars ($2.17) each, the person said. Xiaomi had marketed the shares for between 17 and 22 Hong Kong dollars.
It declined to comment on Friday.
Related: Chinese smartphone maker Xiaomi is going after Europe
The IPO price values Xiaomi at about $54 billion, far below the valuation of close to $100 billion the company was reportedly seeking earlier this year. It's also not a huge leap from the $45 billion at which Xiaomi was valued in a private funding round in late 2014.
The share sale has unfolded against a backdrop of stock market turbulence triggered by fears over the escalating trade clash between the United States and China. The dispute has its roots in American concerns about China's tech ambitions and its huge trade surplus with the United States.
Related: There's a bear market in Chinese stocks
Analysts say investors may have been concerned about Xiaomi's potential to increase profit margins in the future, given that much of its smartphone sales are at the lower end of the the market.
In seeking a higher valuation, the company sought to pitch itself as an internet services business rather than a hardware maker. But it appears to have failed to persuade investors to pay a premium for that.
Xiaomi also announced and then quickly abandoned plans to list some of its shares in mainland Chinese markets. They have been hit especially hard by the market turmoil, with the benchmark Shanghai index falling more than 20% from its peak earlier this year.
Related: How China's Xiaomi took India's smartphone market by storm
Xiaomi's main business is phones, but it also sells a range of other internet-connected devices, including laptops and even smart rice cookers. Most of its sales are in China, but it's growing aggressively in other countries.
The company has enjoyed particular success in India, where it has overtaken Samsung (SSNLF) as the biggest selling smartphone maker. It is also making a push to win over European consumers.
Xiaomi plans to use the cash from the IPO to fuel its global expansion, and increase research and development.
Its shares will begin trading on the Hong Kong stock exchange on July 9.