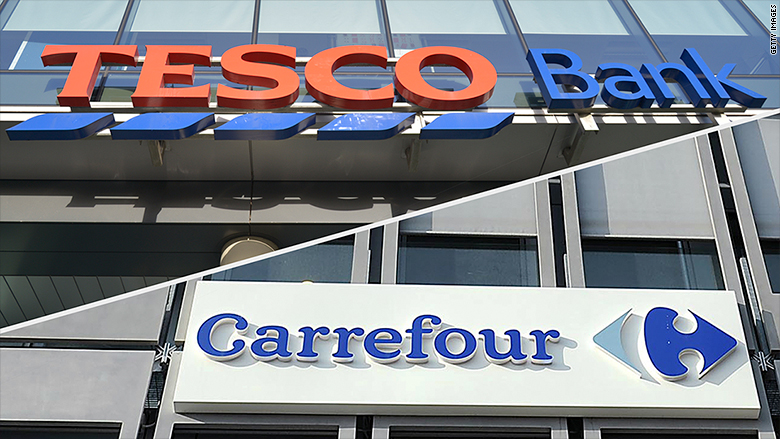 Two of Europe's biggest supermarket chains are joining forces.
Tesco (TSCDF) and Carrefour (CRERF) said on Monday they are planning a long-term, strategic alliance covering their relationship with global suppliers and joint purchasing of own brand products.
In a joint statement, the companies said they were hoping to improve the quality and choice of products available to their customers "at even lower prices thereby enhancing their competitiveness."
"By working together and making the most of our collective product expertise and sourcing capability, we will be able to serve our customers even better, further improving choice, quality and value," Tesco CEO Dave Lewis said in the statement.
Carrefour CEO Alexandre Bompard said the alliance would combine the purchasing expertise of two world leaders with complementary geographical reach and common strategies.
The deal comes as European supermarket groups try to shore up their defenses against digital competitors such as Amazon (AMZN). It also follows Sainsbury's (JSAIY) deal to buy the Asda chain from Walmart (WMT), a move that will create a new market leader in the United Kingdom.
Sainsbury's has said it expects to generate annual savings of £500 million ($658 million) from the acquisition. It plans to cut prices on many popular products by 10%.
Related: Walmart sells its UK supermarket business to Sainsbury's
Shares in Tesco and Carrefour outperformed weaker stock markets in London and Paris on Monday, but analysts cautioned that the alliance could herald another price war that would be good for consumers but bad for shareholders.
"The latest Tesco partnership looks like a direct response to the threat posed by the proposed merger of Sainsbury's and Asda, who will have access to the global buying power of Walmart as a result," said Laith Khalaf, a senior analyst at broker Hargreaves Lansdown.
"In theory, the big supermarkets can use greater firepower in the supply chains to lower prices, drive more sales, and perhaps even keep a bit more margin for themselves. However, the risk is that a tit-for-tat price war spirals out of control and ends up lowering profit margins across the industry," he added.
Tesco and Carrefour expect to formally agree the alliance within two months.
More to come?
The announcement comes just a few days after some of their biggest competitors in Europe said they were forming an alliance that should boost their purchasing power.
Germany's Metro (MTGGY) is teaming up with France's Casino Group and Auchan Retail to jointly negotiate with suppliers in a number of areas.
Some analysts believe the Tesco-Carrefour arrangement could eventually turn into a much bigger deal.
"While the partnership stands to partially solve the significant strategic and market issues both retailers face, there is clear logic for the deal to become permanent and could result in a formal merger between the two firms," said Jonathan Buxton, head of consumer and retail at Cavendish Corporate Finance.