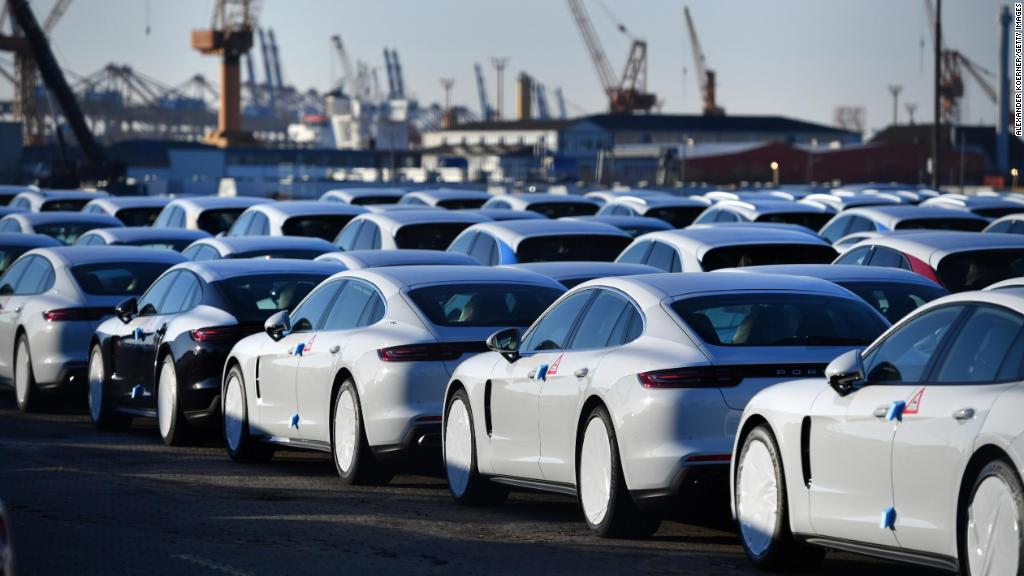 Nearly $300 billion of US exports could be hit by retaliatory tariffs if the Trump administration decides to penalize automobile imports from around the world, the European Union says.
The stark warning was included in the European Commission's written response to the Trump administration's investigation into imports of cars and car parts. The comments were sent to the US Department of Commerce on Friday and published on Monday.
The Commission said global retaliation against US tariffs on auto imports would have a much bigger impact on the American economy than the backlash provoked by the Trump administration's steel and aluminum tariffs this year.
It estimated that $294 billion, or around 19% of total US exports last year, could be affected.
Related: Every US-made car is an import. That's bad news for automakers
President Donald Trump has threatened to place a 20% tariff on all European cars coming to the United States if the European Union doesn't remove its own trade barriers.
In May, the US government launched an investigation into imports of automobiles, including SUVs, light trucks and auto parts.
The type of investigation, known as Section 232, is meant to determine whether the imports are hurting US national security. It's the same approach the Trump administration used before it slapped tariffs on steel and aluminum imports earlier this year.
Related: Brexit is killing investment in UK car industry
The Trump tariffs would violate international trade rules, the commission said, adding that European car imports into the United States do not pose a threat to the American automobile industry.
Those measures have drawn retaliatory tariffs on billions of dollars of US exports from major trading partners including China, the European Union, Canada and Mexico.
The European Commission said the US investigation into auto imports "lacks legitimacy, factual basis and violates international trade rules."
Related: GM warns tariff could force job cuts, raise cost of cars
European car manufacturers in the United States export 60% of their cars, which helps the US trade balance — a number Trump has been focused on.
The commission also pointed out that European car companies employ 120,000 Americans in manufacturing plants in the United States.
General Motors (GM) has taken a similar position as the European Commission. On Friday it warned Trump that his tariffs could force it to cut jobs and raise the price of cars, perhaps by thousands of dollars.
-- Mark Thompson contributed to this article.