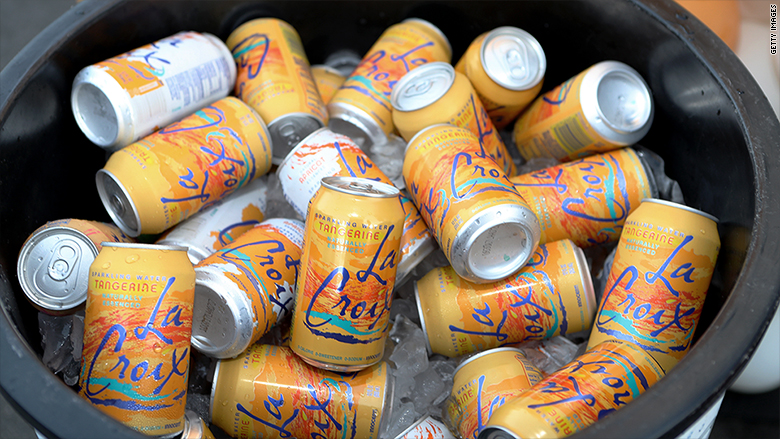 The CEO of the company behind LaCroix sparkling water has been sued by two former pilots who say the company's top executive subjected them to unwanted sexual touching on multiple occasions.
The two male pilots filed separate lawsuits in Florida against Nicholas Caporella, the 82-year-old CEO of Corporate Management Advisors Inc. Caporella's company operates National Beverage Corp., which makes LaCroix.
Caporella is also an experienced pilot who flies the company's jet out of Fort Lauderdale. The co-pilots were in the cockpit with him during the alleged incidents, according to court documents.
Related: Barnes & Noble fires CEO for violating company policy
Lawyers representing Caporella did not immediately return messages from CNNMoney seeking comment. The Wall Street Journal, which was first to report the lawsuits, said Caporella's attorney Glenn Waldman called the claims false and "scurrilous."
National Beverage (FIZZ) told CNNMoney that the allegations were not true.
"There is no truth to any of the allegations and nothing remotely akin to the alleged events occurred," the company said in a statement.
One lawsuit, filed in 2016, claimed that Caporella engaged in a "repeated pattern of unprovoked and unwanted sexual touching." He would allegedly grab the pilot's leg and "commence moving his hand up Plaintiff's left thigh, towards his genitals."
That suit, brought against Caporella and National Beverage by Terence Huenefeld and his wife, Paula Huenefeld, sought damages for a hostile work environment, abuse and sexual battery.
Related: #MeToo and #TimesUp have pushed 48% of companies to review pay policies
The lawsuit says Caporella's alleged behavior happened on 18 separate occasions and when Huenefeld complained he was told by his superior that he must allow and "put up with it."
That case was settled earlier this year for an undisclosed amount, according to Nnamdi Jackson, an attorney for the two pilots.
The second case, which alleges similar behavior, was filed in January 2017 against National Beverage, Caporella and Broad River Aviation Inc., which operates the jet used for National Beverage's business trips. Pilot Vincent Citrullo says in the suit he was treated like an employee of National Beverage and not a contractor. Broad River did not respond to a request for comment.
Related: 68% of flight attendants have been sexually harassed, survey says
On 14 occasions between 2014 and 2015, Citrullo says he was subjected to a pattern of "unprovoked and unwanted sexually oriented touching."
He also claims a violation of labor laws, saying he was required to work 83 weekend days and nights without compensation. He also says he was not paid proper overtime wages as required by law.
That case is still pending, according to court documents and Jackson.
National Beverage has a market value of $5 billion. It found recent success as LaCroix took off as a healthier alternative to sugary sodas.