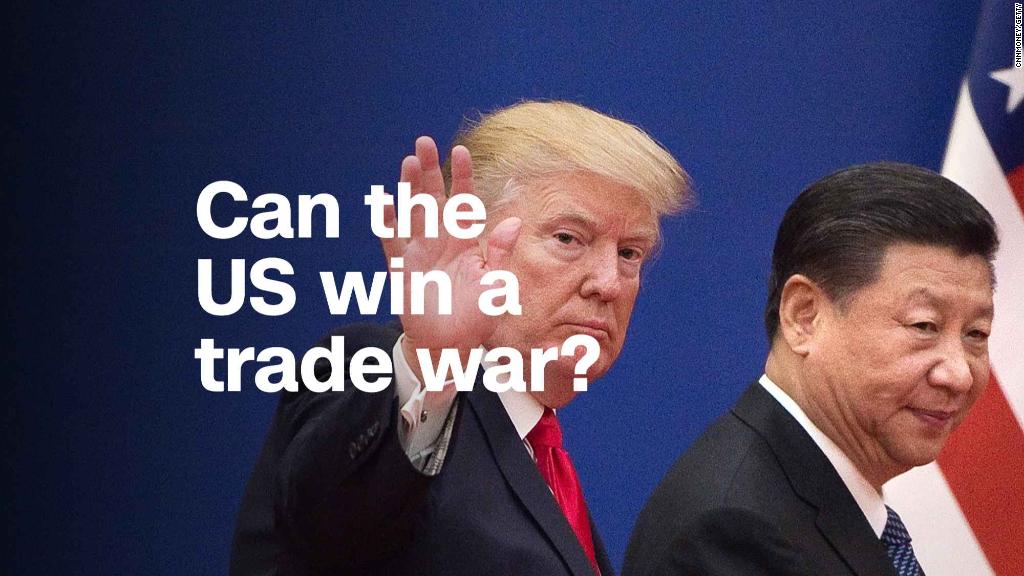 President Donald Trump's pro-business agenda is in an epic battle with his anti-business instincts.
These contradictory stances played out for all to see the past few days.
On Friday, Trump imposed tariffs on China that Corporate America lambasted because of the risk of a recession-inducing trade war.
On Monday, Trump followed up his recent attacks on Harley-Davidson by training his Twitter cannon on Pfizer (PFE), America's largest drug maker.
Nine hours later, Trump unveiled his pick for the Supreme Court: Brett Kavanaugh, a business-friendly judge and skeptic of aggressive regulatory agencies.
Later this week, big banks, including Wells Fargo (WFC) and JPMorgan Chase (JPM), are set to reveal monster profits -- in large part because of the business tax cuts that Trump enacted.
"No other president in the past has been simultaneously more bullish (tax cuts) and bearish (tariffs) than President Trump," Ed Yardeni, president of investment advisory Yardeni Research, wrote to clients.
Related: Sell tech! Morgan Stanley's warning to investors
'Headless fourth branch' of government
Some on Wall Street will be excited by the prospect of Trump nominee Kavanaugh accelerating the administration's efforts to defang regulation.
Kavanaugh wrote a 2016 opinion arguing that the structure of the Consumer Financial Protection Bureau, a thorn in the side of banks, is unconstitutional. While the CFPB's authority was later upheld, the matter could ultimately make its way to the Supreme Court.
"The independent agencies collectively constitute, in effect, a headless fourth branch of the US Government," Kavanaugh wrote in a dissenting opinion.
In the past, Kavanaugh has also voiced skepticism about a Supreme Court doctrine that allows judges to defer to federal agencies. Overturning the so-called Chevron doctrine could rein in regulators like the EPA.
If Kavanaugh is confirmed, the Supreme Court will have a "reliably conservative majority" that "should prove consistently sympathetic to business interests," Compass Point policy analyst Isaac Boltansky wrote to clients on Tuesday.
Trump's trade turbulence
Wall Street loved Trump's pro-business agenda last year, when hopes of lighter regulation and huge tax breaks sent the stock market to new heights.
More recently, Trump's trade crackdown has been a cause of market turbulence. Fears of a trade war breaking out between the United States and China have sparked multiple market sell-offs.
Trump's decision last Friday to impose tariffs on $34 billion of Chinese goods went against the wishes of pro-business groups like the Chamber of Commerce and Business Roundtable. Beijing quickly accused Trump of starting the "biggest trade war" in history.
The real-world impact of tariffs are starting to be felt. Tesla (TSLA) announced on Tuesday that it jacked up prices of its cars in China by about 20% due to the trade battle.
"This is just the beginning," Peter Boockvar, chief investment officer at the Bleakley Advisory Group, wrote to clients on Tuesday. "Slower economic growth and higher inflation is the ONLY direct outcome right now of what is taking place with tariffs."
Trump's trade agenda could put a damper on what would otherwise be an euphoric earnings season.
Starting on Friday, big banks are poised to reveal mega profit growth driven by the strong economy and massive tax savings. Morgan Stanley (MS) and Bank of America (BAC) already posted record earnings during the first quarter. JPMorgan hauled in $8.7 billion -- the biggest quarterly profit by any US bank -- ever.
But this earnings season Wall Street is on guard for profit warnings and words of caution linked to Trump's tariffs.
Attacks on major companies
Even though Trump styles himself as a business-friendly leader, he's gone after countless American businesses, including Apple (AAPL), Ford (F) and Goldman Sachs (GS). His attacks on Amazon (AMZN), a major driver of the stock market rally, briefly rattled Wall Street.
Last month, Harley-Davidson (HOG) was in the crosshairs over its decision to move some motorcycle production overseas due to tariffs.
On Monday, Trump followed up last summer's attacks on Merck (MRK) CEO Kenneth Frazier by going after Pfizer. He tweeted that Pfizer and other companies "should be ashamed" because their drug price hikes are "taking advantage of the poor." Pfizer said in a statement that it's raising prices on less than 10% of its portfolio of drugs.
For its part, Wall Street has learned to tune out these presidential attacks as mostly noise. Pfizer shares closed slightly higher on Monday.
"Almost on a daily basis," Yardeni said, "Trump generates news that's both bullish and bearish."