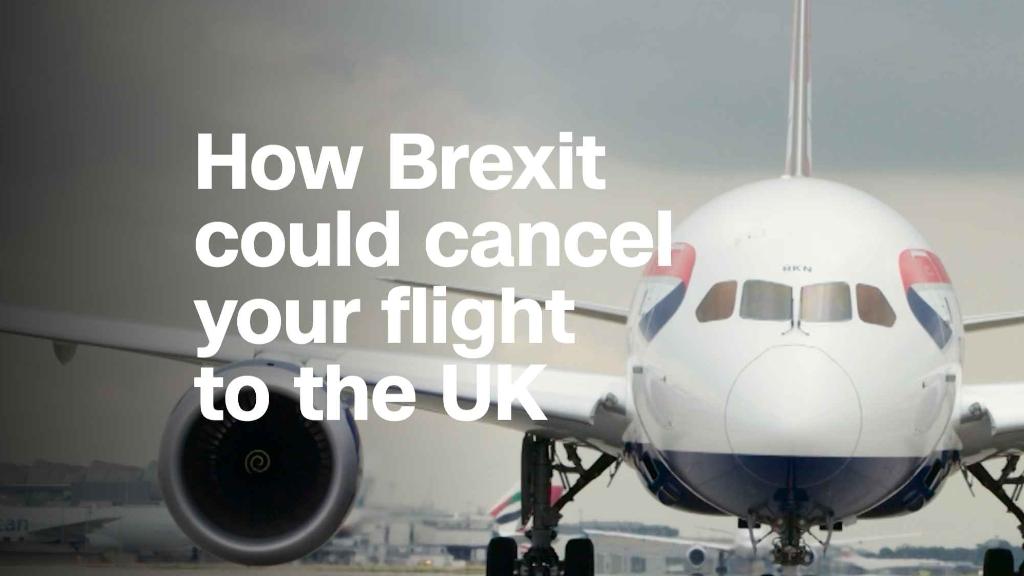 Ryanair is having a summer to forget.
The discount carrier that transformed European air travel with its singular focus on low costs has run up against labor disputes that threaten to spoil the key travel season.
A sharp rise in fuel costs and a global pilot shortage have also heaped pressure on the airline and its outspoken CEO Michael O'Leary, who is confronting labor unions after staff strikes forced the cancellation of 700 flights this summer.
Separately, strikes by French air traffic controllers have forced Ryanair to cancel nearly 1,500 flights and delayed 7,000 more.
Over the long run, labor disputes, shrinking profit margins and rising customer dissatisfaction could endanger the carrier's expansion plans and undermine the business model that made it Europe's largest airline.
"There's a broader concern for the outlook for Ryanair given the labor disputes," said Darren McKinley, a senior equity analyst at Merrion Capital.
Ryanair reversed decades of policy in late 2017 when a pilot shortage and looming holiday strikes forced it to recognize unions for the first time. Pilot unions in Ireland, Germany, Belgium, Sweden and the Netherlands are all threatening future strikes.
While it has recognized unions, the airline has yet to sign any labor contracts and it has responded to worker demands with its characteristic pugnacious approach.
Ryanair announced last week that it would slash its fleet in Dublin by 20% this winter because of rolling strikes by pilots in Ireland. It warned 100 pilots and 200 cabin crew that they could lose their jobs, and posted pilot payslips on its website to show it's paying generous wages.
Kenny Jacobs, the chief marketing officer at Ryanair, said the airline was "not prepared to concede to unreasonable demands that will compromise either our low fares or our highly efficient model."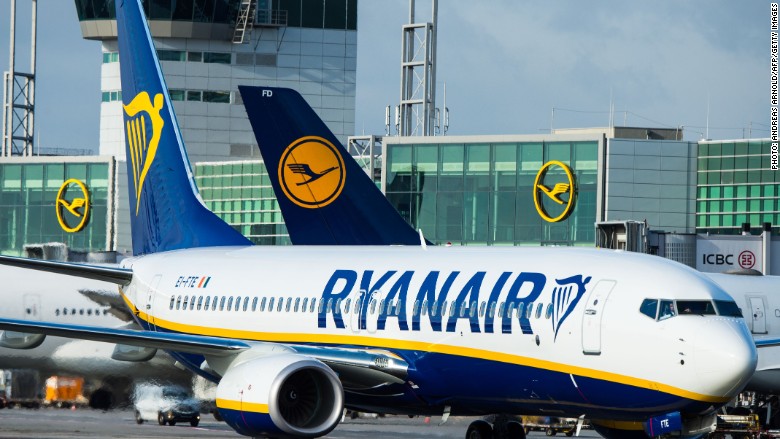 But Ryanair will eventually be forced to make concessions, according to Bernstein analyst Daniel Roeska. That could further boost staff costs that rocketed up 34% in the three months ended June 30. Profits were down 20% over the same period.
"This will end up in a more unionized [system]. That effectively will reduce productivity in Ryanair staff over time," said Roeska. "It will increase costs over the next couple of years, and that's what you're seeing in the current development with the share price."
Shares in Ryanair have dropped by 34% from a record high set last year.
"[Over the] medium term, I would think that [Ryanair] strikes will continue, they will disrupt operations, and customers will get more worried about whether their flight will take off or not," said Roeska.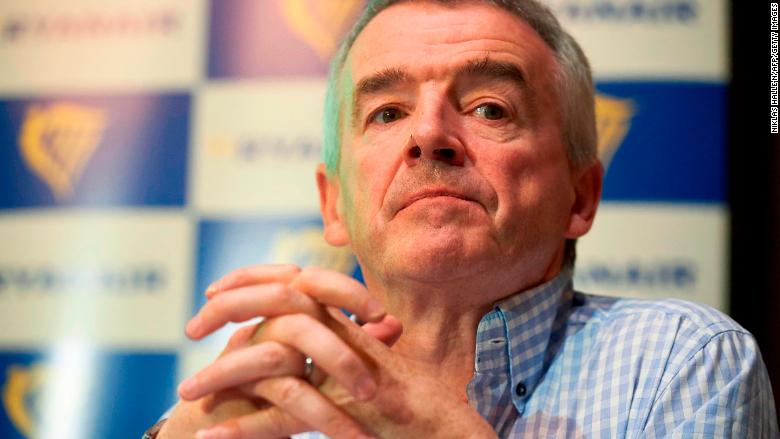 Related: The gender pay gap is widest in these UK industries
The turmoil shows that Ryanair is no longer an industry upstart with a huge competitive advantage. It now faces the same pressures as traditional airlines, many of which have sought in recent years to emulate its low-cost tactics.
Still, clashes with unions are unlikely to unseat O'Leary, who has led the airline since 1994 and is under contract until late 2019. He did give up a bonus of up to €1 million ($1.2 million) after scheduling failures led to mass flight cancellations in late 2017.
"I think [his] contract will be renewed for the medium term," said Goodbody airline analyst Mark Simpson. "My view is he's an agent for change, and that's what stimulates him."