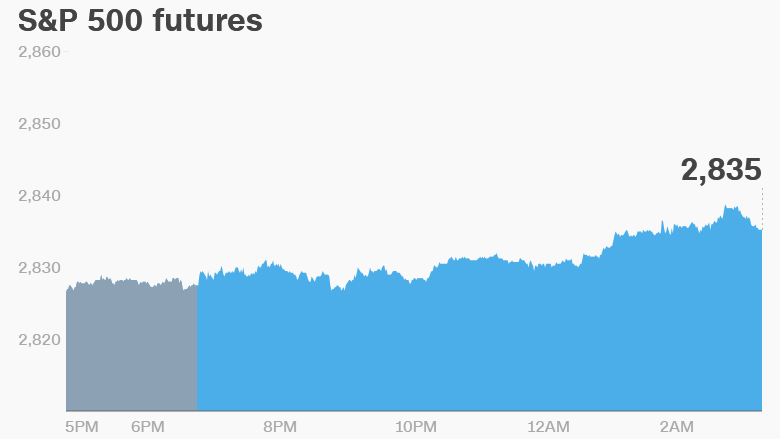 1. Icahn backs off: Carl Icahn has given up on his attempt to sabotage Cigna's takeover of Express Scripts.
The activist investor had called on other Cigna (CI) shareholders to vote against the $67 billion deal. He argued that the health insurer is massively overpaying for a "highly challenged" Express Scripts (ESRX), which faces existential risks.
But Icahn's push suffered heavy setbacks when influential shareholder advisory firms ISS and Glass Lewis both came out in favor the takeover.
His firm Icahn Capital said in a statement late Monday that "in light of the ISS and Glass Lewis recommendations" it's dropping its efforts to persuade shareholders to oppose the deal.
2. Tencent's troubles: Shares in Tencent (TCEHY) dropped more than 3% in Hong Kong after Chinese regulators banned a game called Monster Hunt World for which big sales were expected.
The company said in a notice to players that said some game content "does not fully comply with the regulations, and the government regulator has received a large number of complaints."
Investors also took a dim view of a deal announced by Tencent's e-books business, China Literature, which went public in November. Shares in China Literature dropped 17% in Hong Kong after the company said it would pay up to 15.5 billion yuan ($2.3 billion) for film and TV production firm New Classics Media.
Tencent will report earnings on Wednesday. The owner of WeChat reported massive earnings last quarter, but analysts are worried about slowing growth and an overall weakness in the tech sector.
3. More from Musk: Elon Musk continues to release details of his plan to take Tesla (TSLA) private, tweeting that Goldman Sachs (GS) and investment firm Silver Lake will provide financial advice on the proposal.
Goldman and Silver Lake weren't available for comment outside of regular business hours.
Musk, who tweeted last week that he had "funding secured" to take the electric carmaker private at $420 per share, said Monday that he was referring to conversations he had with the Saudi sovereign wealth fund.
The Wall Street Journal has reported that regulators were asking whether Musk's tweet "was truthful." Bloomberg News has reported that regulators were already gathering information about Tesla's public statements, and intensified that scrutiny after the Musk tweet.
Before the Bell newsletter: Key market news. In your inbox. Subscribe now!
4. Relief in Turkey: The Turkish lira rebounded on Tuesday, strengthening as much as 6% against the US dollar.
The currency has lost 40% of its value since January, thrashed by a potent mix of confrontational politics, economic policy confusion and US interest rate hikes. The escalation of a political spat with the United States has fueled volatility and further devalued the lira against other currencies.
The White House confirmed Monday that National Security Adviser John Bolton met with the Turkish ambassador to the United States. But even if tensions with the United States cool, Turkey still faces major questions over its handling of monetary policy and the healthy of its economy.
"It seems highly unlikely that market confidence can be restored in the absence of tighter monetary policy," said Kit Juckes, a strategist at Societe Generale.
5. Market overview: US stock futures were higher. Advance Auto (AAP) and Home Depot (HD) will release earnings before the open.
European markets posted gains in early trading. Asian markets ended mixed.
The Dow dropped 0.5% on Monday, while the S&P 500 shed 0.4% and the Nasdaq declined 0.3%.
Markets Now newsletter: Get a global markets snapshot in your inbox every afternoon. Sign up now!
6. Coming this week:
Tuesday — Home Depot (HD) earnings
Wednesday — Macy's (M), Cisco (CSCO) and Tencent earnings
Thursday — JCPenney (JCP), Nordstrom (JWN), Walmart (WMT) and Nvidia (NVDA) earnings
Friday — Deere (DE) earnings, consumer sentiment