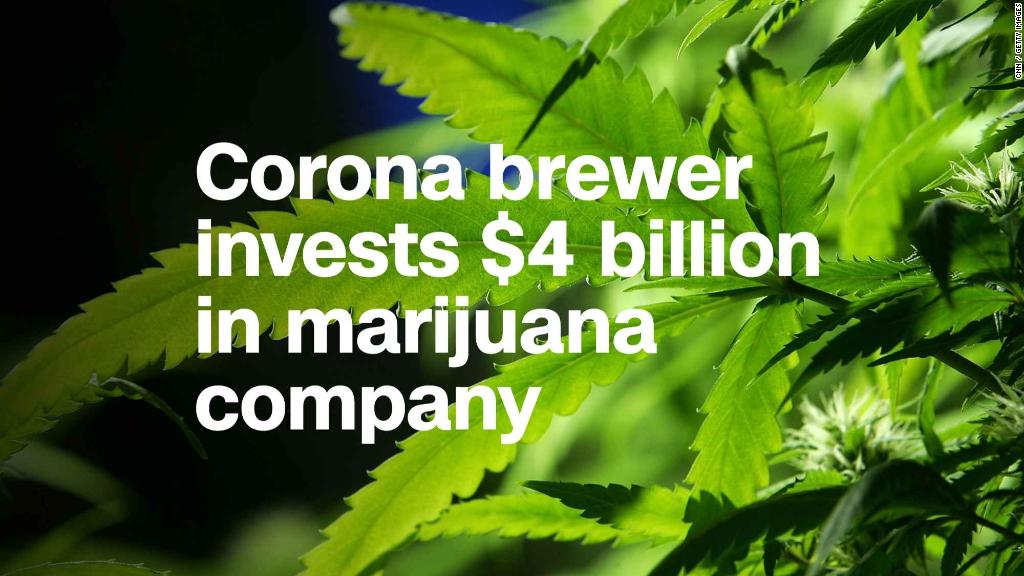 The maker of Corona is betting that consumers want something more than beer and booze.
Constellation Brands (STZ) is spending $4 billion to boost its stake in cannabis company Canopy Growth. Constellation also owns a big wine business, SVEDKA vodka and Casa Noble tequila.
It first invested in Canopy Growth last year, when it bought a 10% stake. Wednesday's move upped its holding in Canopy to 38%, and leaves open the option to purchase a majority controlling share of more than 50%.
Shares of Canopy (CGC), which trade on both the New York Stock Exchange and Toronto Stock Exchange surged more than 25% on the Constellation news. (Canopy's TSE ticker is WEED by the way.)
Other publicly traded cannabis companies, such as Cronos (CRON) and MedMen Enterprises (MMNFF), rallied in the United States and Canada.
Constellation's stock, however, fell nearly 6% after announcing the investment.
Constellation CEO Rob Sands said during Canopy's earnings conference call Wednesday morning that it was an extremely exciting time to be in the cannabis business.
"This could potentially be one of the most significant global growth opportunities for the next decade," Sands said.
Canopy Growth CEO Bruce Linton told CNN's Richard Quest in an interview Wednesday that the deal gives Canopy more credibility.
As more countries around the world start to legalize marijuana, Constellation may be able to launch more cannabis-based alcoholic beverages. Linton told Quest that a drink with no calories that can help fight depression is a possibility for example.
"Constellation gets it. This is happening globally," Linton told Quest, adding that Constellation can benefit by being the first to market with cannabis-based drinks while other beer and alcohol companies are still trying to figure out what to do in the market.
Even though the recreational use of marijuana is legal in California, Colorado and Vermont and several other states, it is still a federal crime to purchase and possess marijuana.
But Bonnie Herzog, an analyst with Wells Fargo, said she expects Constellation and Canopy to partner on "drinkable cannabis products given the enormous growth opportunity ahead" globally.
Herzog added "there is an expectation that marijuana will eventually be legalized in the U.S."
So it may be a matter of when, rather than if, Constellation will be able to sell cannabis beverages in America.
Constellation said it did not have a plan for such a product yet.
Kevin Murphy, CEO of Acreage Holdings, a cannabis producer that has former US House Speaker John Boehner on its board, said in an email to CNNMoney that he expects more beverage companies -- and perhaps even Big Pharma firms -- to look more closely at developing cannabis products too.
One drugmaker, GW Pharmaceuticals (GWPH), has a cannabis-based treatment for epilepsy called Epidiolex that was recently approved by the US Food and Drug Administration.