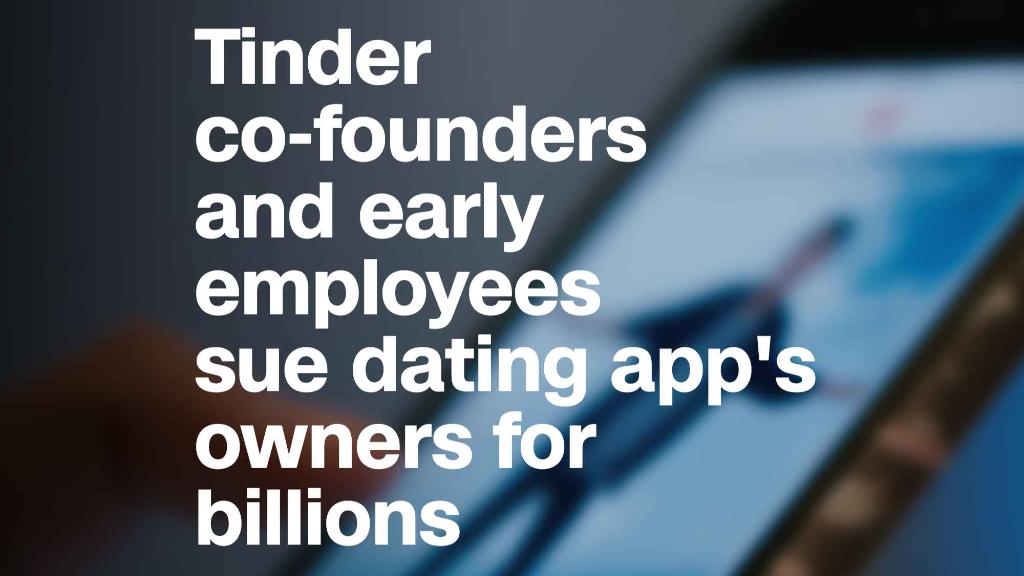 A lawsuit filed by ten current and former Tinder executives accuses former CEO Greg Blatt of groping and sexually harassing a vice president of the company. The suit also claims that Tinder's corporate parent did nothing about the incident because Blatt was a key figure in its plan to minimize Tinder's valuation and deny early employees billions of dollars in stock options.
The lawsuit accuses Blatt of groping and sexually harassing Rosette Pambakian, Tinder's vice president of marketing and communications, at a company holiday party in 2016. In a statement to CNN, Pambakian said she felt conflicted about reporting the incident, because, as the head of communications since 2012, her job was to protect the company's reputation.
"My biggest nightmare had come to life in that moment ... and my job as Tinder's head of communications was to protect the company and make sure we were always portrayed positively in the press," she said. "The irony that I had to now protect the company from myself was not lost on me."
The allegation appears in a lawsuit brought by Tinder co-founder Sean Rad, Pambakian, and eight other early employees of the popular dating app. They are suing the service's current owners, alleging that they manipulated the valuation of the company to deny them of billions of dollars they were owed.
The suit, filed Tuesday in state court in New York, seeks at least $2 billion in damages from Match Group (MTCH) and its parent company, IAC/InterActiveCorp (IAC). The plaintiffs are represented by Orin Snyder of Gibson Dunn, who has represented some of the biggest companies in tech, including Facebook (FB), Apple (AAPL) and Uber.
Pambakian and the three other plaintiffs in the suit who still work at Tinder were put on paid administrative leave by the company on Tuesday, according to a source familiar with the matter.
Related: Tinder co-founders and 8 others sue dating app's owners, claiming they're owed $2 billion
IAC denied the claims and issued a statement calling the suit "meritless" and saying it would "vigorously defend" itself against it.
A spokesperson for Match Group said in a statement, "The Match Group Board takes allegations of workplace misconduct extremely seriously. We investigate reports of misconduct, including sexual harassment, promptly and thoroughly, and take appropriate action, including swift termination of those responsible for such behavior.
"As it relates to the matter alleged in the lawsuit, an incident occurred in late 2016 and was reported at the end of April 2017. The Match Group Board -- with the assistance of experienced outside counsel from two nationally recognized law firms -- promptly conducted a careful and thorough investigation under the direction of independent Board members, concluded, among other things, that there was no violation of law or company policy, and took appropriate action."
Accuser says says outside investigator never questioned her
Pambakian said she was never questioned by an outside firm, only Match executives, and believes Blatt was protected as part of the alleged "scheme" to deny early employees millions of dollars.
CNN has learned more details surrounding the alleged incident, which occurred during Tinder's 2016 holiday party at the SLS Hotel in Los Angeles.
According to Pambakian, the party coincided with Blatt being named CEO. She said Blatt started behaving inappropriately, including saying at one point, "I get hard every time I look at you."
According to Pambakian, Blatt then said, "let's get out of here."
"In that moment, I thought, 'My boss actually thinks I'm going home with him,'" she said. "I basically bolted, found two people I knew and said, 'Hey, let's go up to your room.'"
They gathered in that hotel room, one of several the company had booked for the evening.
Pambakian said Blatt showed up soon after, although she does not know if he was aware she was there.
She said she was sitting on the bed when Blatt entered the room and, without saying anything to anyone else in the room, pushed her back onto the mattress, climbed on top of her, and began kissing and fondling her.
Blatt did not respond to a CNN request for comment.
A source familiar with the matter told CNN the allegation was investigated and found that Blatt had been invited to the room by one of the people there and that "this was a one-off consensual error in judgment."
"From what we understood from interviews and investigations, there was consensual cuddling taking place," the source said.
Pambakian strongly disagrees. "It wasn't consensual -- there was no opportunity, no 'hi,' 'hello,' before I even knew it, Greg Blatt was on top of me in a hotel room," she said.
Word of the incident soon spread among Tinder employees, according to Pambakian. Because she reported directly to Blatt, she reported the incident to executives at Match.
Two sources who spoke to Pambakian within days of the alleged incident said she appeared visibly distraught over it. "She was crying when she told me," one source told CNN. "She genuinely seemed upset."
Pambakian, who has led Tinder's communications since 2012 and joined the company full time in 2014, told CNN she felt conflicted about how to handle the alleged incident. Her role leading the company's communication strategy required her to protect the company's image, not make herself the story.
Hesitant to discuss incident
Pambakian said she was hesitant to discuss the matter publicly because she didn't want it to define her. She also worried that it would stall her career. But she found that position increasingly untenable as word of the incident spread and journalists -- including me -- started asking questions and rumors began circulating at the company.
"The self-loathing that followed was almost unbearable, and frankly, indescribable," Pambakian said. "I couldn't understand why I was protecting a company that did not protect me when I needed it most."
Pambakian was reluctant to share details of the incident publicly at the time, she said, because "I didn't want any public attention the incident received to overshadow my contributions and achievements to building a massively successful brand."
Rad, who attended the party but didn't witness any interactions between Pambakian and Blatt, said he learned of the allegations months later and asked Pambakian about them. According to the suit, he reported the incident to Jared Sine, Match's general counsel. According to the suit, Sine told Rad that Match's board of directors -- of which Blatt was Chairman -- "would run its own investigation."
"Defendants refused and covered up Blatt's conduct," the suit states. "Defendants even allowed Blatt to contact Pambakian and one of the eyewitnesses directly, whom Blatt then pressured to conceal his misconduct."
Rad said he alerted IAC officials to the allegations in mid-2017; the suit alleges that they did nothing and kept Blatt on as CEO because he was key to their plan to downplay the company's valuation. Rad also told CNN that he confronted Blatt. "I was told, 'If you take me down, I'm going to take you down with me,'" Rad said.
Pambakian said she received sympathy from senior executives at the company who heard about the incident but nothing was ever done.
"No outside firm questioned me," she said. "Multiple IAC and Match executives apologized profusely to me for Greg Blatt's conduct on the night of the holiday party." According to Pambakian, she was also asked to sign an NDA that would have required her to never speak publicly about the incident in exchange for compensation, but she refused.
Allegations that harassment not isolated incident
Pambakian says Blatt's behavior wasn't an isolated incident. According to her, many other women were subjected to "pervasive sexual harassment and misogyny by Match executives."
Pambakian said that when she asked about a budget for activities to boost company morale, an executive relayed a message from Blatt, who said the company didn't need a budget for that because she and and two other women on her team were "company morale." The executive said another woman on the team wasn't included in that category because she "had peaked," Pambakian told CNN.
That same executive, according to Pambakian, told her it was "strategic" that a woman on her team was wearing a skirt the day she asked her boss for a raise, and said he also told her he was sweating looking at her. According to Pambakian, that executive also referred to a female colleague at a Match Group party as a "bathroom bang."
A source described her own experience with that executive, who was her senior. She said that at a company happy hour, after she rejected his advances, he called her "unattractive" and said she looked like a "Russian prostitute."
According to that source, the executive resigned a year later after HR conducted an investigation.
"As it relates to the Tinder executive, we completed a thorough investigation into his behavior within days of it being reported, after which he was promptly removed from the Company," a Match Group spokesperson said.
Not first allegation of harassment
This is not the first time there have been allegations of sexual harassment at the executive level at Tinder.
The plaintiffs in the lawsuit also include Tinder co-founder Justin Mateen, who was accused of sexual harassment by former employee Whitney Wolf in 2014, claiming he harassed her and that Rad allowed the harassment to take place. It settled without an admission of wrongdoing by any of the parties. CNN has reached out to Mateen and Wolf for comment.
Although Blatt resigned as Tinder's CEO in in 2017, he is vice chairman of the Match Group board of directors.
The suit alleges that IAC and Match allowed Blatt to continue as CEO until the Wall Street banks completed their valuation, which placed Tinder at $3 billion. Blatt left the company with a "golden parachute" worth "hundreds of millions of dollars," the suit states.
As to why she's speaking up now, Pambakian said she feels an obligation to the 40 people, most of them young women, she leads. "I absolutely cannot allow them to be subjected to the things I experienced," she said.
Despite being placed on leave after the suit was filed Tuesday, Pambakian is still an employee of Tinder.
"Why should I be the one to leave my job that I love when I did nothing wrong?," she said in a statement to CNN ahead of being placed on leave. "Why is it that the men responsible for this type of behavior are allowed to quietly resign with a hefty severance package while no one is the wiser? Why are they being protected while I fear for my future and reputation for blowing the whistle?"
-- CNN's Chris Isidore contributed reporting.