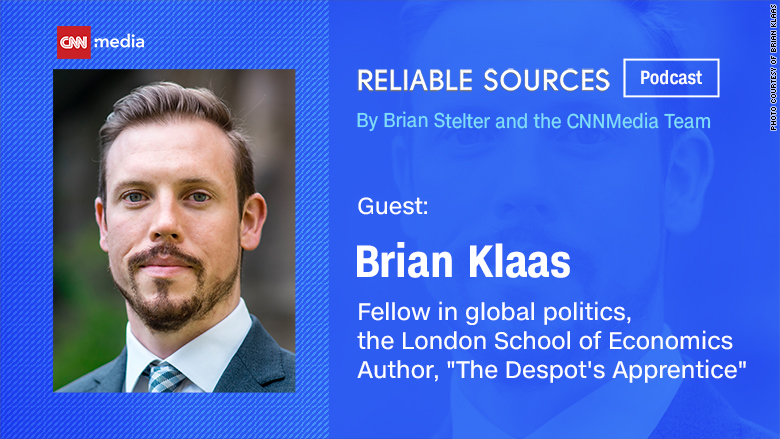 President Trump's unrelenting attacks against the media and other institutions are going to have long-term consequences that will last beyond his presidency.
Political scientist Brian Klaas sat down with CNN's Brian Stelter this week to talk about the dangers of Trump's troubling language.
"My real worry is that even if the institutions absorb the attacks from Trump, even if the United States retains its democratic structure by 2020 or 2024, the political culture will have been changed in a way that will not return to normalcy any time soon," said Klaas, a fellow in global politics at the London School of Economics and author of "The Despot's Apprentice: Donald Trump's attack on democracy."
Listen to the whole podcast here:
He referred to a poll released Tuesday, which showed that 26% of the respondents, who are American voters, say the media is "the enemy of the people," a term Trump routinely uses to disparage the press and rail on journalists who produce unfavorable coverage of his admkinistration. It's rhetoric that causes long-term damage, according to Klaas.
"How many of those people are going to discount truthful, accurate reporting not just for the next two and a half years, but for the next two and a half decades," he said.
Trump's words and actions will result in more violence towards the press, Klaas said. He cited the president's 2017 endorsement of Greg Gianforte -- a Montana congressman charged with physically assaulting a reporter -- as a sign that Trump endorses violence against journalists.
"That will have a trickle-down effect to some people who are not well, who are armed, and it makes a very dangerous environment for journalists," he said.
The impact of Trump's treatment of journalists will not only be seen domestically, but internationally as well, Klaas said. He has done research in authoritarian countries, and says Trump's actions towards the press in his own country indicate to foreign leaders that he will not come to the rescue of those who are threatened in theirs.
"I think the hidden story here is how much that signal has been a bullhorn to those leaders, that now you can get away with jailing or even killing journalists without a call from the White House"
It's not just attacks against the press that wreak havoc on democracy, Klaas said. Trump's word choice for describing people poses a threat to minority groups as well. On example is his use of the word "infest" to refer to migrants coming into the country, and another is a recent tweet in which Trump called Omarosa Manigault Newman a "dog."
"It becomes much easier for abuses and atrocities to be committed as soon as a large segment of the population starts to think of these groups as not fully human, and I think that's unfortunately what's going to happen among some segments of Trump's base," Klaas said.
Trump's language is similar to that of "history's monsters," such as Mao Zedong, Adolf Hitler and Joseph Stalin, dictators who used similar language to criticize their opponents, according to Klaas. This does not mean that he's going to turn out like these leaders, Klaas clarified, but it is important that we push back on this type of rhetoric, which has been the precursor to "mass atrocities" in the past.
"The reason it's getting more frequent is because there's no consequences," Klaas said. "And so if we want this to be not part of our discourse on a normal basis, we need to have consequences for that type of language."