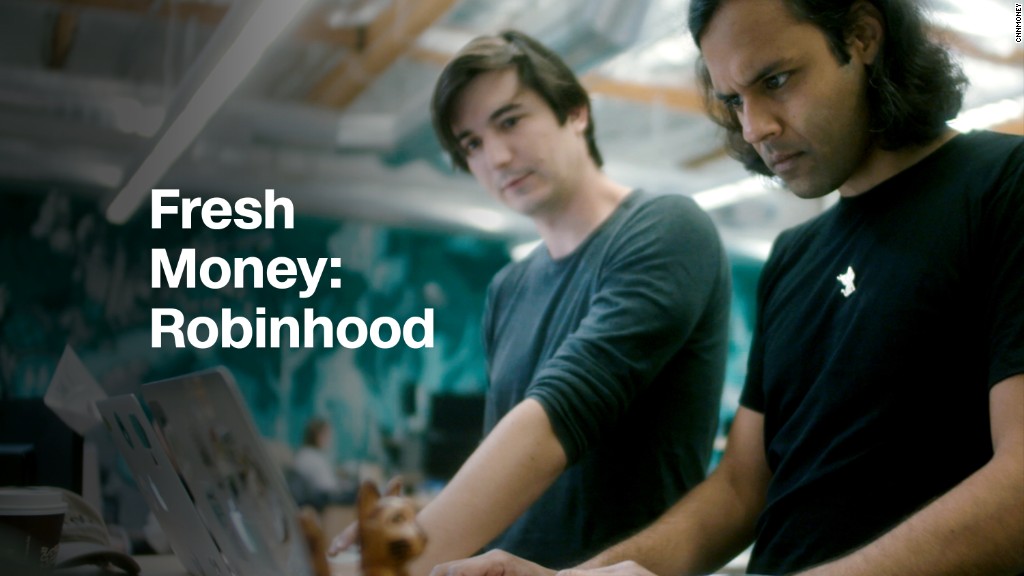 Get ready for a shakeup in low-cost stock trading.
JPMorgan Chase's decision to get into the online brokerage business, offering 100 free trades in the first year, puts pressure on Charles Schwab (SCHW), TD Ameritrade (AMTD) and E*Trade (ETFC).
These companies already had to look out for startups such as Robinhood that offer free stock trading. The entrance of JPMorgan (JPM), the nation's largest bank, ups the ante. It could force more traditional brokerages to lower prices or find other ways to attract customers.
"This is a competitive threat," said Kyle Voigt, an analyst at Keefe, Bruyette & Woods.
JPMorgan had telegraphed plans to get into online trading for retail investors as it looks to strengthen relationships within its 60 million American customers. But market watchers were surprised by the bank's aggressive moves on price, Voigt said.
Schwab charges $4.95 per stock trade. TD Ameritrade and E*Trade charge $6.95.
After the first year, JPMorgan will charge $2.95 per trade. People with $15,000 in the bank will keep getting 100 free trades a year, and wealthier customers will have unlimited free trading.
"When it comes to retail brokerage commissions, the race to zero is over and consumers won," Nicholas Colas, cofounder of DataTrek Research, said in a report. "Expect to see major online brokers match JPMorgan's pricing structure soon."
The largest online brokerages, such as Schwab, could be first to lower prices, Voigt said. From there, others could follow suit.
Some details about JPMorgan's You Invest platform, such as how it will treat options trading, are still unclear. Brokerages likely won't move forward on price changes before they know exactly what they're up against.
"We will need to see the quality of the [JPMorgan] platform, particularly around options trading, to assess the true competitive threat to the ebrokers over the long-term, as these are typically their most active and profitable customers," Chris Allen, an analyst at Compass Point Research, said in a note to clients.
In the end, it's not all about price, Voigt noted. Customers also care about the quality of the technology and the availability of personalized investment advice, as well as the variety of trading choices.
"Price is just one tool they use to compete," he said. "But there's other things like service and product breadth that are very important."
Some online brokerages could stomach lowering prices better than others.
Schwab would be less exposed. It makes about 9% of its revenue from trading commissions, according to Allen's note. TD Ameritrade would be hit harder. Roughly 35% of its revenue comes from trades, Allen said.
These companies also make money on asset management fees, and earn interest on the cash balances customers leave in their brokerage accounts.
In a statement, TD Ameritrade said it is "very well positioned to compete and win in a low-cost environment."
"The competitive environment will likely continue to shift, and we will remain nimble," the company said. "We continually evaluate our offerings and pricing."
Schwab also expressed confidence.
"Other firms are now eager for a seat at the table, and when those moves help investors, that's good," spokesman Michael Cianfrocca said in a statement. "But Schwab will continue to aggressively lead the way in improving how people invest and manage their wealth."
E*Trade did not respond to a request for comment.