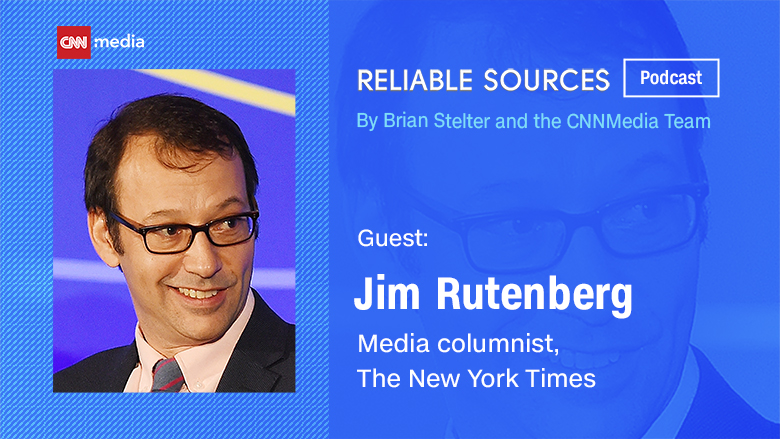 American Media Inc. isn't the main focus for investigators looking into Michael Cohen's case -- but the company should still be nervous, according to New York Times' media critic Jim Rutenberg.
AMI, the publisher of the tabloid The National Enquirer, is linked to two payments -- $130,000 to adult film star Stormy Daniels, and $150,000 to former Playboy model Karen McDougal -- that form the basis for campaign finance charges against Cohen. Both Daniels, whose real name is Stephanie Clifford, and McDougal claim they had affairs with Donald Trump. Trump has denied the claims.
Cohen pleaded guilty on Tuesday to eight criminal counts that included tax evasion and campaign finance violations. Criminal information says he worked closely with the chairman and chief executive of a corporation (gathered to be AMI chief David Pecker) in suppressing stories that could have hurt then-candidate Trump. In government filings, AMI is described as a media company that owns a tabloid, and Pecker is identified through his titles.
In August 2015, the filings say, Cohen, "one or more members" of Trump's campaign, and the chairman gathered to be Pecker offered to help buy the rights to negative stories about Trump but not print them. This tabloid tactic is known as "catch and kill."
In this deal, "the National Enquirer's famous tip line that gets the most sensational stories in the country often would become a tripwire for Trump," Rutenberg said. "So any signs of trouble, if someone comes to AMI with a negative tip about Trump, that AMI would look out for him and try to stop the news from getting out."
Rutenberg sat down with CNN's Brian Stelter to discuss the intricacies of "catch and kill" tactics in the "gossip world," and potential consequences for AMI on this week's Reliable Sources podcast.
Listen to the whole podcast here:
Although AMI is a media company, investigators concluded that at times, the company acted "more like a political supporter than a news organization," Rutenberg wrote for the New York Times in July.
The Associated Press reported Thursday that the National Enquirer, which has propped up Trump for years, kept a safe containing documents on hush money payments and other damaging stories about Trump.
Sources familiar with AMI told the AP that the safe was a "great source of power for Pecker."
AMI and various executives were subpoenaed by federal authorities earlier in the year but "interestingly chose not to fight that subpoena," Rutenberg said. Pecker was given immunity in the Cohen case in exchange for providing information on hush money deals, the Wall Street Journal reported on Thursday. Allen Weisselberg, longtime Trump organization CFO, was also granted immunity.
First Amendment organizations did not intervene on behalf of AMI following the subpoena.
"They didn't want to defend a practice that wasn't properly journalistic," he told Stelter.
Veteran First Amendment lawyer Floyd Abrams told CNN on Wednesday that "if Mr. Pecker and his company acted as alleged, there should and very likely would be no viable First Amendment defense for them."
But Rutenberg said AMI might be under a different impression.
"They sort of trotted this out lightly here and there in conversations, and the idea would go something like, 'We're a tabloid. We pay for news. So sometimes the way we pay for news, it's different than the way you with the New York Times or CNN collect news,'" Rutenberg said.
AMI isn't the only company to dabble in "catch and kill" practices. But this case is unique, Rutenberg said, because of money that covered up damaging information for a candidate.
Since prosecutors are considering AMI's payment to McDougal to be an unlawful corporate contribution, the company is at attention. "They're the ones who paid that contribution," Rutenberg said. "So that's where they have to stay on guard. Legally, I'm sure they're keeping a very close eye on that."
Neither Pecker nor anyone in AMI has officially been charged with a crime. But the giant question marks in the Cohen case form "a giant cloud hanging over the company," Stelter said.
"It's a giant problem for them, no matter what happens," Rutenberg responded. "That's the baseline. It just is. There's no denying that."