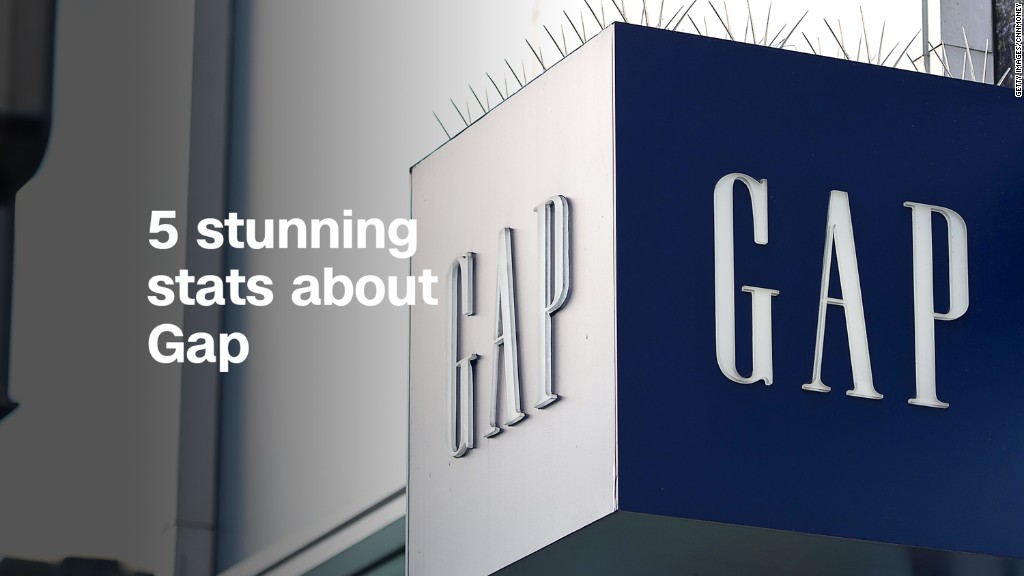 The CEO of The Gap is still a fan of the traditional brick-and-mortar store. His investors? Not so much.
Shares of The Gap (GPS) tumbled 10% in trading Friday after the company reported weak results late Thursday at its flagship Gap brand stores.
During a call with investors Thursday evening, CEO Arthur Peck pushed back on the idea that the company has not done enough to pare its store count. The company closed 36 stores during the course of the quarter, most of them Gap and Banana Republic brands. It opened 45 stores as it expanded Old Navy and Athleta-branded locations. The company ended the quarter with about 3,600 stores.
"I have to be honest here, it perplexes me to continue to hear over and over that stores are a liability," said Peck. "They're an asset, not a liability. Sure, if you've got a store in a dying mall, that store needs to go away, and that's work that we've got on early and we will continue. But the simple fact is, is that most apparel is still sold in stores and will continue to be sold in stores."
"Stores are the deepest form of customer engagement," he continued. "And one thing the industry is not talking about, which is super important to me, is that they are a source of an immense amount of customer data."
The stock plunged Friday even though the company's earnings report wasn't terrible.
Gap Inc. increased earnings, beating Wall Street expectations for both profit and revenue. It reaffirmed its full-year outlook, which is more optimistic that current consensus estimates.
But there were concerns about prospects for its Gap branded stores, which accounts for nearly half of its locations. Sales at the Gap stores that have been open at least a year, a closely watched retail measure known as same store sales, fell 5%. That was worse than the 1% decline a year ago.
Gains at Old Navy and a slight increase at Banana Republic allowed the company to post an overall 2% bump in same store sales.
But given the strength of the overall economy and consumer shopping, the results were a big disappointment for investors. Some analysts said they believe the company needs to do more to put space between the holding company and the Gap brand.
"It seems like the market is thinking that Gap, Inc. is Gap, yet the company is really Old Navy," said Randal Konik of Jefferies, during the earnings call. "So how do you think about ....the position of how much real estate should be dedicated to those businesses?"
The company announced plans in September to open 270 Old Navy and Athleta brand stores while closing 200 Gap and Banana Republic locations over the course of three years.
Gap wasn't the only retailer whose stock took a tumble Friday.
Hibbett Sports (HIBB) reported a loss rather than the expected profit in the quarter, sending its stock down 30%. Shares of Foot Locker (FL), which reported slightly better than expected earnings but weak same store sales, also posted a 12% drop. Sector leader Dick's Sporting Goods (DKS), which didn't report results at all, also had its shares fall on concerns over weakness in the sector.