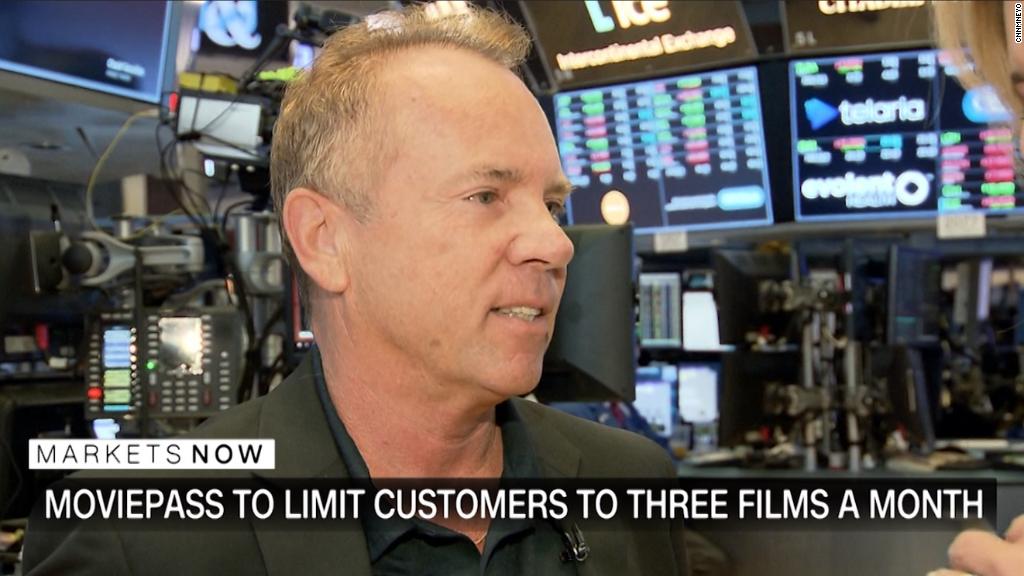 A former director of MoviePass' parent company has resigned, claiming executives have mismanaged the business and withheld crucial information from the board.
Carl Schramm, an economist and Syracuse University professor, said in a resignation letter that the company's leadership has refused to answer his questions about the company's financial status and rationale for business decisions. He said he recently learned that management withheld what he called "material information" from the board for several months.
He quit Saturday, and MoviePass owner Helios & Matheson (HMNY) made the letter public on Thursday.
Schramm claims management made some decisions without the board's input. Sometimes, when the board was looped in, executives would act without sufficient time for the board to consider executives' strategy or transactions, he said.
"These concerns have increased substantially over the past eight weeks as management apparently has made a number of important corporate decisions and executed significant transactions either without board knowledge or approval," Schramm wrote in his resignation letter.
Helios & Matheson said in a regulatory filing that the company is unaware of any unanswered requests for information by Schramm. The company noted the board and its committees that Schramm served on met at least 25 times this year.
"The company firmly believes that it has kept the board fully informed and has provided all information needed for board members to exercise their responsibilities," Helios & Matheson said.
During the time period Schramm mentions, MoviePass has changed its subscription plans, pricing and the availability of movies customers can see. The company also issued a massive reverse stock split and took out a large loan to cover the costs of movie tickets. Helios & Matheson's stock has spiraled down to just 2 cents per share from a high of around $9,000 last year.
Helios & Matheson said in its statement that the issues it faces placed significant demands on the company's management and its board. Helios & Matheson also said it needs to act fast to keep the struggling company operational, but it claims it managed its business properly.
"The company firmly believes all board and committee meetings have been duly noticed and held, and no material information has been withheld from any board member," Helios & Matheson said.
Schramm said executives' mismanagement and lack of transparency interfered with his ability to serve on the board.
"Despite my best efforts, my ability to effectively discharge my duties as a director has been compromised beyond repair," he wrote.
Schramm and Helios & Matheson did not respond to requests for comment.