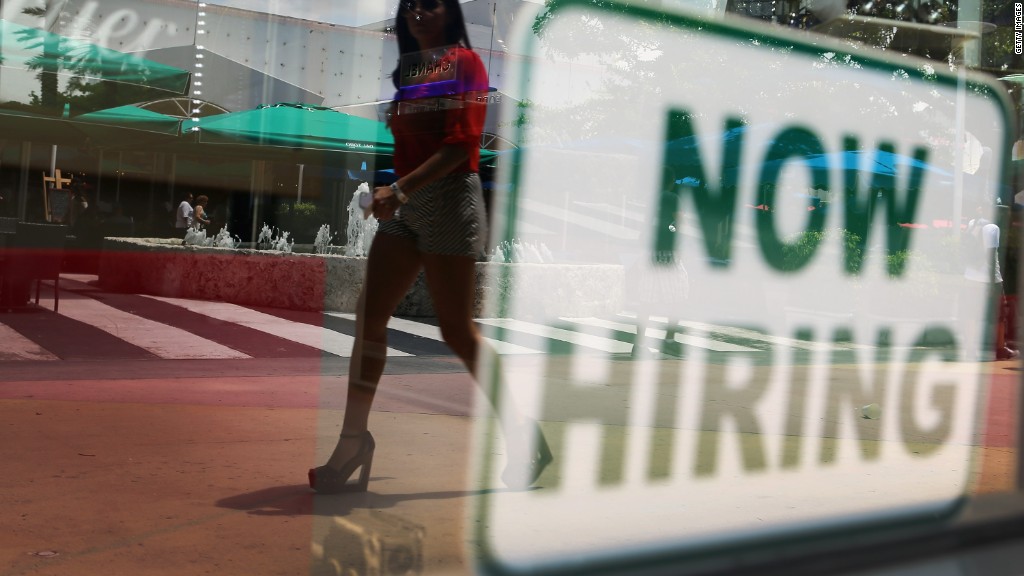 After years of job growth, workers may finally be getting more money in their paychecks.
Job growth in August was strong. The US economy added 201,000 jobs, while the unemployment rate stayed at 3.9%.
Average hourly earnings grew 2.9% compared with a year ago, the best rate since 2009, according to monthly payroll data released by the Labor Department Friday.
That number is not adjusted for inflation, which has been rising in recent months, so employees can't necessarily buy more than in the past. And it's lower than wage growth rates in previous economic expansions.
But the average hourly earnings figure may underestimate what's really going on. It could be held down by larger numbers of young people entering the workforce at lower pay scales. Other measures of wage growth, such as total compensation, have been rising more quickly.
"We don't think it's a fluke," said Liz Ann Sonders, chief investment strategist at Charles Schwab. "We think we are at that stage where the labor market has gotten so tight that you're going to see upward pressure on wages."
The sluggish pace of wage growth has been a contentious subject in wonk circles recently, with Democrats using it to emphasize the need for a policy agenda including stronger labor laws and antitrust enforcement.
The White House, meanwhile, argued this week that a different measurement approach yields a rosier picture, which it says will only get brighter as tax cuts translate into business investment and improvements in worker productivity.
Another strong month for jobs
Job growth remained steady last month, and the economy has now added jobs for 95 consecutive months. August's job gains slightly beat analysts' expectations, while the unemployment rate remained near historical lows.
The job gains for August were roughly in line with the average for the last 12 months, which is 196,000.
Employment growth was revised down by a total of 50,000 over June and July, making the last three months look more like a slowdown as trade tensions loomed. August is also commonly revised, meaning that this month's number will likely change as well.
August's job gains were driven by professional and business services as well as health care and wholesale trade. Manufacturing shed 3,000 jobs, the sector's first monthly decline since July 2017, although manufacturers have still added 254,000 jobs over the year.
Across all sectors besides management occupations, installation, maintenance and repair workers had the lowest unemployment rate, at 2.5%.
The economy has been on a roll lately, with employers reporting difficulty finding enough workers to fill their open positions. The number of job openings has exceeded the number of unemployed people since March.