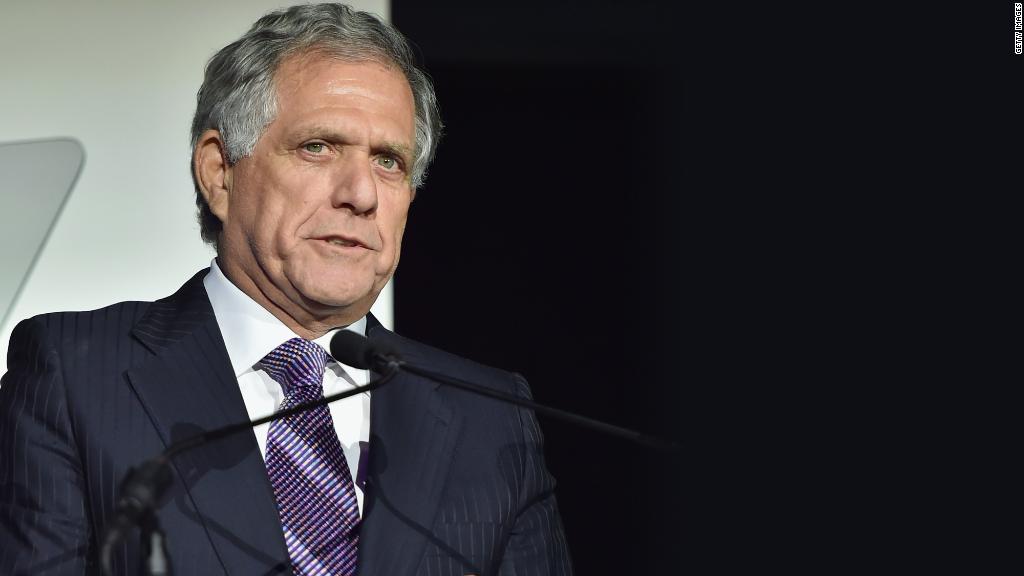 Leslie Moonves has sat atop entertainment industry power lists for years, and become a model for corporate stability in his more than two decades overseeing CBS. In a business known for change and turnover, his forced departure from the network -- to use an oft-referenced expression in showbiz circles -- is like a head falling off Mt. Rushmore.
CBS Corporation announced on Sunday that Moonves will step down immediately after facing additional sexual-harassment charges leveled against the executive in a second New Yorker article by Ronan Farrow.
Having started as an actor (including small roles in shows like "The Six Million Dollar Man"), Moonves always brought an element of showmanship to his role as an executive, reveling in the annual upfront presentations that allowed him to take the stage at Carnegie Hall. Notably, he received an enthusiastic ovation this year from the crowd there, in the midst of the legal battle being waged between CBS and Viacom.
Outspoken and combative, he guided the network through an inordinately tumultuous period of change, while maintaining a level of success that has made CBS the envy of its peers.
Moonves took over Lorimar Television in 1989, further consolidating his power after its merger with Warner Bros. The studio promptly developed two of TV's biggest-ever hits, "Friends" and "ER," in the same season, making the executive the ideal choice to take over struggling CBS in the mid-1990s.
The turnaround wasn't instant, but Moonves immediately set out to attract big-name talent, including a new sitcom starring Bill Cosby, and another featuring Ted Danson.
The network's fortunes really turned in 2000, with the introduction of "CSI: Crime Scene Investigation," followed by huge breakthroughs in the then-nascent genre of reality television: "Survivor," which began as a summer fill-in, and became a national sensation; and to a lesser degree, "Big Brother," another long-running staple of CBS' lineup.
Under Moonves, CBS also made strides in comedy with "Everybody Loves Raymond," "Two and a Half Men" and "The Big Bang Theory." In late night, he inherited and gradually won over host David Letterman, eventually facing the choice of replacing him by tapping Stephen Colbert, whose fortunes have soared since President Trump's inauguration.
If CBS has struggled in one area under Moonves, it's been news, although even there, the network had made progress, strictly in commercial terms.
"The CBS Evening News," in particular, has experienced ample turnover -- the ouster of Dan Rather amid controversy, the failed Katie Couric experiment, pushing out Scott Pelley -- but "60 Minutes" has remained TV's premiere newsmagazine, and changes to "CBS This Morning" have yielded significant ratings gains (even if the show remains in third place), despite the sexual-misconduct allegations that prompted Charlie Rose's exit, and additional charges of misconduct that have surrounded the news division.
Once dismissed as the slow-growth part of Sumner Redstone's media empire, since striking out on its own CBS has proven adept at adapting to an evolving business, launching the streaming service CBS All Access and expanding its digital footprint.
Moonves has always prized loyalty among his staff -- with many key lieutenants who have worked for him since the beginning -- and is known as a fearsome enemy, one who wasn't above bearing long-term grudges when he felt crossed.
Sunday's announcement of Moonves' departure also concludes a months-long battle for control of CBS between Moonves and the company's controlling shareholder, Shari Redstone, Sumner Redstone's daughter.
In 2006, when Redstone split CBS and Viacom, Moonves sought oversight of both companies. More recently, he has been engaged in a public and bitter dispute with Shari Redstone over control.
Moonves and CBS will donate $20 million to organizations that support the #MeToo movement and other groups fighting for workplace equity for women, according to CBS Corporation's announcement on Sunday.
Moonves, 68, certainly isn't walking away empty handed. He has earned hundreds of millions of dollars thanks to CBS' performance, including compensation packages that exceeded $69 million in both 2016 and '17.
Nevertheless, seeing him depart CBS on anything less than his own terms marks a stunning end to that legacy -- and to what has been, in an industry known for tumult and revolving doors in corporate suites, a historic executive run at a single network.