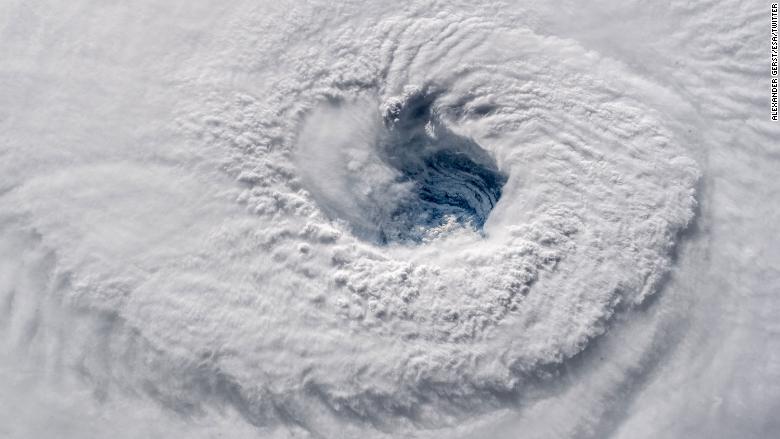 A version of this article first appeared in the Reliable Sources newsletter. You can sign up for free right here.
This is Oliver Darcy, filling in for Brian Stelter who spent Thursday night away from his computer.
SLOW-MOTION STORM
Hurricane Florence was a Category 4 hurricane two days ago. Now it has weakened to a Category 1 storm. The 11 p.m. ET report cited 90 mph sustained winds. But the wind speed belies Florence's strength and length. Storm surge is underway along the North Carolina coast. And the storm is slowing down, so the flooding event is just beginning. And tomorrow's coverage will look a lot like today's, which poses some journalistic and practical challenges for the crews in the field. Scroll down for details...
"Trump Denies Hurricane Maria Deaths As Hurricane Florence Closes In"
That was the chyron on MSNBC's "All in With Chris Hayes" Thursday evening as I sat down to begin writing this newsletter. President Trump began the day denying the official death toll of Hurricane Maria. The president actually tweeted that "3000 people did not die in the two hurricanes that hit Puerto Rico," adding that the death toll had been inflated "by the Democrats in order to make me look as bad as possible."
Thursday came to a close on a similar note. Cable-newsers fact-checked Trump's ridiculous claim alongside images of Hurricane Florence beginning to bear down on the east coast.
Cooper: "It's hard to even find the words"
Anderson Cooper did not mince words in Thursday's "Keeping Them Honest" segment titled "Disrespecting the Dead." Cooper opened his program noting that Trump's claim "would be stunning frankly at any time" but "at this moment" it is "hard to even find the words."
"It's unthinkable, really. Or at least it should be," Cooper said in his four-minute monologue. He concluded, "What we know for certain is that the president of the United States has disrespected the dead of Puerto Rico today, and he disrespected the living who will live the rest of their lives with the pain of loss and the pain of knowing that their president, in his heart, does not see their loss for what it truly, truly is."
Enter Trump cheerleader Lou Dobbs...
I said earlier that cable-newsers fact-checked the president. I perhaps should have been more careful with my choice of words. Not everyone was tuned into reality. In his own world with Trump was Fox Business host Lou Dobbs who called the Hurricane Maria death toll a "farce" and "an amazing tortured inflation." Dobb's tweeted that the death toll was "#FakeNews" -- a tweet that Trump chose to retweet.
Read more of Thursday's Reliable Sources newsletter... And subscribe here to receive future editions in your inbox...
>> BuzzFeed's Jon Passantino tweets: "What Dobbs fails to mention is the research was commissioned by the government of Puerto Rico, was conducted independently, and underwent peer review."
Anchors in the Carolinas
As I mentioned up top, Florence is pounding the Carolinas with wind and rain. CNN anchors John Berman, Anderson Cooper, Chris Cuomo, and Don Lemon are on the coast, along with more than a dozen correspondents. MSNBC has Craig Melvin and Ali Velshi anchoring from the Carolinas, and Fox News sent Bill Hemmer.
'Round the clock coverage
-- WCTI, the ABC affiliate in New Bern, NC, had to evacuate its station for the first time in its history...
-- All the cable newsers will stay live all night/overnight...
-- Friday's "Today" show will start an hour early at 6am...
-- ABC is promoting a "special edition" of "GMA" too...
-- The Weather Channel has an array of meteorologists broadcasting from seven different locations in the Carolinas...
For the Record
-- Steve Schmidt will join Showtime's "The Circus" when it returns on Sunday for the second half of its third season... (THR)
-- Rachel Maddow extends her winning streak. For the third consecutive day, she had the most-watched program in cable news... (Contemptor)
-- Fox News has announced a memorial scholarship named in honor of Charles Krauthammer... (Mediaite)
-- Facebook has expanded its fact-checking to allow partners to debunk photos and videos... (Poynter)