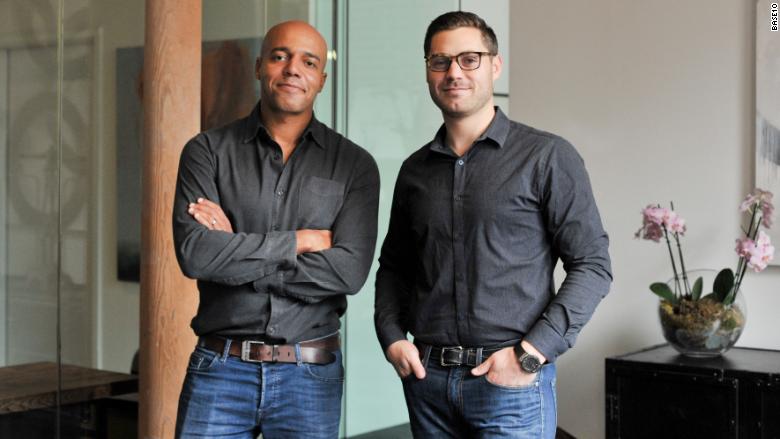 Entrepreneur Adeyemi Ajao just raised a lot of money to take on Silicon Valley and its proclivity for investing in technology-first innovations.
His latest venture, a startup investment fund called Base10, aims to fund early-stage startups that are "automating the real economy." That means applying automation to industries like trains, construction and waste management.
Impressively, Base10 collected $137 million, which is thought to be the most money ever raised by a black-led debut VC fund.
The fund has already made a few investments, including Grin and Yellow -- two startups that are bringing scooters to Latin America.
Ajao, who was born in Spain and is half-Nigerian, has been working in Silicon Valley for 10 years but he admits it's taken a while to understand racial issues in the United States.
"I thought, 'How come this is the first time? This is interesting, shocking," said Ajao, of the fact that he's the first black VC to raise more than $100 million for a debut startup fund.
Silicon Valley's lack of diversity is widely reported. Underrepresented minorities make up just a small sliver of most tech companies. And the funding pipeline, which helps determine who gets the capital to build the next big tech companies, is not so different.
Data culled by venture capitalist Richard Kerby found only 3% of partners at venture capital firms in 2018 are black. That's only slightly improved from two years ago, when they made up just 2%.
When he and Base10 cofounder TJ Nahigian set out to raise money for the fund, they aimed for $75 million. But Ajao hadn't initially approached investors focused on diversity because he didn't think to identify himself that way.
"I'm some kid that grew up in southern Spain and Nigeria," he said. "I've kind of been an outsider everywhere."
Ajao stayed the course and went on to close a $137 million round.
To be sure, Ajao has quite a track record.
In 2005, Ajao founded Tuenti, a Facebook-like social networking platform in Spain that was acquired by Telefonica for $100 million. Five years later, he cofounded Identified, a data analytics company. He sold it to enterprise software company Workday in 2014 and he stayed on to launch its corporate VC fund. In 2011, Ajao cofounded Cabify, a ride-hailing startup that competes with Uber in Latin America.
Ajao serves as a mentor at Code2040, a nonprofit that pairs black and Latino engineering students with internships in Silicon Valley.
Charles Hudson, managing partner at seed-stage investment firm Precursor Ventures, called the funding news "a big milestone."
"It means that we will have funds led by people of color who can lead larger rounds; not just the smaller seed rounds that help get people in business," Hudson said.
Base10 aims to invest between $500,000 and $5 million in each company it pursues. Ajao said he's interested in working with founders who are actively talking to the industries in which they're trying to innovate.
"I think that's the original sin of a lot of these companies -- they're out of touch," he said.