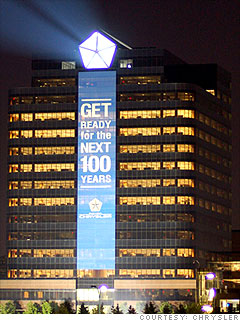 Chrysler's headquarters shortly after the split from Daimler.
"It would be a black eye for private equity if Cerberus doesn't succeed," says Jones Day lawyer Corinne Ball, who has helped restructure other auto companies, such as parts maker Dana. "It has to fix the product line, rebuild Chrysler's reputation with the American consumer, and repair the relationship with the United Auto Workers."
That's quite a list.
The problem is that the relentless focus on the numbers doesn't fix any of those issues. It is certainly possible for Chrysler to hit the financial marks tacked to the wall but still wreck the company down the line.
Cutting corners on a new engine today can push up warranty costs later. Stripping quality engineers from factories will trim the payroll but may further damage the reputation of Chrysler brands. Even if Nardelli can add another model to Chrysler's long list of hits, it wouldn't be in showrooms until the 2012 model year
The Daimler merger in 1999 meant the end of Chrysler as an independent publicly traded auto company. The acquisition by Cerberus could mean the beginning of the end of Chrysler as a recognizable automaking entity altogether.

More galleries

Last updated August 07 2008: 7:40 AM ET
Email
|
Print
|

Digg this story
|
RSS