If you crave diversification, stability, and results - but you'd rather leave the hard work to a savvy pro - this collection is for you.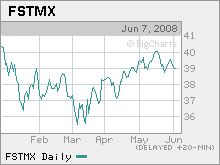 1-year return: -7.6%
5-year return: 10.5%
Expense ratio: 0.10%
ETF alternative: Vanguard Total Stock Market (VTI)
The heart of our portfolio, Fidelity Spartan Total Market Index, is a simple, low-cost way to own the whole U .S. stock market. The fund tracks the Dow Jones Wilshire 5000, a broad stock index. Its 3,400 holdings include everything from stocks in the S&P 500 to obscure microcaps. The expense ratio is a scant 0.10%, but the fund requires a minimum $10,000 investment. As a stand-in, try the Vanguard Total Stock Market ETF. It tracks the MSCI U.S. Broad Market index and has the same ten largest holdings as our fund pick, with an expense ratio of just 0.07% and no onerous minimum investment.
NEXT: Dreyfus Appreciation (
DGAGX
)
Last updated June 20 2008: 2:34 PM ET
Email
|
Print
|

Digg this story
|
RSS