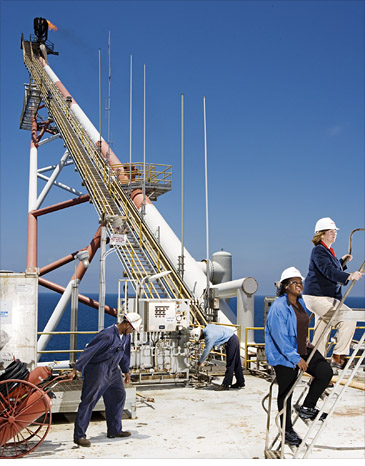 The mentored:
Lucy Kanu, Founder and Executive Director, IDEA Builders, Nigeria
The mentor:
Sara Ortwein, Vice President, Exxon Mobil Development Co.
After watching fellow Nigerians struggle to balance their dreams with the constraints of reality, Lucy Kanu launched IDEA Builders, a nongovernment organization that works to improve the lives of disadvantaged women and youth.
The experience:
Three weeks at Exxon Mobil taught Kanu to "pay attention to detail in every way" and to remember "no waste, no excess in processes."
Cool opportunity:
Ortwein organized a dinner with employees from Exxon Mobil's Nigerian affiliate where Lucy gave an impassioned talk about her organization.
Ortwein's takeaway:
"Lucy reinforced for me the difference that one person can make."
Photographed on the Hoover-Diana platform, an offshore rig in the Gulf of Mexico
More galleries
Last updated July 11 2008: 2:26 PM ET
Email
|
Print
|

Digg this story
|
RSS