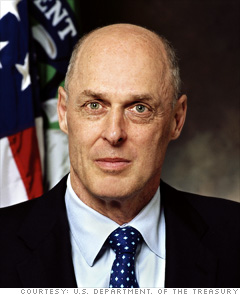 Treasury Secretary Henry Paulson wants stronger oversight of Freddie and Fannie.
Fannie and Freddie defenders argue that the mortgage giants are complying with the capital requirements enforced by their key regulator, the Office of Federal Housing Enterprise Oversight (OFHEO). These claims, rather than shore up confidence, have added to the general distrust of both companies and its Beltway backers.
The capital guidelines "were enacted when we all believed residential real estate had low risk," Westwood Capital managing director Len Blum wrote last week. He called the requirements "preposterous" given the current market. Congressional Democrats and Republicans agree on the need for a stronger watchdog: the housing bill wending through Congress would strengthen the companies' regulator, reflecting an oft-stated objective of Treasury Secretary Henry Paulson. How much teeth that law would have is not clear.
NEXT: Leadership (Part 1)
Last updated July 18 2008: 4:35 PM ET
Email
|
Print
|

Digg this story
|
RSS